Ever after decades have passed, voice memos is still one of the most captivate and flawless way to share important messages towards friends, families and work colleagues. They are quite shorter in size and can be sent and received instantly on your iPhone. Moreover, you can store them in your device to listen to them over and over again. But what happens if you accidentally deleted them or some sort of data loss occurs during software update or jailbreaking your iPhone or the worst case scenario your phone gets stolen or damaged due to other reason. In every situation, all the previous voice memos will be deleted from your device despite that fact you like it or not.
It is understandable that you cannot afford to lose these voice memos as they might be very important for your work or they are from your dear ones loving messages that you cannot eager to lose. It is a terrifying situation but stop having those hideous and battered moments and learn how to extract those voice memos from iTunes backup and save them to your computer. Furthermore, you can copy them back to your iPhone for your convenient usage.
That's correct. ITunes is a cloud service that is exclusively available to Apple users for backing up their data in one safe location. You can easily restore those voice memos using iTunes backup files, you may ask how can I directly extract voice memos from backup and view to my computer? No, you can't directly do it even you cannot access to iTunes backup file because it's a unreadable file format.
Method 1: Restore Voice Memos from iTunes Backup to New Device
Whenever you sync iTunes with your phone, it will generate a full backup of your Apple device and store it in your local drive. You can easily restore iTunes backup to your new iPhone at any time by following the steps below.
Step 1. Connect your new iPhone to computer using a USB data cable.
Step 2. Launch iTunes on your computer and sign in using your login credentials, and wait for your new iPhone to appear on iTunes.
Step 3. clik the file option in the top menu of the iTunes, then click the device > Restore from backup option.
Step 4. From the bottom right pane, click on "Restore Backup".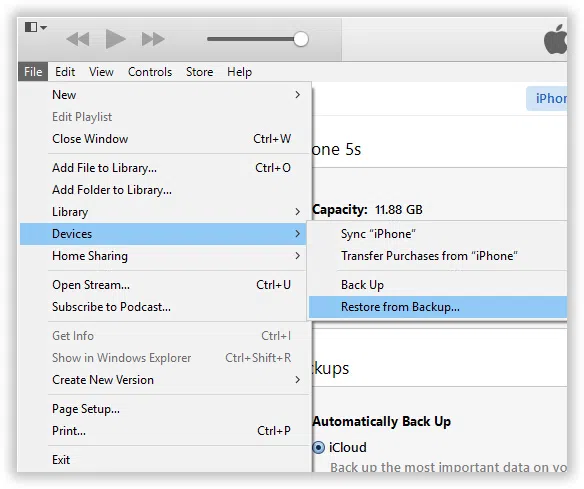 Step 5. Click on "Restore" and wait until the operation is completed.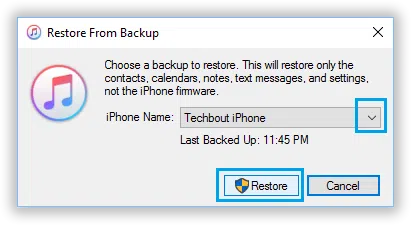 Cons:
1. There are many cons while using this method to restore your iTunes backup to get back voice memos, it won't allows user to preview and individually select the one you want to restore, instead, you need to restore the whole backup, that will take a huge time.
2. Restoring your backup will wipe all of your current data on your device.
Method 2. Extract/Recover Voice Memos from iTunes Backup to Computer
Now, even if you download those iTunes backup files, they are just ugly read only database files which are useless if you don't know how to extract voice memos from to computer. If your device was broken or stolen, you still have a way to transfer voice memos to your computer. Jus try iSeePassword iPhone Backup Extractor application, which is the best and terrific way to extract any kind of data from old iTunes backup file. That's right. This progarm allows user to gain access to a backup file and extract any type of data they you .

Allows users to recover up to 20 files types like contacts, messages, photos, call history, whatsapp messages, voice memos and others.
There is no need to connect device, the program could automatically identify all backups in your computer.
Add a preview feature that allows users to preview the file before recovery, easy and save your time.
It is compatible with all the iOS devices and latest iOS versions including the latest iOS 10.3.
You can directly download it below.
1

Download & Launch the Program on A PC

Download iTunes Backup Extractor on a working computer and install it by reading the instruction. It should take only few moments to install the software. Once done, launch the software on your PC to see the main benefits of using this software. It will automatically detect all backup in the default location, if you change the backup location, then you need to click the "Select" button to choose your backup file.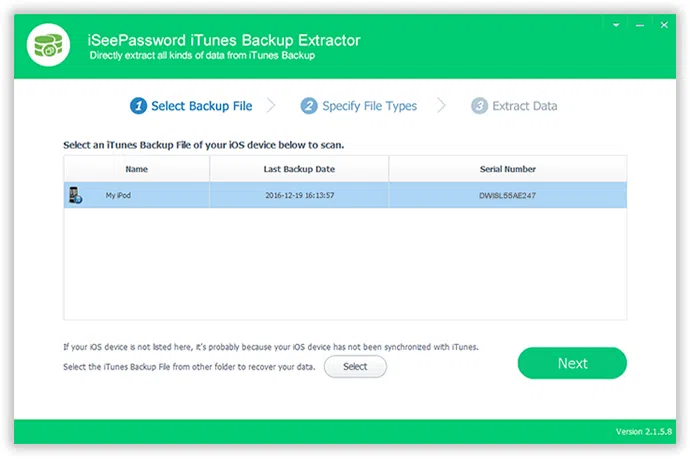 NOTE: If you set a password for your backup, try iTunes backup recovery tool to unlock your backup password.
2

Select the File You Want to Extract

Choose a backup file and click on "Next" to begin the scanning process, in this step, you can select the file types which you want to extract from. This may take several minutes depending on how much data it is scanning. In this case, select voice memos and click on "Next".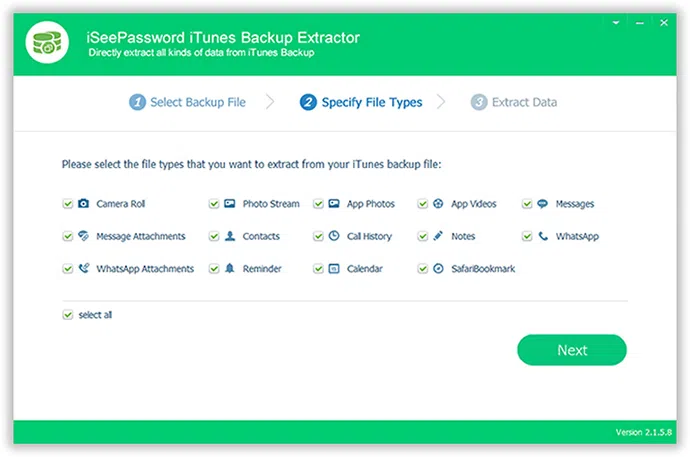 Also read: How to extract text messages from iTunes backup.
3

Preview the Voice Memos and Start to Extract Voice Memos to Your Computer

Wait until the scanning is finished again. Once it is completed, the software will let you preview all the files that can be recovered from that iTunes backup file. Browse through the option in the left sidebar and find the voice memos that you are looking to recover from that backup file. Simply click on "Recover".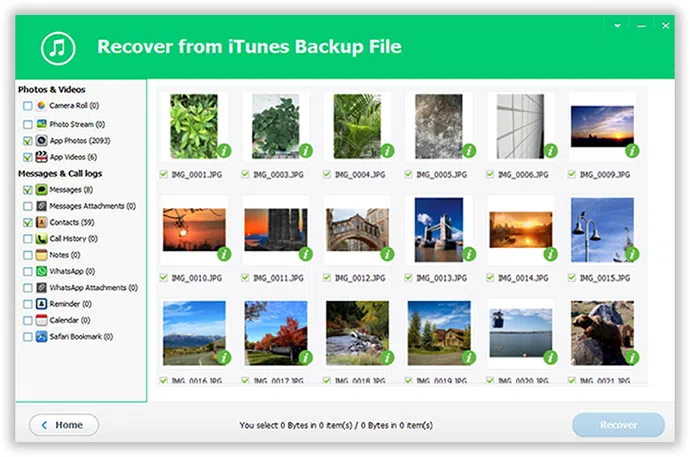 Once, it is done, you can open the folder in which you have saved the voice memos files and listen to them. Furthermore, you can copy them to your Apple device to store it on your phone. So, there is a reasonable chance to get back your voice memos no matter how you lost them, there must be a method in this article could help you extract or recover voice memos from iTunes backup to computer with or without device.


---
---