You computer is likely to contain crucial information, maybe it's personal or professional. It is necessary that you keep it safeguarded from third party interruptions and data leakage. Most of us tend to provide a screen login password through which the laptop remains safe from the hands of unknown people trying to access it. This piece of letters, number and special characters is of crucial importance. If in case by trying to keep it extra safe you end up forgetting the password yourself then it will be a mess of a situation to control because without access to the password you cannot open the laptop. Considering that a Windows 7 laptop at your disposal contains several important details, you need to provide it with a password to maintain protection and also not forget it yourself.
Two ways to help you regain acess to your Windows.
You will be locked out of windows 10/8/7 once you type the incorrect password, however it often happens that you lose track of it because there are so many things on your mind. It would be a major headache if you forgot Windows 10 , 8 or Windows 7 Administrator password. Luckily, there are still always a few methods to bypass your Windows 7 or higher computer without system reinstallation and data loss, but Some of these are time consuming or boring as you must walk through the whole process, and some are a few simple.
In this artcile, we will show you two ways to demonstrate how to bypass Windows 7 Administrator password when you're locked out of Windows, it also works fine with local account in Windows 8/8.1 and Windows 10.
Part 1: Bypass Windows 7/8/10 Password with Command Prompt
Command Prompt is an easy yet free way to reset your forgot Windows 7 Administrator password, but it's difficult and risky to perform Command Prompt especially for those who lack of technical knowledge.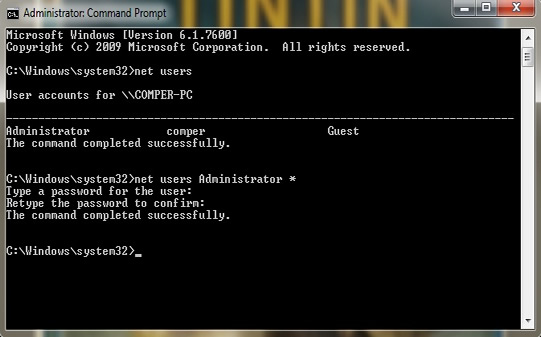 1) First you need to restart your computer
2) Then press F8 to enter "Safe Mode" then navigate to the "Advanced Boot Options".
3) There are 3 boot options for your choice, select the Safe Mode with Command Prompt.
4) Wait for a while, you can see Windows 7 boots up to the login screen. Choose administrator,
5) Go to Start > Run and type cmd.exe, a Command Prompt dialog box pops up.
6) Type net user and press Enter. All the windows accounts will be listed, then type the acount you wish to change.
7) when the command is completed successfully, the new password has been successfully reset.
Frankly speaking, When you're locked out of Windows, I don't suggest you perform this method if you're not a tech guy, if you persist in that, you may damage to your computer or lost system data, all at your own risk. You might take a look at the Part 2 and then determine which method is the best.
Part 2: Bypass Administrator Password on Windows 7/8/10 with Recovery Utility
To bypass the Windows 7 screen password, you might be told to try pre-created password reset disk to remove your password, but in most case,  this is impossible because the password reset disk must created before your forgot the password. If you don't have a reset disk, maybe the Command Prompt works for you. Or try professional but safe program - iSeePassword Windows Password Recovery application to bypass Windows 7 password without system reinstallation. With it, you will be able to retrieve the lost or forgotten Administrator password and grant your access to your system, it provides two ways to create a booable reset disk with USB drive or DVD, then safely and easily reset administrator and other local user accounts for Widnows 7, 8/8.1 and Windows 10. The principle of this program is very simple, it just writes a new ISO image files to your flash drive or DVD to create a reset disk, never damage to your original data and system.

Just 3 simple steps to reset forgotten Windows local administrator, domain and other user account passwords.
Two ways to create bootable reset disk with CD/DVD or USB flash drive. No need to format or re-install Windows!
Support various brands of desktops, laptops and tablet PCs, like Dell, Hp, Sony, Toshiba, Acer, Samsung and ThinkPad, etc.
Support Windows 10, 8.1, 8, 7, Vista, XP, 2000, etc. and Windows server.
What You Need:
1) Prepare a blank DVD/CD or a USB flash drive with no less then 1G capacity.
2) An accessible Windows or Mac computer. You can borrow from your friend's if you haven't.
3) Password reset tool, directly download it below.
Step 1

Download and Install Windows Password Recovery on Your Another Working Computer

First of all, you need to download the corresponding version (Windows version and Mac version) on your other working Windows or Mac computer to create a Windows password reset disk. The installation is easy to operate, then open the program. You will see the main Window below.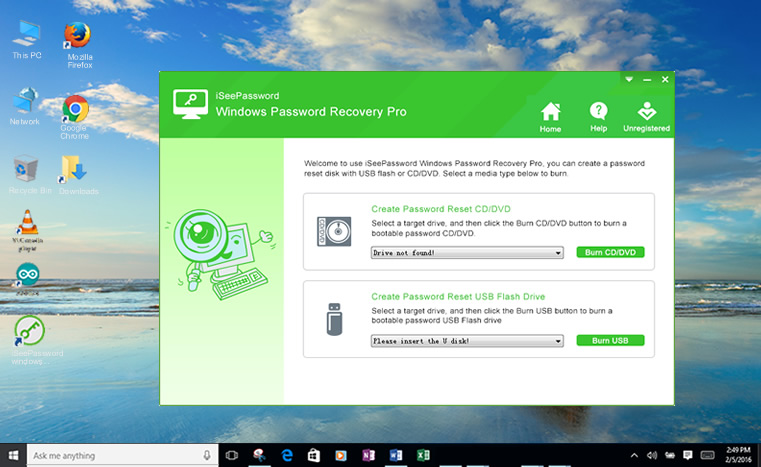 Step 2

Start to Make a Bootable Recovery Disk ( Here we take USB for example)

This program provides two ways to create a recovery disk (USB or DVD/CD), here we take USB flash for example. After the installation, insert your USB flash to a normal Windows computer, then you'll be asked to select a Media type to create a recovery disk.

Here you should click the USB Device button and select your USB drive from the drop-down list. Then click "Burn USB" to let the program burn the ISO images files to your USB drive. It will take some time to finish the burning process. Please be patient! Don't disconnect your USB to your computer before the burning finishes.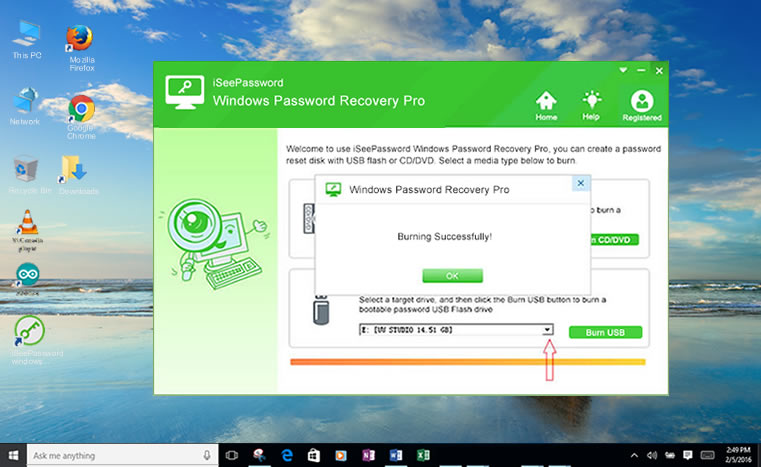 Step 3

Insert the USB Drive to Your Locked Computer and Boot Computer from USB

After created a recovery disk with your USB drive, then insert it to your locked computer. Here it's also noteworthy that you must  change BIOS boot sequence to make it boot from USB. Restart your locked computer and press "Del" or "F2" button while the computer is initializing, then Go to the bios setting and change the BIOS options. After all, press F10 to save your changes.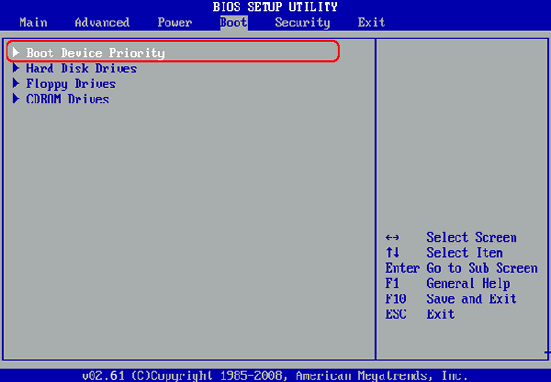 Step 4

Start to Reset Your Password, then Reboot Your Computer

Keep the USB dive plugged to your computer and reboot your computer after the boot order has been changed into USB. Then Windows Password Recovery program will be startup during the booting, you will see the main screen. It will automatically detect all the current account and list to you. Just select the target user that you want to reset. Then click the "Reset Password" button.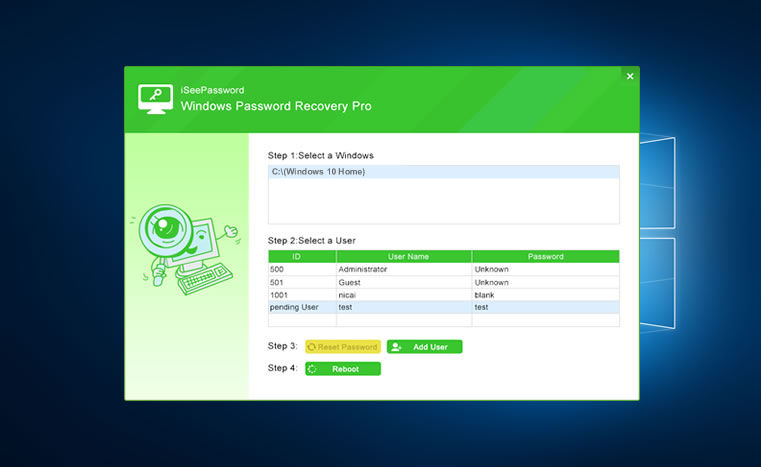 After the password reset, the password of the target user you select will be blank. "Congratulation" message will pop up once the password has been reset successfully. Then Click "Reboot" to restart computer without login password.
There is one thing you can guarantee yourself of and that is security. No amount of crucial data is going to be lost while the software does its work. You can be sure that safety is the number one priority here and you can absolutely rely on its system functions to provide you the best of password recovery services. If you're locked out of Windows 10, 8, Windows 7, Vista or XP, you can either use the professional, personal or advanced version to suit your needs. It is flexible with several application ranges that can be used successfully to gain the best recovery benefits. Therefore you no longer will have to worry if you forgot the Windows password and need to get it fixed urgently without having to resort to monetary services.
There is no doubt that password protection on your Windows 7, 8 or 10 is very important to your files, without password, anyone who can get physical access to your Windows and stole your files, photos or emails. If you forgot it, you still have the chance to bypass Windows 7 login password. There are many free or paid tool including WinGeeker, Ntpassword or Labwin that also guide you through the process that will be responsible in giving you back your password. Just do it by yourself.

---
---