Everyone know that iTunes is one of the most innovative and meticulous service that is a life savior for all Apple users. ITunes has a tendency to create a backup of your entire device whenever you sync you phone with it. You can further download this file to your computer and later use this backup to recover lost or deleted files. But what most people doesn't know is that the iTunes backup file is not readable and it is just a dull and slovenly database file that doesn't have any meaning if you don't know how to extract iPhone from iTunes backup.
Extracting data from iTunes backup file is not like extracting files from a zip file. They are quite disparate and cannot be extracted by any in-built applications or software available on your computer. But the thrilling news is that in this guide, we will show you how to extract data from these iTunes read only database files and preview them individually on your computer.
But the great news is that in this tutorial we will show you how to explore iTunes backup file and how to recover selective files from that backup file instead of restoring everything from it. This will save a lot of time and hustle that you might face if you restore using iTunes directly.
Part 1: Everything You Need to Know About iTunes Backup
The iTunes backup files are disparate read only database files that no application on your computer can open them. You will have no clue on what's in that database file. So, in short they are just useless if you don't know how to extract the data on that backup file.
1. What Does iTunes Back Up – iTunes Backup File List
The iTunes backup takes place as the last step of every sync, this is good habit that you should do regularly in case your device was damaged or stolen. An iTunes  backup will back up everything on your iPhone.
Photos and Images
Camera taken, screenshots, images saved, wallpapers, etc.
Messages & Call Logs
iMessage, text messagse, contacts, voice message, call history, etc.
Media Files
Movies, videos (other app/device), audio, music, ringtones, etc.
Application Data
App settings, data, preferences, documents and install profiles
purchased app data, Game information, passwords.
Settings
Including Network settings, WIFI settings, VPN sttings and Nike settigns.
Others
Safari history, browse cache, mail cache/message/attachments, temp files, etc.
2. Where Is iTunes Backup File Located?
No matter what reason you want to create a backup for your device, it's every easy to back up your device, but most of people don't know where the iTunes backup files located.
Mac: ~/Library/Application Support/MobileSync/Backup/
PC: \Users\(username)\AppData\Roaming\Apple Computer\MobileSync\Backup\
3. What Does iTunes Backup Password Mean?
Every time when you sync your iTunes, iTunes provides an encryption feature for those who need to password-protect their personal information in backup file. When you try to restore from iTunes backup, you will be required to enter the correct password to continue. So if you forgot your password, there is nothing you can do unless another encryption key has been saved somewhere, or try some password reset software like iSeePassword iTunes Password Recovery, which is a powerful software that could recover your backup password.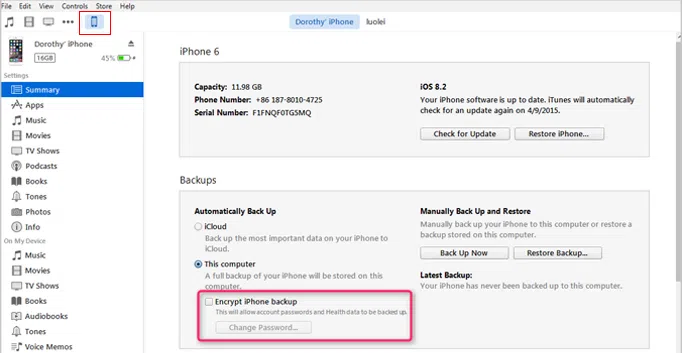 NOTE: After learning about iTunes backup, you should know that how hard it is if you want to extract data from iTunes backup specifically for a damaged or broken device. Regardless of whether your original device is still operational or not, it's impossible for everything to extract backup files to computer for previewing. Unless you use the professional iPhone backup extractor program, continue reading the following content.
Part 2. Extract Data from iTunes Backup Using iPhone Backup Extractor
Due to Apple's OS is closed system and the backup files is unreadable file format, so, there is no easy ways could extract files from backup but iPhone Backup Extractor. Let us introduce an amazing and flawless tool that many of you may or may not have heard. It is an excellent and astounding software that could detect and analyse  all the iTunes backup files and show you what's inside them. In addition, you will be able to recover any file that you like to your computer particularly without wiping your original files.

Directly extract iPhone data from iTunes backup and iCloud backup selectively without wiping data.
Won't overwrite or damage the original data on your iPhone and iTunes backup.
Extract data lost due to accident deletion, device damged, jailbreak, iOS 10/9 upgrade,etc.
Fully compatible with iPhone 7/7Plus/SE/6/6 Plus/6s/6s Plus/5 that run iOS 10/9.3/8/7
You can directly download it below.
1

Download & Launch iPhone Backup Extractor on A PC

Of course, you need this tool installed on your PC. So without further ado, download the software and install it on your PC. Next, open the file and install it, launch the program by double clicking on the icon from the desktop. Now, choose "Select" from the bottom mid of the software and locate to the latest iTunes backup file that you have created. Select that file and click on open then hit "Next".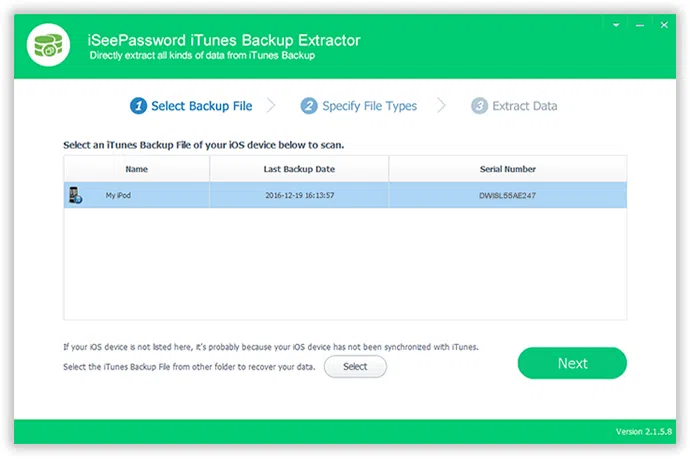 NOTE: If you set a password for your iTunes backup, the program will pop up a windows asking you to type your password. If you forgot backup password, you can take look at this tutorial to recover your backup password.
2

Select Which Types of Data You Want to Extract from iTunes Backup

To save your scanning time, the program allows users to choose which type of data you want to extract. This will reduce the scanning time. Click the box and Next.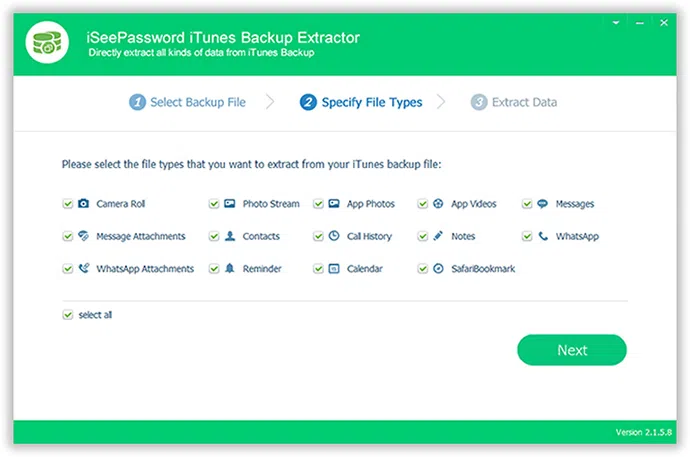 3

Preview the Scanned Data and Extract the Selected Data to Your Computer

Well, the hard part is done by now and sweet part comes from here. The software will magically display all the content from the iTunes backup file. You can preveiw each and every folder from the sidebar. You can browse all content on iTunes backup, such as messages to music, videos, contacts and other file types. Choose the files that you want to restore and click "Recover" from the bottom right corner.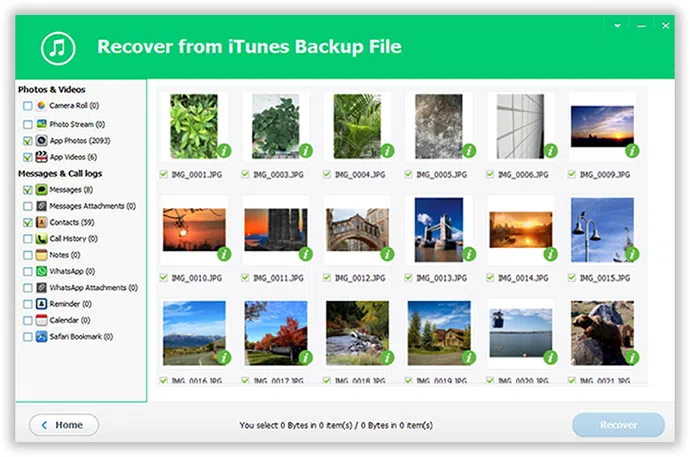 Please be patient while this process could take longer time than expected, after recovering, all of your files in backup will be moved to your computer and be readable!
You will amazed and surprised to see how many files and folders you have been missing that you can't look from your phone. This software enable you extract everything from iTunes backup and preview on your computer. You will be able to preview each and every file from the iTunes backup and also you can recover them if needed. All can be done in one single convenient tool. Never fear to lose any file again if you are using this software.

---
---