Every Apple user is familiar with iTunes as it is provided to Apple users exclusively to back up their entire Apple devices in one convenient location that is only accessible to a single person who know the login credentials. Not to mention, but iTunes does an excellent and terrific job in that part. You can seamlessly backup your Apple device and whenever it is required, you can actually restore them to your device as well.
Pretty luminous, right? But one of the major problem with iTunes backup files is that you can only use these files to restore directly to your iPhone. So, you won't be aware of what you are restoring and you will end up overwriting everything on your existing device.
These iTunes backup files are disparate read only database files that no application on your computer can open them. You will have no clue on what's in that database file. When your iPhone, iPad or iPod device was damaged, stolen or broken, you can't be able to access to your iTunes backup to get your personal data. Don't worry, there is still a way to help access and view iTunes backup content on your Windows and Mac.
User Guide: How to Browse iPhone Backup Files on Windows/Mac
As we have confirmed that that iTunes backup is an unreadable file format, there is no way can bypass this iOS algorithm but iTunes Backup Extractor , which is a pro professional tool that restore everything from your iTunes backup file. If you have stored a copy of the iTunes backup on your computer then this software can extract all the data from backup file and save it on your computer without wiping your original data or damaging your device. This program is extremely easy to use, you don't need to connect your iPhone, iPad or iPod Touch to your PC when using this iTunes backup browser because it could be able to automatically detect all iPhone backup of your previously synced. Keep on reading the manual to know how to use this software to restore iTunes backup files.

Free to browse iTunes backup files anytime you want via the program.
Support to browse 13 data types, such as photos, videos, contacts, messages, notes, call logs, and more.
Preview and selectively extract everything from iTunes backup and save to your computer.
Compatible with latest iOS system and iTunes version..
You can directly download it below.
1

Download & Launch This Program on a PC (Windows or Mac)

So without further ado, download the software and install it on your PC. Next, open the file and install it to start working with the tool. Launch the program by double clicking on the icon from the desktop. Now, the program will automatically detect the backup files in your computer. Just select the backup you want to browse.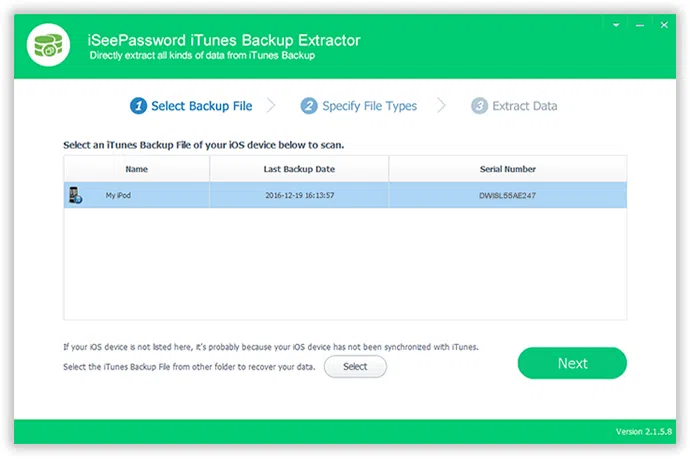 NOTE: If you've changed the backup location, then the program won't locate it. You may need to click "Select" from the bottom mid of the software and locate to the latest iTunes backup file that you have created.
2

Select the Type of File You Want to Browse and Start to Scan

Select all types of files you want and recover and hit "Next" to start the scanning process automatically. Please be patient while this process could take longer time than expected. You can also click Select All button to let the program scan all the backup file. If you only want to extract messages from backup, just select text messages.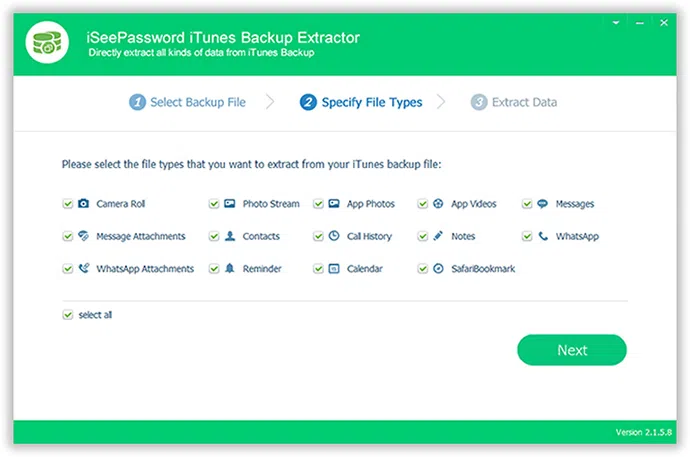 The scanning process will be started automatically and it may take few moments to finish. You can work in the background while this process is taking as it will not interrupt the software at all.
3

Preview the Scanned Files and Export the Data to Your Computer for Browsing

Well, the hard part is done by now and sweet part comes from here. The software will magically appear all the content from the iTunes backup file. You can browse each and every folder from the sidebar. You can preview from messages to music, videos, contacts and other file types. Choose the files that you want to restore and click "Recover" from the bottom right corner.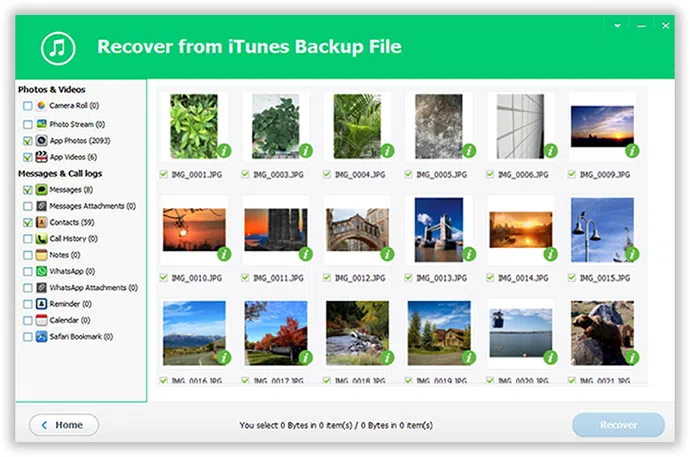 This software enable you extract everything from iTunes backup and preview on your computer. You will be able to preview each and every file from the iTunes backup and also you can recover them if needed. All can be done in one single convenient tool. Never fear to lose any file again if you are using this software. Although you may find many software on the internet but you may consider using iPhone Backup Extractor to expose and recover all the files from the iTunes backup.
Do let us know down in the comments whether you found this guide to be helpful.

---
---