So you have accidentally deleted your contacts and now you want to extract those contacts list from the iTunes/iPhone backup to save it on your phone again. Or maybe you just want to keep a backup copy of your contacts lists on your computer to avoid any data loss in future. In either of the cases you don't really have to a computer adept to learn how to extract contacts from iTunes or iPhone backup. Before you get any sense of equanimity, we will suggest to read this tutorial to get contacts from your old iTunes backup file to save the day.
Yes, the process is little tricky if you are doing it manually but if you are using any external software that we will mention in this tutorial then it should be as easy as a piece of cake. If you want to restore contacts from iTunes backup using an external tool to avoid all hustles then skip to method two.
Method 1: Extract Contacts from iCloud Backup Directly
ICloud is a service that literally keeps all data from your different Apple devices and store them in one convenient location including contacts, music, photos and apps and so on. To extract contacts from iCloud, simply follow these steps.
Step 1. Go to iCloud.com using a working computer or smartphone.
Step 2. Enter the login credentials and sign in to your account.
Step 3. Now, open the main menu section and click on "Contacts".
Step 4. Click on the small gear icon also known as the settings button.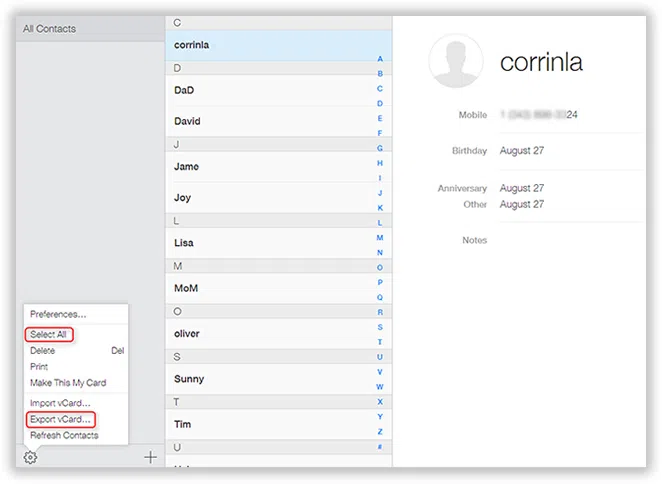 Step 5. Select "Export vCard" and download it on your computer.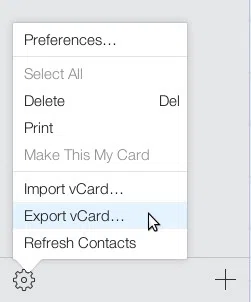 Step 6. You may now open this file using any vCard reader application available on the internet.
Pros:
1. You will have a backup of your contacts on the computer.
2. You can extract the contacts from the vCard file using any vCard reading application.
3. You can further store the contacts list in ".CSV" format to open it with MS Excel.
Pros:
1. You need a working iCloud.com account.
2. Additional software such as vCard reader tool is required.
3. Time consuming method. (Should take at least couple of hours)
4. Will not let you preview the contacts before restoring.
Method 2. Extract Contacts from iTunes Backup Using Backup Extractor
As we know, iTunes backup can be easily viewable by anyone with read permissions in their device, whereas compiled binaries are not readable on computer.  So you can't directly view the content in the backup files. So, you need a professional backup extract program to identify such code format. Fortunately, iPhone Backup Extractor is ultimate and most efficient software that helps to view and extract files using iTunes backup. iTunes is yet another service like iCloud and your full device will generate a backup automatically whenever you sync it with your device. Using this software, you will be able to view all the files contained in that iTunes backup file and extract those files without any issue.

Directly recognize, scan the content in iTunes backup, then extract data from iTunes backup and iCloud backup without losing data.
Keep your original data safe and never overwrite or damage your data integrity. Extract contacts as well as photos, messages, videos, call history and so on from the iTunes backup file.
Restore data lost because of accident deletion, device damaged, jailbreak, iOS 10/9 upgrade,etc.
Fully compatible with iPhone 7/7Plus/SE/6/6 Plus/6s/6s Plus/5 that run iOS 10/9.3/8/7
You can directly download it below.
1

Download & Launch iTunes Backup Extractor on A PC

Download iTunes Backup Extractor on your computer and install it by reading the instruction. As soon the installation process is completed, launch the program to see the main benefits of this tool. Seelct the second option "Restore from iTunes backup", then all the backup files will be detected and displayed in the program. Select the iTunes backup file and click on "Start Scan" to initiate the extracting process.

If you forgot iTunes backup password, maybe this article would be helpful to find your backup password without erasing data.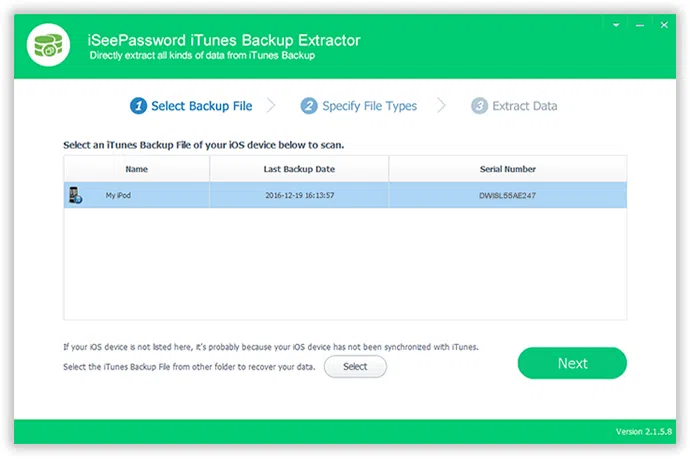 2

Preview the Photos and Start to Extract Backup Photos to Your Computer

Wait until the scanning process is finished, after that, all the content stored in your iTunes backup can be found and displayed in well-organized catalogue. The software will let you preview all contacts before restoring. Hover through the list and you can either extract contacts selectively or you can select all to extract all contacts from the backup file. Click on "Recover" after finishing the selection process.

Besides contacts, you're allowed to extract photos, messages, notes and all other data that iPhone supported.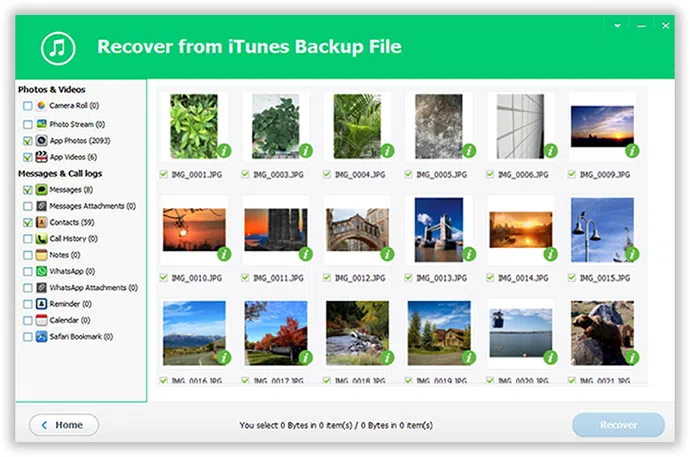 Wait patiently until the process is completed. This should not take more than few minutes. It is recommended not to terminate the program while the extracting process is taking place. Now, you can locate to the folder where you have saved all the contacts and read or copy it to your device to restore them.

In this short tutorial, we just demonstrated how to extracts contacts from your old or recent iTunes backup file. If you don't use professional tool then these iTunes backups are merely some unreadable data files. You may consider using iTunes backup extractor as it is tested and proven tool and if you run into any trouble then it does comes with a money back warranty for your security if you are not satisfied.

---
---