There times when you forget the backup password of your iPad, iPhone or iPod. This can be a difficult task to retrieve your password, especially if you do not have any idea about the whole process. If you mistakenly work on the backup password of your device there is every possibility to damage its operation. For this reason, it is expedient to be careful when handle your iPad, iPod or iPhone. With the comprehensive explanation in this content, you are sure to discover the best way on how to unlock iPhone, iPad and iPod backup password.
People often think iTunes remain the best to handle any backup password difficult. Well, iTunes will help you restore and back your content easily. The truth is that iTunes will not provide you a way to restore the password of your backup when misplaced. This simply means that you will not be able to retrieve your former personal data and backup files. The process of encrypting a backup remains simple. Nevertheless, it is also difficult to crack the iTunes backup password. If everything is proving difficult to unlock your backup password on iPod, iPad, or iPhone, you are not alone. 
iSeePassword offers a comprehensive and legal way to access password-protected backups for iPod, iPad, and iPhone device. It also performs advanced powerful attack options with personalized permutations to effectively restore your forgotten iTunes backup password. With the software called iTunes Password Recovery , you are sure to get back your backup password in an ephemeral of time. It unleashes the feature of decryption. Since it is basically designed to unlock password-protected iTunes backup files, your data will not get lost again. Apart from this unique feature, the product is also designed to display multi-function. Using the software will help to get rid of any insecurity that your device may be experiencing. It simply means that your device will be properly protected when using the software.
It is easy to use and safe, this works to recover a locked iTunes backup password made in iTunes, following the three steps below, you are sure to crack iTunes backup password on iPod, iPad and iPhone device.
Tutorial: 4 Steps to Unlock iPhone,iPad and iPod Backup Password
Note: iSeePassword provides trail version and full version for users to pick from, if you remember that minimum password length is less then 3 characters, then version is sufficient. If not, you should get the full version and it absolutely effectively crack your iPhone backup password without any data loss, no matter how complex the password may be,  it can be settled by means of this software.
1
Install and Run the Program on Your Computer
After you download and install the program on your computer, then launch it, you will see the  primary window like below.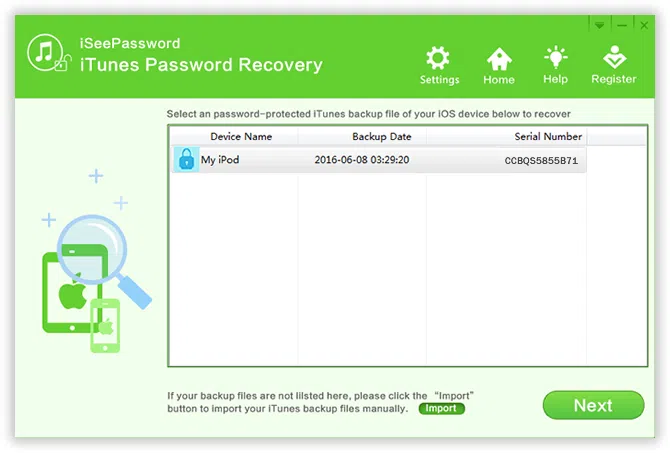 2
Import the Locked iTunes Backup File
This step requires you import the locked the iTunes backup file, click "Open" button, the program will automatically detect all previous created backup files, select the tone you need to unlock. If the backup file is not displayed here, then you need to click the "Add File" button to select the backup file location you know. Once import the back files successfully, you can see it in Encrypted File box.
It is usually located here:
- Windows 7: C:\Users\AppData\Roaming\Apple Computer\MobileSync\Backup
- Windows 8/8.1: Users>USERNAME>AppData>Roaming>Apple Computer>MobileSync>Backup
- Windows XP: C:\Documents and Settings\user\Application Data\Apple Computer\MobileSync\Backup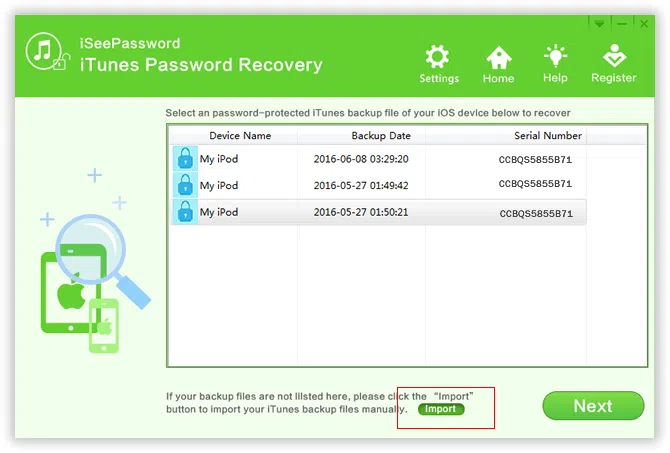 3

Set iPhone Backup Password Attack Type

The attack type is the core part of this software, so you need to perform the appropriate settings according to your real situation. To help users unlock the iPhone, iPad backup password  in the shortest possible time, the program gives 2 attack types for different cases, including "Brute-force Attack", "Brute-force Attack with Mask".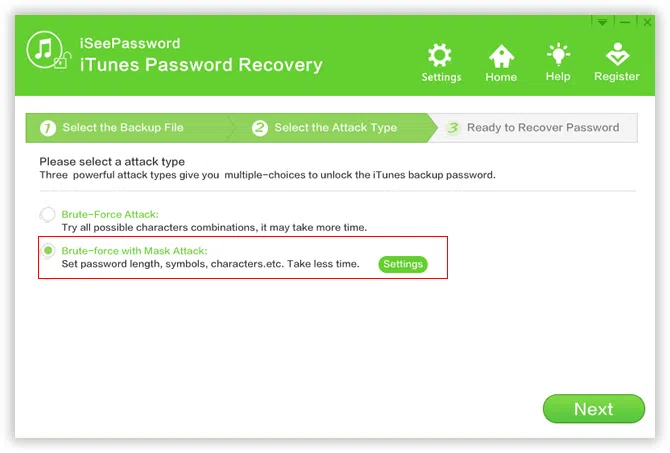 Brute-force Attack: If you didn't remember the password at all like password length, this mode will try all possible characters combination.
Brute-force with Mask Attack (Highly recommend): If you can remember only a few of password, like password length, character, number. You can perform this attach type, it will save your time. Just set the range, length and Mask.
Dictionary Attack: This type will seek all possible password based on the dictionary, just set the dictionary path or default.(Coming soon)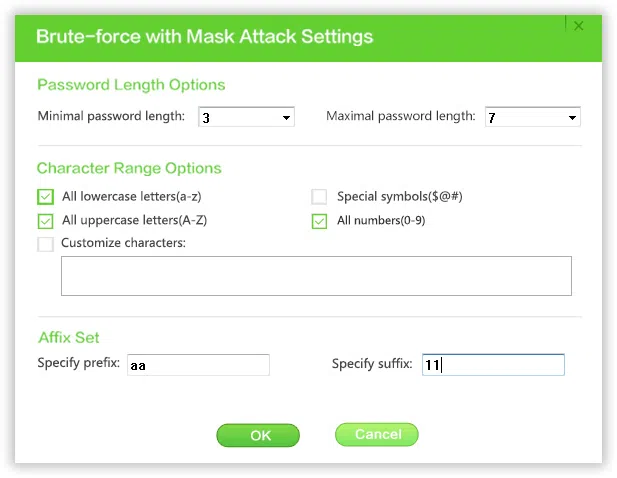 4

Start to Unlock Password-Protected iTunes Backup

After you set the attach type in the last step, click the "start" button to begin the cracking task. It may takes some time to finish the whole process based on the password details your provided on the attach type settings.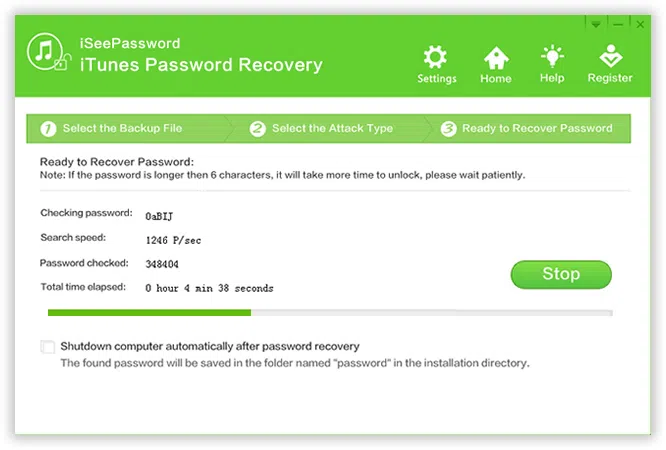 Once the password is recovered successfully, a dialog box with passwords will be present to you. Click the "Copy" button and paste the password in the text box. You can directly stop the cracking process by clicking the "Stop" button on the top, and save the project for next times cracking.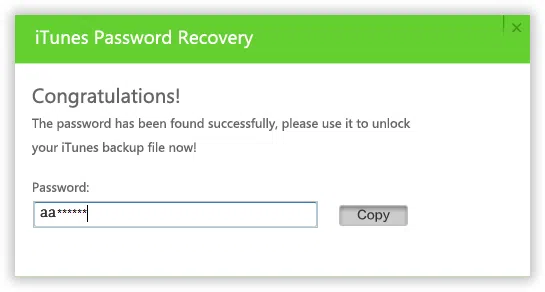 With the simple explanation in this article, you will discover that the software remain powerful and effective. It is designed to unleash several unique features that you can depend on, time and again. With the special capability of the iSeePassword software, it doesn't matter whether you are an expert in computers or not, you will be able to easily crack, unlock or break iTunes backup password regardless of provider or firmware version. You can give it a try now for more details. 

---
Related Articles & Tips
What to Do If You Forgot or Lost Windows 10 Login Password
---