ISO image files are basically used for making Windows operating system disks as well as extracting gaming files, applications, software and other information from a single source. Usually, people compress all the required data in one single file so that it can be burned in a CD/DVD or USB flash drive to run the installer directly from the portable device.
Now you must be wondering that you can simply copy paste the ISO image file from your computer to flash drive or DVD like you do with multimedia files and it will run perfectly. But that's not the truth at all. In fact, you will be required to properly burn the ISO image file to your portable device to extract the data and run the installer correctly or else any data contained inside the ISO image file will simply won't work. So, in this guide we will show you couple ways to run ISO image files on Windows operating systems.
Also read: How to make bootable USB flash drive from ISO
Method #1: Run and Open ISO Files on Windows 10/8/7
ISO to USB is a free and open source tool available on the official website that helps to burn ISO image files into pen drives and CD/DVDs. It is extremely liter in size and can get the job done easily. It is a plug and play tool that doesn't required to be installed at all. Here's a step by step tutorial to show how to use this tool to burn ISO image files and run them properly on Windows computers.
Step 1. Go to the ISO to USB tool page and download the executable file on your PC.
Step 2. Like we mentioned, you don't have to install it, just double click on the downloaded file and it will run automatically.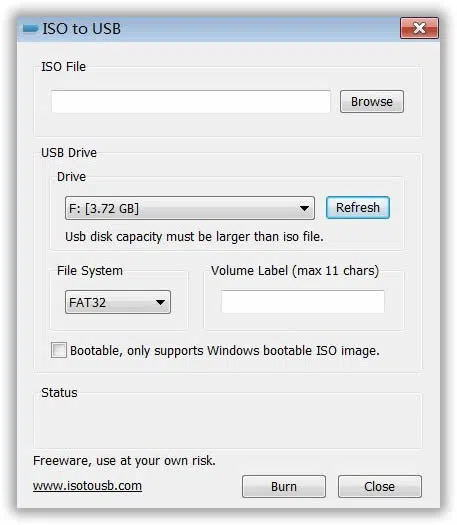 Step 3. Plug in a flash drive or CD/DVD in your PC and wait for the tool to detect it automatically.
Step 4. Click on "Browse" from the ISO file section and select the ISO image file from the local drive of your computer.
Step 5. Leave all the default settings as it is if you have no knowledge about them and simply click on "Burn" and let the program do the rest.
Step 6. Once the ISO file is successfully burnt into your portable device, you can open the flash drive to see the extracted files.
Cons:
Extremely slow. Takes longer than usual.
Program can hang half way into burning.
Doesn't work with Windows 64-bit systems.
Fatal errors and warnings are common.
Method #2: Open ISO File on Windows 10 using WizISO
If you are looking for a reliable and more user-friendly way to open and view content in ISO image file then you must use an ISO Editor tool. WizISO is the most recommended ISO editing tool that can extract everything from your ISO file and burn any size of ISO image files into your thumb drive or CD/DVD without getting any fatal errors or warnings. This program is specially designed for editing, burning , extracting , creating ISO file on Windows operating system ISO image file.

One-stop solution to burn ISO file to USB/DVD without losing any data. No special technical skills are required.
It works for both GPT (UEFI boot) and MBR (legacy BIOS/CMS boot) modes.
Fully supports all types of system files- FAT. FAT 32, and NTFS.
Allow you to edit ISO, extract, create, burn and copy disc.
Supports all kinds of Windows operating system- XP/ Vista/ 7/ 8/ 10.
Step 1. Firstly, install the program on your Windows computer in 2 minutes and open it to see the attractive UI.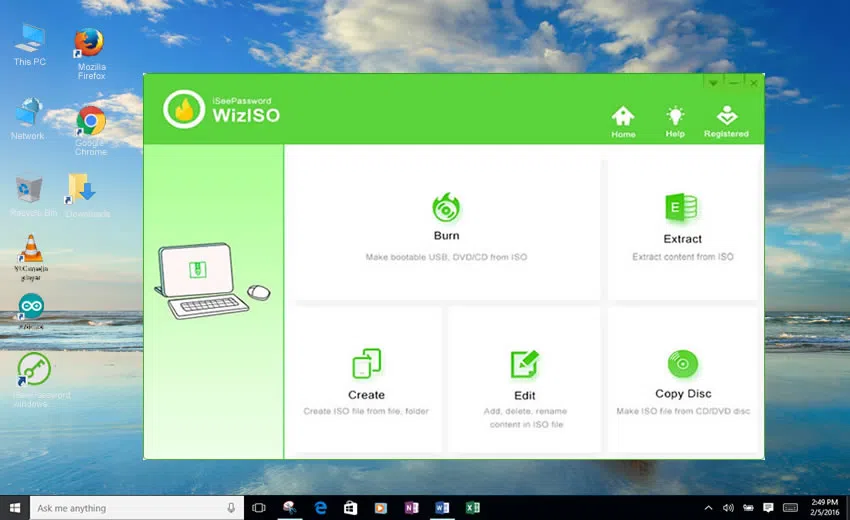 Step 2. Select the "Burn" option open the ISO burnning interface. Click on "Browse" and the program will detect ISO image files automatically from your PC. and Insert the CD/DVD or USB flash drive to PC and the program will recognize the device automatically.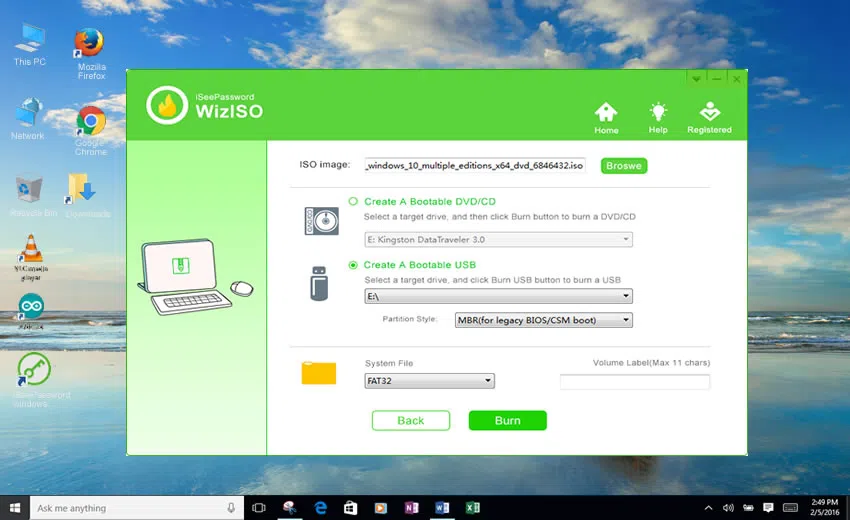 Step 3. Choose the partition style and format then click on "Burn". Wait for few moments and voila! The ISO image file is successfully burnt. You can simply run the program and it will work perfectly now.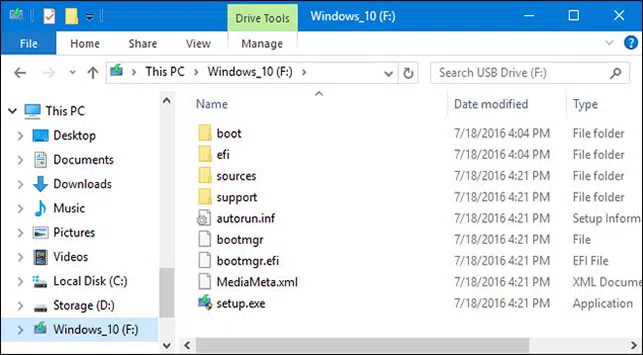 There are many ways to burn and run ISO image files on Windows 10/87 but we have listed the 2 most favorite ways to accomplish the task effortlessly. WizBurn is a classic and innovative tool that most Windows users loves due to its efficiency and simplicity. You can go ahead and download the tool today as it is free to try.

---
---