If you are facing serious dangers with your computer, like you are needed to format your computer; re-install your operating system or to reset your admin account using password recovery tools, then the time has come for you to get acquainted with ISO image burning tools. ISO image files are usually achieves files of an optical disk and the abbreviation for ISO format stands for (International organization of standardization) which is generally supported by many software and operating system vendors and companies.
Also read: How to make bootable USB flash drive from ISO
Now when you seriously need to transfer any of your softwares and operating systems, you need to create a separate partition system within your Disk to burn the ISO image file there so that the compressed files contained within the ISO image file can become executable for further uses. But mostly users are not fully aware of the BURNING ISO IMAGE issue. They might mistakenly take it to be a copy and paste procedure, but that's not what it means. This is a different procedure than mere burning of music, videos, or document's contents, rather burning a softwares or operating system means to assemble every single piece of contents of the file onto the disk.
Here in this article, we would make use of certain specific methods which usually involve the methodology of using ISO image burning tools to learn how to burn ISO image files into a DVD.
Method #1: Burn ISO Image to DVD using Passcape
Passcape ISO Burner is a wonderful ISO burning tool which can be used to create bootable disk for various applications. It can create bootable disk with CD/DVD and USB. But here we would only confine our discussion with regarding the burning of ISO image files onto the DVD alone. The steps for the following method are discussed profusely below as follows:
Step 1. Download and install the program file directly from the official website.
Step 2. Launch it and from the main interface screen menu, select burn ISO image to CD/DVD.
Step 3. Below the main screen menu click on "Source ISO image file" option to bring the ISO image file that you wish to burn here. Click "Next" button that appears instantaneously on the screen.
Step 4. From the following window, select the recorder you are going to use and insert your DVD. Then click "Burn" button to create a bootable DVD containing the burnt ISO image file.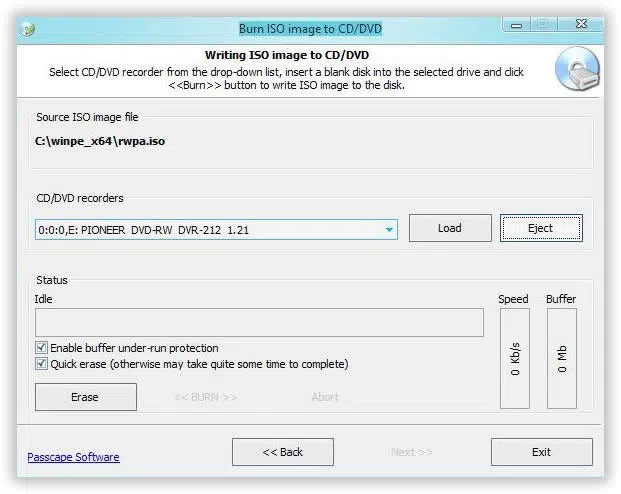 Cons:
Time consuming method. Have to upload pictures one by one.
You need to upload your photos to their server first and photos will be converted in JPG in their server,
this may be related to privacy and safe issue.
It's screen is full of ads, not safe!
Method #2: Burn ISO File to DVD using WizISO
Another powerful yet easy-to-use ISO to DVD burning software is iSeePassword WizISO, which is an amazing tool to burn ISO image files into DVD. Though it can burn ISO files to USB drive and CD as well, but we would restrict out discussion limit only to DVD only in this section. The tool has been serving innumerable number of customers all around the globe and is getting huge positive response for its phenomenal success. It writes the ISO image to your DVD without losing any data.

Just 3 simple steps to burn ISO file to DVD without losing any data.
It works for both GPT (UEFI boot) and MBR (legacy BIOS/CMS boot) modes.
It supports all types of system files- FAT. FAT 32, and NTFS.
Supports both windows 32-bit and 64-bit OS versions.
Step 1. Download the program file from the official website and install it accurately following the instructions. Launch it with admin privileges and from the main interface screen.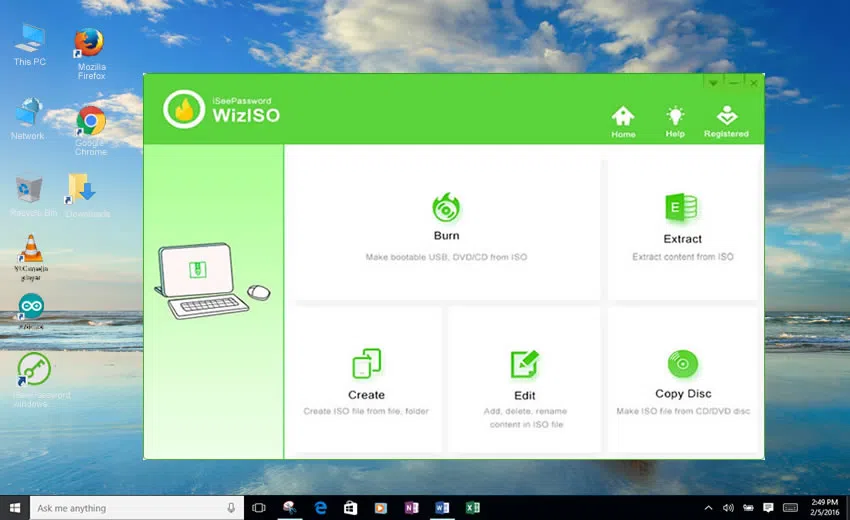 Step 2. Click on "Burn" option from the main tool's screen, and click "browse" select the existing ISO file to be loaded onto the software interface.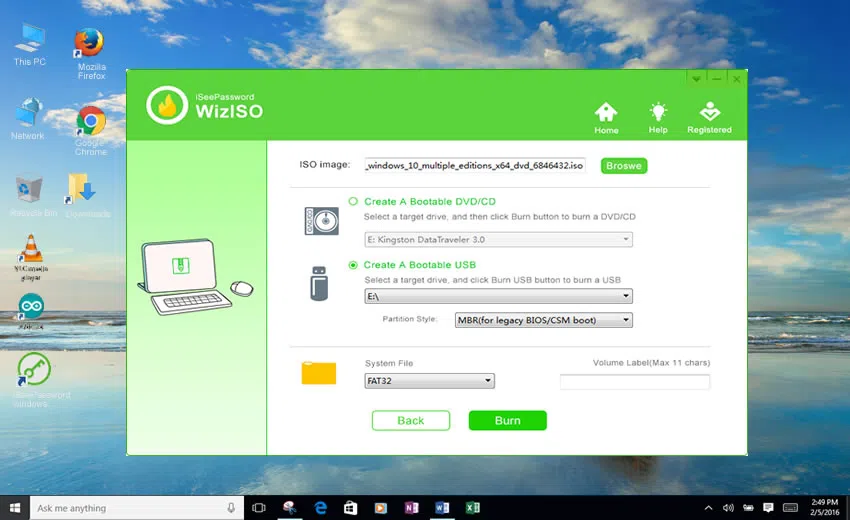 Step 4. From the system files section, choose the type of system file, FAT, FAT 32, NTFS.
Step 5. After you have chosen all your priorities, click on "Burn" button to burn the ISO image file.
If you are fairly new to using ISO image burning tools for burning ISO image files to create your bootable disk, then you must conform to the right choice, and that would be iSeePassword WizBurn. As you have already seen that Passcape ISO Burner has got many downside, which is certainly not going to become the first choice for you as you don't wish to compromise with your ISO image files and computer system. WizBurn has been tested with many brands of computers and thus has been verified as one of the authentic ISO burning Tool of all time.

---
---