Facebook is undoubtedly the #1 Social networking website with over 1 billion users. Facebook also said that they might cross 2 billion users anytime soon by the end of this user and is already spread among all the urban counties as well. It is a great place for a hang out and to check what your friends and families have been doing recently.
Not to mention, Facebook also requires to enter a combination of email and password in order to login and use their service. But the real nightmare begins when you forget your own account password. You must have tried all the combinations of letters and alphabets but nothing seem to work at all. It can be really exasperating moment since your Facebook account contains all the important and personal messages you have received and your entire profile information that you cannot lose at all.
Well, let us put your mind and brain in comfort by saying that is pretty easy to recover your Facebook account password. That's correct, Facebook has its own program to reset your password and give you the ability to setup a new password just by following a simple procedure. In this guide, we will show you how to recover your Facebook account password so that you can regain access to their website start messaging and use the applications that are associated in your Facebook account. Alright, now let's get started with resetting your Facebook password.
Method #1: Reset Facebook Password by Using Default Email
Every Facebook account is created either by using an existing email or phone number. So, if you let Facebook know the email account ID then Facebook can help you to reset the password. Simply follow these steps and you should be able reset your Facebook password easily.
In the first part, we will show you how to reset Gmail password by using your Recovery email. It will only work if you have setup a recovery email before locking out. If you have setup a recovery email then simply use these steps to reset your Gmail Password.
Step 1. Open facebook.com from your computer or laptop using your default internet browser.
Step 2. Click on "Forgot Password" located under the login field.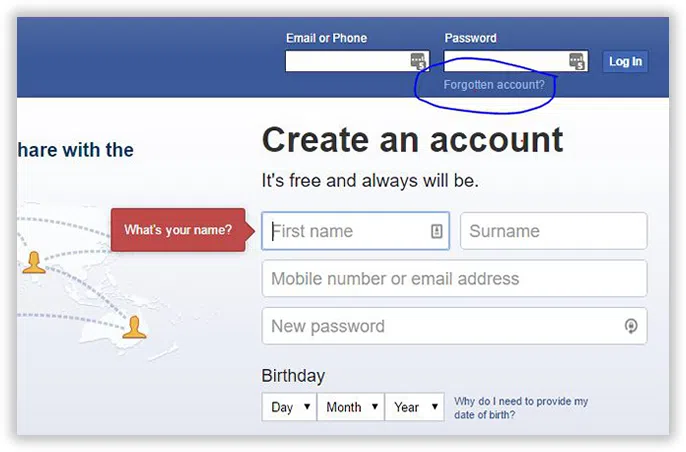 Step 3. If you have failed to login multiple times then you should seeing the following screen and from there you can click on "Forgot Password" as well.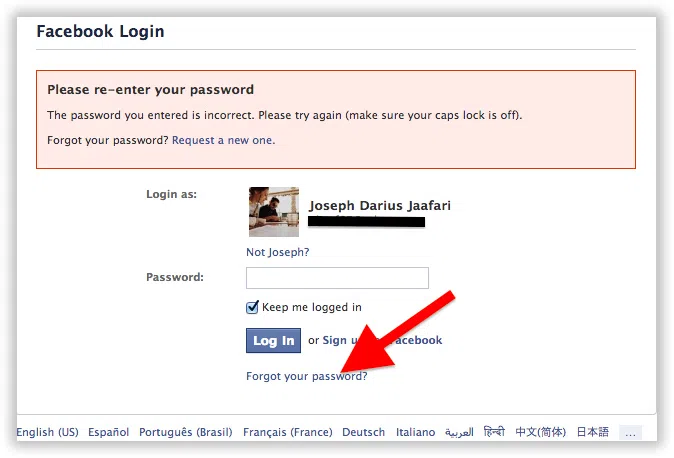 Step 4. On the following page, you should be able to see your password retrieval options. Choose the first option in order to use the default password that you are using for your current email ID.
For example: If you have used Yahoo Mail to register your Facebook account then you can enter that email ID and choose the same password as your Yahoo account.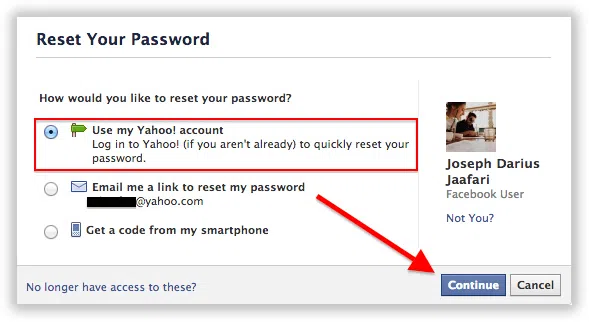 Step 5. A pop message will appear that will ask you to continue and will ask permission to access your Yahoo Mail account. Simply continue with the process and finish the procedure.
Please note: You must be logged in with your current Yahoo account in order to finish this step. Now, you can use the same password as your Yahoo account to login to Facebook account.
Addition Tips: Not only you can reset your forgotten facebook password, but also you can reset many other password like resetting iCloud password, Yahoo password, outlook password and Windows password.
Method #2: Change Facebook Password Using Recovery Email
If you want to reset and setup a new password for your Facebook account then you must apply the following steps and you should be able to set a new password for your account. The procedure is same as above but with just few different tweaks.
Step 1. Follow step 1-3 from the above method and on the password retrieval options choose "Email me a link to reset my password" and click on continue.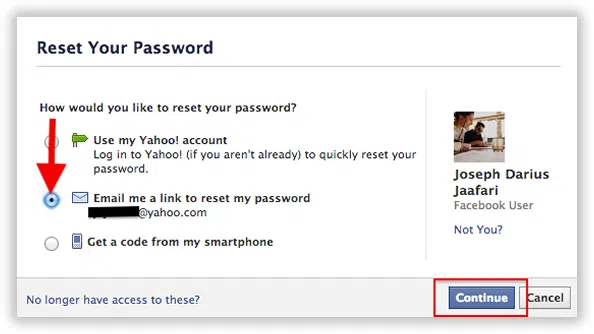 Step 2. Facebook will email you a special 6 digit code in your recovery that you will be asked to enter on the following page.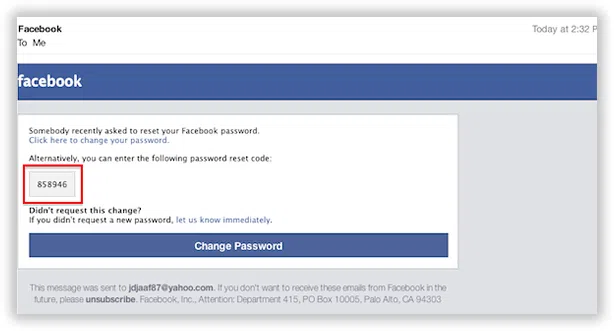 Step 3. Enter the code and click on "Change Password".
Step 4. Now enter a new password and confirm the changes.
That's all. You may now login to you Facebook using the new password. This method is highly recommended if your Facebook account is hacked so that you can have a new password for your Facebook account.
Method #3: Reset Facebook Account Password Using Phone Number
If you have linked a phone number with your Facebook account then choose the third option from the "forgot password" page where it says "Get a code from my smartphone" and continue with the process.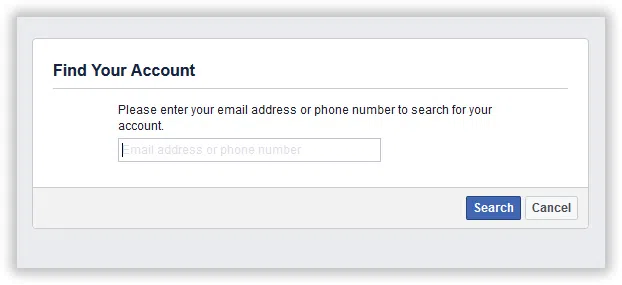 In this case, you will receive a security code on your phone number instead of your email. After that repeat the same steps as above mentioned method and you will have a new password for your Facebook account.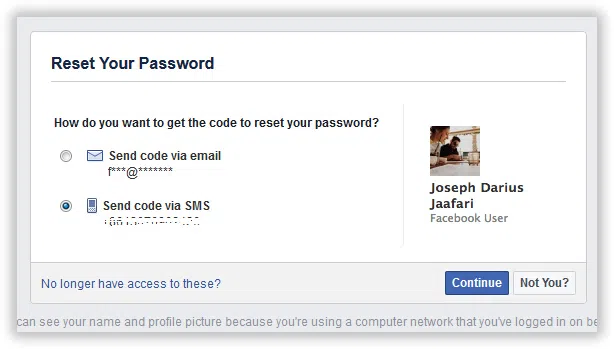 Conclusion
This is how easy it is to reset a Facebook account password. It is pretty basic and very simple, yet we have discussed the methods in brief so that you can understand this better. It is recommended to use a password manager software like lastpass if you forget your passwords too often. Password managers help to save and store all account details in one convenient location so that you can retrieve the password whenever you like.

---
---