"I have a Windows 8 computer which uses a local account, and I have the impression that I set a admin password on my PC about a two weeks ago. I also create a Hint password in case I forgot my password. Now, I can't login to my admin account and I can't do anything with my PC. HINT didn't help me to recall my password. I was worried so much that I can't download and check my business document. Is there any way I can get back into her computer without reinstalling Windows? " --- Turnnly, One of our clients.
Like Turnnly, there are many computer users can't get into their computer because of the password protection they created before. I can imagine that these guys may start to freak out if they ever forget the admin or login password to log into your PC. A locked computer may affect everything including your business, work, study design. You can't directly reinstall the system due to there are many important files saved in your computer, we all know the re-installation will erase all data on your computer. Potentially costing hundreds of dollars in repair bills. In fact, this is really not a big problem, all computers from  different manufacturers include a built-in password reset to help users to regain the access to computer. Such as "accessing the default Administrator account from Safe Mode" and unlock PC via console commands, but this is very complicated and risky. If you're not a a technical talent, I don't suggest you to try it. Otherwise, you will damage your computer system or your data may be wiped.
Instead, I suggest you try professional PC unlocker software (iSeePassword Windows Password Recovery Pro) to unlock your PC without password. With this popular software, anyone can unlock Windows 10/8/7/XP Administrator Password within 5 minutes, regardless of his technical skills. And 100% safe, no any data loss or damage.
Tutorial: How to Unlock Windows 10/8/7/XP Administrator Password without System Reinstallation
With this PC Unlocker software, you can easily and safely unlock your computer forgotten password by burning a boot password reset USB or CD/DVD, and then you can access your computer without password. You can download the trail version here and follow the tutorial bellow to unlock your computer password all by yourself.
Supported all computer brands: Dell, Hp, Asus, Toshiba, Acer, Lenovo and more.
Support Windows OS : Available for all version of Windows including Windows 10,8.1,8,7,Vista and XP, Windows Server.
What You Need:
1) A USB driver with no less than 1GB or blank DVD or CD
2) An accessible Windows or Mac computer or borrow from your friend's.
3) Download iSeePassword Windows Password Recovery Pro program, download it above.
1

Download and Install Program on An Accessible Computer

Download and install program on another computer that you can get into, then run the software to create a boot disk. It is simple. As you can see, there are two ways for user to create a reset disk. DVD/CD or USB. We generally reocommend using USB drive.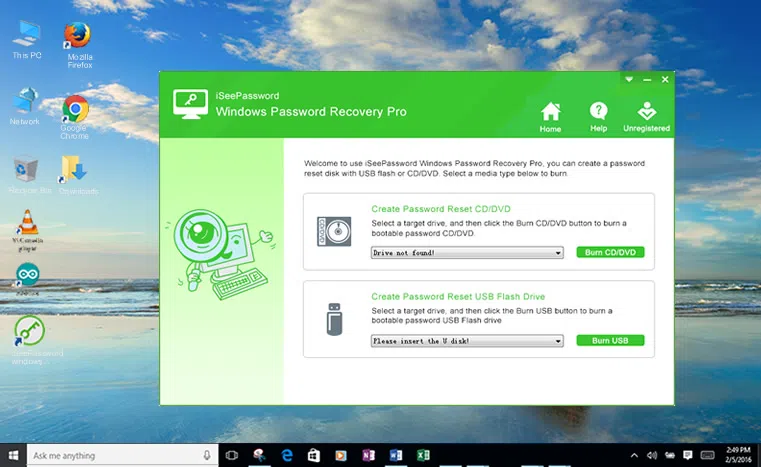 2

Plug USB Drive to Another Computer and Create a Bootable USB Reset Disk

Here, still work on another computer, you need to Insert your USB drive to your another computer (not your locked PC) , then select your USB drive from the drop-down list, and click "Burn USB " button to start burning an ISO image file to the USB drive. It will begin burning a boot password reset USB disk in seconds. When burning task completes, click OK. And take out of your USB drive.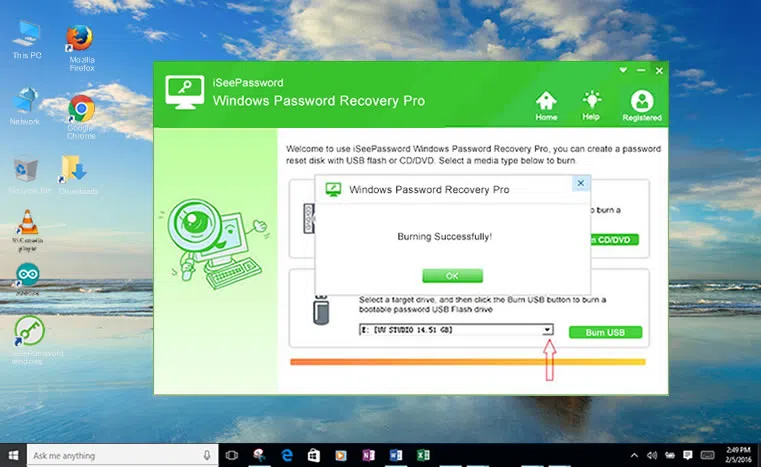 3

Insert the USB Driver to Your Locked Computer and Set Your PC Boot from USB

Now, switch to your locked computer, insert the burned USB disk to your locked computer. Restart your computer and then press the right key to access BIOS and set BIOS to boot from USB. This process is different from computer brands. See how to change BISO:

1. First Restart your locked PC and repeatedly press Del or F1 or F2 or F8 or F10 during the initial startup screen.

2. Select the USB flash drive and move to the top order. Press F10 to save and exit. Restart your locked computer.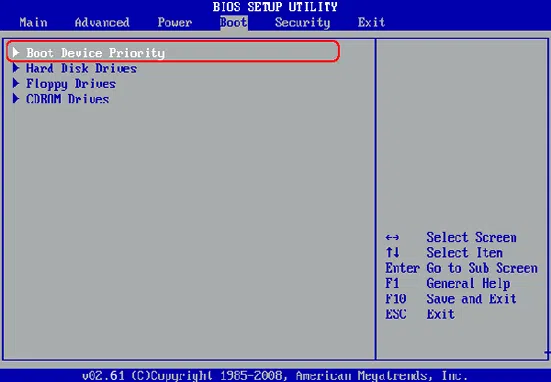 4

Select Account and Reset Password on Your Locked PC

After you set your boot order successfully, reboot your computer and now the iSeePassword Windows Password Recovery Pro will be loaded in the Windows PE. You will see the software interface like below. All of your created accounts will be displayed in the program, just select one you want to remove and click "Reset password" button.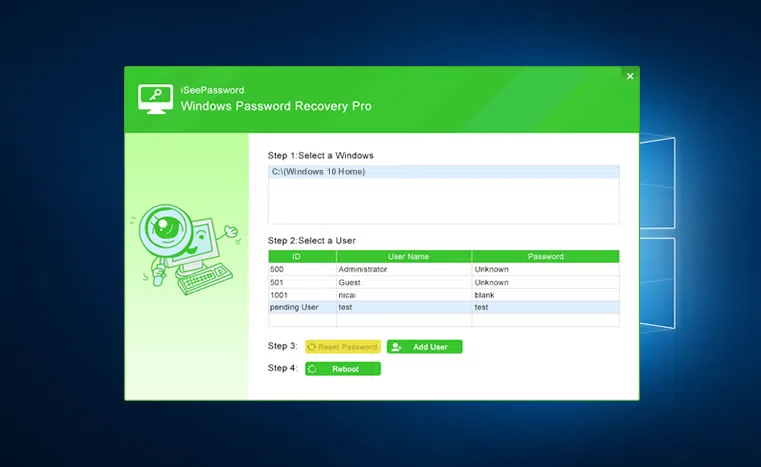 Finally. Once the password is removed, click "Reboot" button and eject password reset disk. Now, you can access to your Windows without password prompt.
Unlocking Windows 10/8/7/XP Administrator password is pretty easy if you have an installer disk, but if you didn't have one, I personally suggest you try this PC unlocker software to unlock your password protected computer. Its simple steps will allow you to gain access to your system and to assign a new password.

---
---