Yahoo Mail is one of the most successful email service provider that has over 225 million active email accounts. Yahoo revealed in late 2017 that over 1 billion active users has been served per month who uses Yahoo Mail regularly. And just like any other email account - Yahoo also need a User ID and a password to login to use their email service. In most cases, you can save the email and the password to your favorite browser and can automatically login whenever it is needed.
But the real hallucination of horror begins when you realize that you can no longer access your Yahoo Mail account due to entering the wrong password. There's no need to be embarrassed since everyone forgets their email and password once in a while. This can be really very frustrating and annoying since your Email account may contain important emails from office or friends or you may have also saved your medical records and scanned photocopies of legal documents that you cannot afford to lose at any cost. For the users who forgot Windows login password, try Windows Password Recovery tool to unlock your laptop.
The crucial and essential thing is there are several ways to recover your Yahoo Mail password and in this tutorial, we will show you how to recover your Yahoo Mail password so that you can access your email account again. Thankfully, you don't need to use any third party software or application to reset your password since Yahoo provides an awesome troubleshooter in their own website to reset your own password. Keep on reading to find out how to reset your Yahoo Mail password in no time.
Tutorial: How to Reset/Recover Yahoo Mail Password Using Recovery Email
When you signed up on Yahoo, you must have chosen a recovery email in case you forget your own password. This is very helpful since you can use that email to receive the password of your current Yahoo Mail account. Follow the steps below to reset your Yahoo password using your recovery email.
Step 1. Go to http://mail.yahoo.com/ from your computer or laptop or smartphone with internet connection using your favorite internet browser.
Step 2. Underneath the Sign in option, you will see a link that says "I can't access my account". Click on that once and wait until the page is loaded.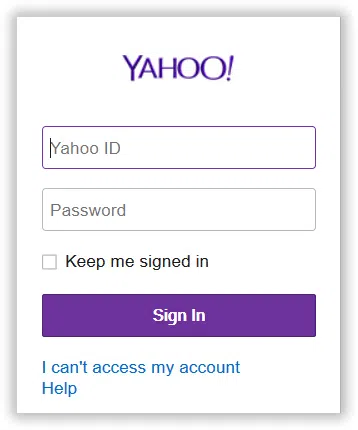 Step 3. On the next page, click on "I have a problem with my password" and click on "Next".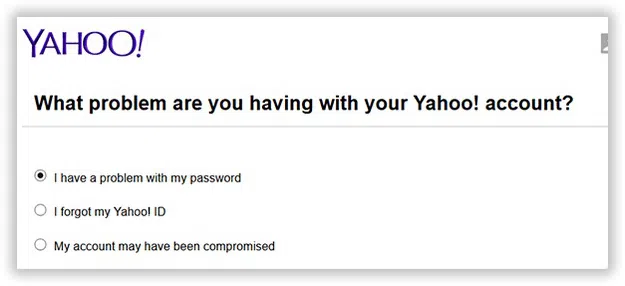 Additional tip: If you also forgot your Yahoo ID then you may need to choose "Forgot Yahoo ID" then retrieve the yahoo email ID first before resetting your password. And if you forgot to sign-in from more than 12 months, then you may need to click on "My account have been compromised" and let know Yahoo that you want to use your account again.
Step 4. On the following page, you will be prompted to enter your current Yahoo email account for which you wish to reset your password and click on next.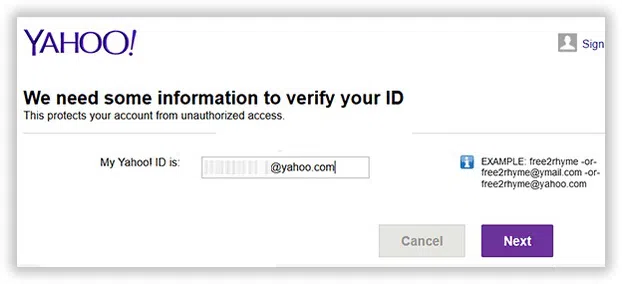 You will be asked to enter the security code too in order to verify that you are not a robot.
Step 5. Next, you will be asked to input the recovery email in which you Yahoo will send you the instruction on how to reset the password. For example: If your yahoo email is ggfoie90ur@yahoo.com and your recovery email is eitgw9ugt@gmail.com then enter the recovery email in the empty field.
Please remember not to put the yahoo email ID in this page as that will not resolve anything.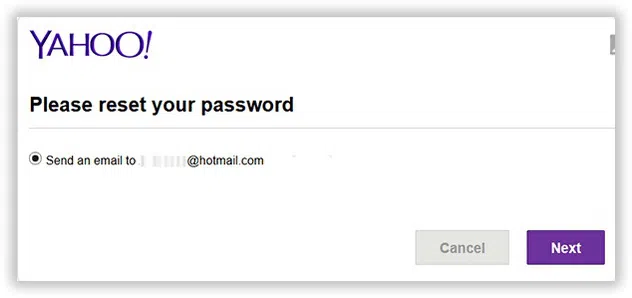 After filling the recover email ID, click on "Next".
Step 6. You should be able to see the following message indicating the new password has been emailed to your recovery email.
Step 7. Now login to the recovery email and find the email from yahoo with the instruction about resetting your password.

Step 8. Just click on the link that yahoo sent you and it should help you to reset the password of your current email account.
That's it. You may now login to your yahoo mail using the new password.
Conclusion:
Resetting Yahoo Mail password can be really very tricky if you don't know how to reset your password. Fortunately, we have shared the most decent method using which you will be able to recover your yahoo mail password in not time. Please note that you must remember the recovery email in order to reset the password of your current email account. Also, it is recommended that you must change your password to something suitable as soon you can access to your yahoo mail account and this time try to write the new password on a piece of paper or a text file so that you can retrieve the password if you forget it again in the future. Hopefully you guys found this article useful and will share it with your friends and family.

---
---