In the age of computers, we keep most of our data, login credentials, and other stuff on our computer. It is no less than a treasure of money, and therefore we need to keep it secure so that no one easily invade into it, and either make changes to our data, computer settings or steal our personal info and credentials. The simplest way to keep your Windows secure is locking it with a password so that only you or the one who knows the password can access the computer. Keeping the tight security is the best thing you can do, but sometimes such security becomes a problem for many.
Yes, What If You Forget the Windows Password?
You won't be able to login to your own computer, cannot access your own data when you really need to access them, technology has the answer and solution for everything. And, same for this forgotten password issue as well. There are multiple ways you can crack or hack Windows administrator password when you forget it, some of them work great and some don't. This article gives you two solutions to help crack or hack your own computer's login password, maybe they are useful. Choose the proper one according to your own situation.
Solution 1: How to Crack/Hack Windows Password using Command Prompt
The command prompt can be helpful solution if you need to crack or hack your own windows system in an emergency case. Do note one important thing, in the Command Prompt option, you're allowed to monitor all users of the system by entering some complex commands, so, please Do not arbitrarily use this method without great computer skill, otherwise your computer might be damaged and data will gone. Now the process isn't as simple as a few mouse clicks but as long as you can follow the instructions carefully, you will reset your windows password safely.
This method requires Windows installation CD or DVD or Disk. Enter the Windows disk, and boot your computer。 You will see this: Select the option "Repair your computer", and follow the on-screen instructions until you reach to this screen shown below:

Now click on Command Prompt, to open it.

Now, you have to do the first thing for backing up the original stick keys, and to do that you have to type:
1). Copy c:\windows\system32\sethc.exe c:\ Now, you have to copy the cmd.exe over the top of original stick keys which we took backup of. And then Copy c:\windows\system32\cmd.exe c:\windows\system32\sethc.exe

2) Now, restart your computer. When computer will start, you will see the login screen, press shift key 5 times, and you will see the command prompt in administrative mode.
Everything is set.  Now, just run a command to reset the password:
3) net user username MyNewPassword. Replace the username with your computer's username, and password which you want to set. Now, you can log into your computer using the new password you set.
Important thing: You remember we have taken backup of stick keys (sethc.exe).
4) Now you have to put the original sethc.exe back to its location, and that you can do by again restarting the PC with Windows installation disk, then open command prompt just like you did last time, and copy the c:\sethc.exe file back to c:\windows\system32\sethc.exe. Everything is done, and perfect!
Solution 2: How to Crack Windows Password using Recovery Tool
In recent years, password reset software has become extremely popular thanks to the way it's able to go into your PC and reset the password without causing any further damage or issues to your system. We have a software tool in our store which is iSeePassword Windows Password Recovery Pro , you can reset the password in just three steps. It has been designed to work in a special way to help reset the password of your system in the simplest way possible, it works very easily to load up before Windows does, change the stored password settings on your system, and then allow your computer to log in as a result.
Below is the step by step guide to using tool to hack your Windows login password. If you're Windows 10 users, see this article to reset Windows 10 password if needed.
What You Need:
1) Prepare a USB flash drive with no less then 512MB capacity or blank DVD or CD.
2) Prepare an accessible Windows computer for creating a password reset disk.
3) Download Windows password recovery program (Standard version) here.
1

Find An Accessible Computer and Download, Install Windows Password Recovery

Because you can't access to your locked computer, so, to create a USB password reset disk, you need to get a computer that can be accessed to. Then download and install this program on another computer, run it.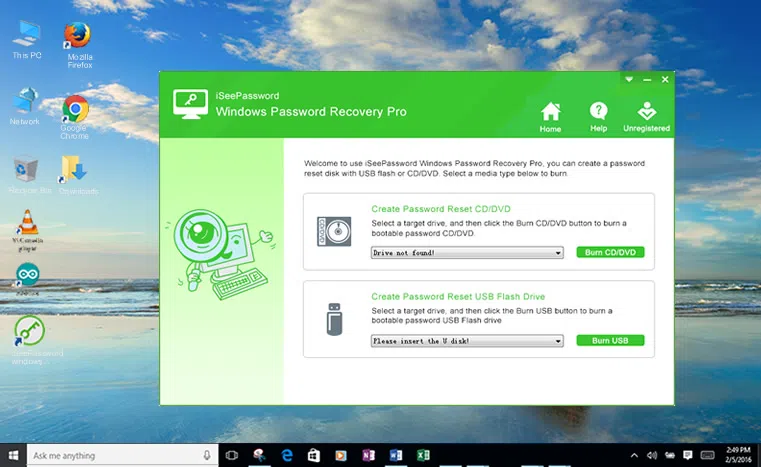 2

Insert Your USB Drive to This Accessible Computer and Create a Bootable Password Reset Disk (Take USB for Example)

When you launch the application, you can see there are two ways to burn a USB reset disk. In this article, we USB flash to demonstrate how it works. Insert a USB flash drive to this accessible computer, and Specify the device and click "Begin USB " to start burning an ISO image file to your chosen media.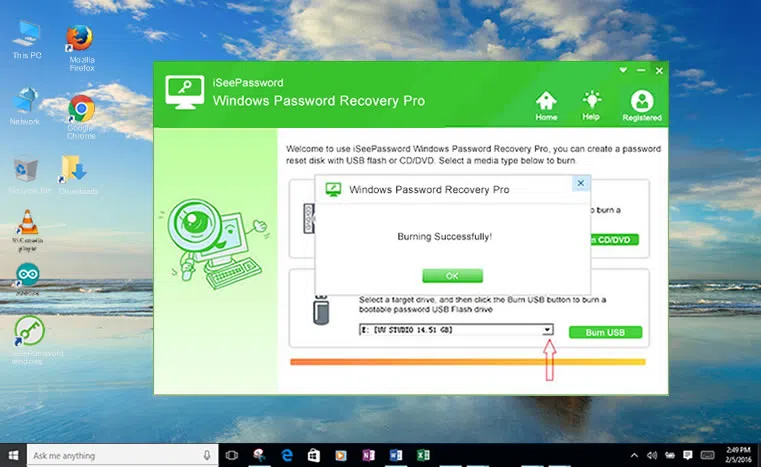 3

Insert the Created USB Reset Disk to Your Locked Computer and Set BIOS to Boot from USB device

After burning, pull out the the created USB reset tool and insert it into the locked Windows computer, then restart to your computer and make the computer boot from USB device.

See How to Change Boot Order on Your Locked Computer:

To enter the BIOS, you need to restart your computer and press the key "Del" or "F2" repeatedly and navigate to the BIOS, once the Boot menu has been found, search for the Boot Order to be changed. By using the + and - keys to change USB as the first boot order. Then press F10 to save and exit all of your actions. And restart your computer.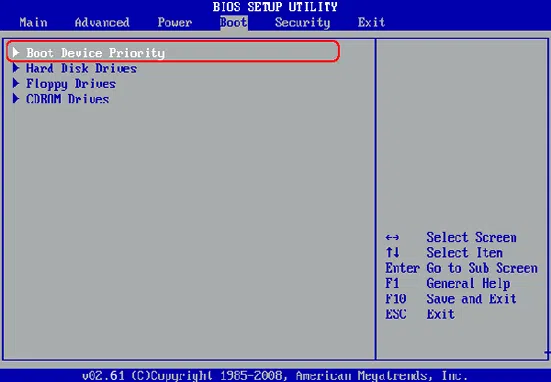 4

Select Account and Hack Windows Administrator Password

When the computer restarts, the system will boot from USB reset disk, then the windows password recovery tool will be loaded and run. Then the target Windows system and user account you want to reset and click "Reset". Finally click "Reboot".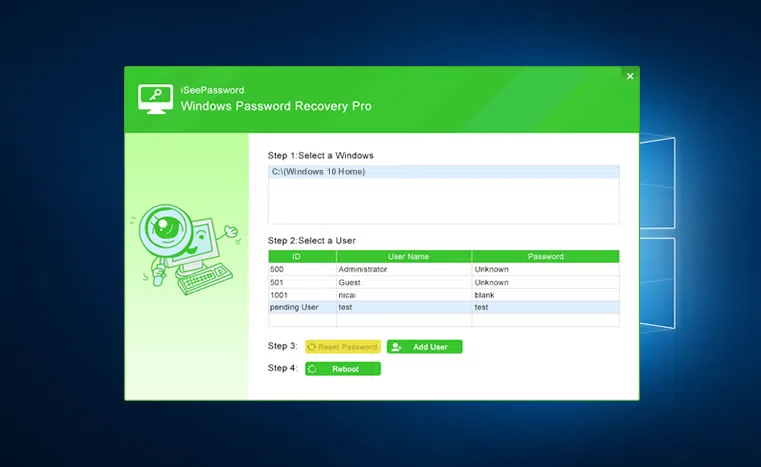 Verdict
In this tutorial, you have learned two ways of cracking your Windows computer's login password which comes handy when you have forgotten it. It's frustrating when you are being blocked by the security enforcement which you have implemented for others. Isn't it? Command Prompt trick is awesome but it is tough for you if you never used the command prompt. Therefore the second method of resetting the password using Windows Password Recovery Standard is the best option for you. We are sure you can easily hack or crack the password using this tool. Still, if you find any issues, ask in the comment section, and we will try our best to help you out.

---
---