With every leap we take towards advancement, setbacks are ought to come. And when it is about computers, most of the potential threat that may arise is due to Malwares. Malware is a short term for malicious software programmed by attackers to disrupt your computer system, acquire sensitive information or gain access to your computer system to change many things you do not wish at all.
Thus getting attacked by any malware is similar to get afflicted with a disease. One of the most difficult problems nowadays is that you cannot determine whether your system has been compromised or not. The attackers are designing such a hard to crack codes for malware softwares that once they attack your system, they would secretly start to damage everything without even letting you guess what is it doing exactly. And this is one of the hardest thing to trace on being attacked by malwares
Few reasons behind this trouble are the mishandling of the user as well. While you are using Internet, you choose to click on whatever you see for fun. It is recommended not to so. You can never guess, in which form or format disruptive programs are waiting to enter your system to corrupt. Thus be alert while using Internet or dealing affair online.
The following article would demonstrate few methods to help you remove malware on Windows computer in a safe way.
Method 1: Removing Malwares using Command Prompt in Windows 7/8/8.1/10
As you all know that command prompt is a very powerful invention of Microsoft which allows the users to access many hidden locations and do many impossible tasks by simply running certain commands. Here also we would use certain commands to do our job. The steps are given below:
Step 1. In order to open command prompt, first press "Windows key + R" and a small search panel would pop up at the bottom left corner of your screen.
Step 2. Type "cmd" within the search panel, and hit "Enter".
Step 3. On hitting "Enter", a black dialog box would open up which is called the command prompt.
Step 4. Next you have to choose the drive which you doubt to have got attacked by Malwares like viruses. Let's say, your D drive has been attacked with virus. So simply type "D:" and press "Enter". The access will automatically be directed to the D drive now from C drive.
Step 5. Type "attrib" and hit "Enter", you will see autorun.inf virus listed.
Step 6. To remove the virus, type "attrib –r –a –s –h *.*" and hit "Enter". This will remove all the archive, read only, system and hidden file attributes from all the files.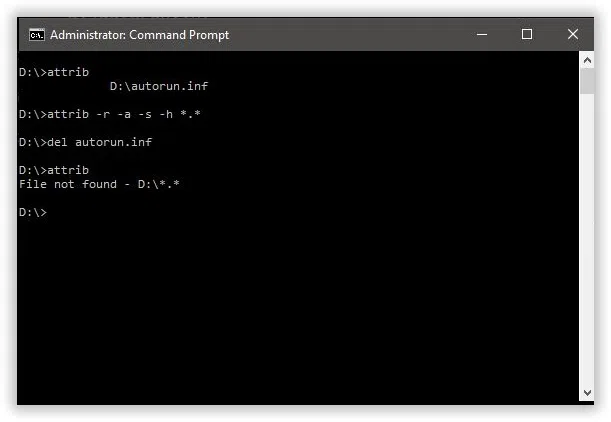 Step 7. Once you are done with this, type "autorun.inf" and "Enter" to delete all the corrupted files.
Also Read: 2 Ways to Take Ownership of File and a Folder in Windows 10
Method 2: Using Kaspersky TDSSKiller to Remove Malwares
Before beginning with this procedure download and install Kaspersky software in your PC. Click on the following link to download it:
Download here: http://support.kaspersky.com/downloads/utils/tdsskiller.exe
Step 1. After installation, double click on tdsskiller.exe to open this software. Then click on "Change Parameters".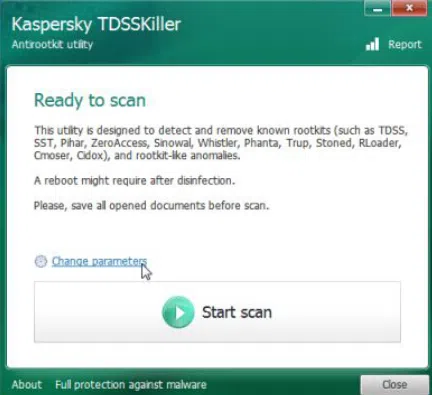 Step 2. Click on the check-box adjacent to the option "Detect TDLFS file system" and then click "ok".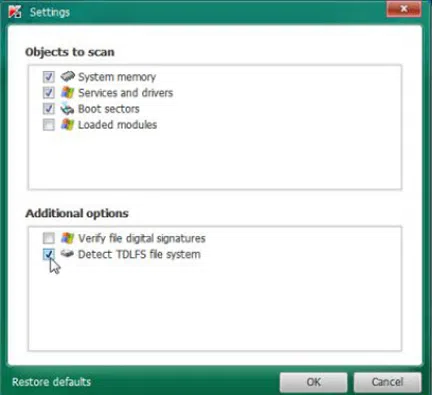 Step 3. Click on the "Start Scan" icon to start a quick scan of your system.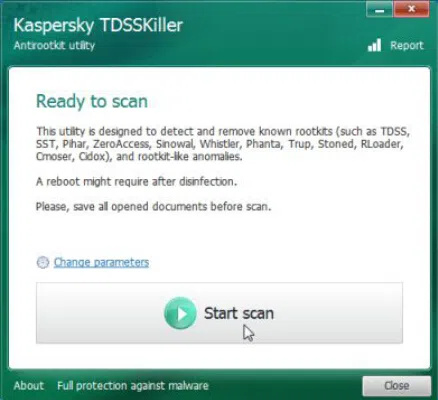 Step 4. Kaspersky TDSSKiller would start scanning your computer. This will take a little long time based on the size of your hard drive.
Step 5. Once the scanning is complete, it will notify whether there are any threats present in your system or not. If any threat is present, it will show a screen similar to the one given below.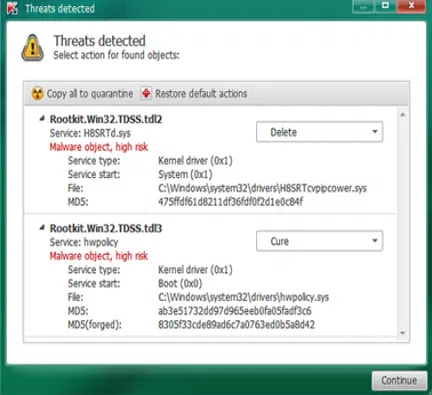 Step 6. If you want to remove the viruses enlisted by Kaspersky, simply click on "Continue", and the deletion process would get started.
Method 3: Remove Malwares by Reinstall Your Operating System
As mentioned before, the coding of certain malwares are so difficult to crack that recognizing whether your system has been attacked or not is very hard. Thus methods to remove malware threats may turn out to be pointless at many situations.
In those difficult situations, it would be best if you simply reinstall your operating system right from the beginning. The reinstallation would be refreshing attempt for the PC as all the defects and threats would be eradicated by doing it. This is Wiki tutorial on how to install new Windows system.
Conclusion:
Malware threats are really a frustration to all the computer users out there. But don't freak out. Ways are always available for the ones who know to find them. Similarly to cope up with these kinds of difficulties certain special measures are always available. All you need to know is to access them at the right time.
Keep your system clean all the time by deleting garbage files or temporary files from your system on a regular basis. This too would save you the trouble of malware infections. Try to avoid clicking on any abstract icons while using Internet. They could be malwares in disguise. But even if you get attacked by one, simply follow the directions and methods mentioned in this article.
---
---