We all know that the Microsoft office system facilitates the user to set up their password so that other people are not in a state to open or even modifying the document. This will not only save the Excel, Word but it will also save other documents like Access that are present in the compatibility password mode. Moreover, the sad part is that if you forget password in MS Access database then it becomes very hard to recover that as because the office password system is very much and common password recovery does not work.
Maintaining the privacy and security of data should be everyone's top priority assuming the increasing hack attempts every day. But using long and complex passwords can actually make us forget it sometimes. If you have are in the same situation and have forgotten your MS access data password then first you need to stay calm because in this tutorial, we will show how to crack MS Access password in no time.
Part 1. Where and How Access Stores the Password
Alright, let's get down to the business. It is pretty obvious that you have lost or forgotten your MS access password & looking for a way to recover the password which is why you have landed on this page. But you'd better learn about how Access stores its password.
Technically, the MS Access Databases password is stored by the following regular pattern –
1). Jet 3 – In this mode, the MS access database password is saved in the header of the MDB file and the format remains a plain text.
2) Jet 4 – In this mode, the password is encrypted with a basic XOR pattern algorithm depending on the data and times of the file production and further it is saved in the MDB file header.
3) Jet 3 & 4 – In this mode, the password is further encrypted with a XOR pattern affecting the MDB file.
4) ACCBD Files – In this mode, the password is not really encrypted as a plain text in the header file at all. Instead, a new hash value is allocated to authenticate the user's password validation. The hash produced by the tool is a combination of tow RC4 and SHA-1 algorithms.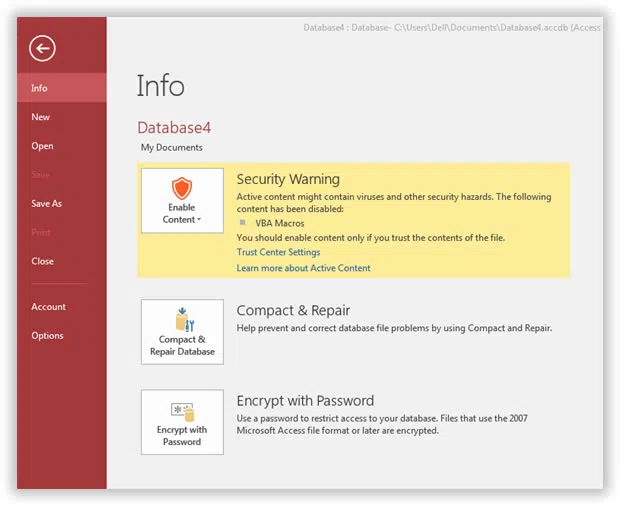 If you have chosen these patterns to encrypt your MS Access data then it is quite difficult to crack. Especially, it applies with the ACCBD files but MDB files are still possible to be recovered.
Don't miss: How to Find MS Office 2013/2010/2007 Product Key After Installation
Part 2. Try to Guess Your Accecss Password
The first Step that you must do after forgetting your password is that try all possible combination, as because the password was set up by yourself only. Moreover, you must keep in mind that there is no limitation on this part. Generally, it has been seen that most of us use just the simple password combination that is a short name, pet name or their birthday. Most of the time it has also been noticed that many write their password on a piece of paper, make sure that you check that has you done anything as such.
Before trying any solution, we would like you to suggest you to guess your Access's password by remembering the following things –
Try to input your birth date like if your birth date is 11/12/91 then type 111291 or 11121991.
Try to feed in your residential or office address like 4869 could be your street address which also could be the part of the password.
Try to guess your lucky number.
If the you're sports fan then try to input the jersey number of your favorite player.
Try to enter your phone number or office number.
Try to remember their library card number or college admission number.
Also read: How to Recover Forgotten MS Excel Password
Part 3. Crack Your Access Password with iSeePassword Recovery Tool
The second probable thing that you can do is that use the password recovery tool. This is probably the best way in order to recover your access password. Because you are familiar that the Microsoft has also strengthened the level of the password protection for the entire documents of the Microsoft office, which includes the Excel, PPT, word 2007 and etc. Moreover, they have continuously laid their effort in order to strengthen the password system algorithm, which will enhance the entire security system. So, we highly recommend you try iSeePassword Office Password Recovery software. The experienced team of the iSeePassword is kept a close look at the most recent updates and works on it. The software is also capable of the deep analysis of the password algorithm and also the implementation of the generated MS office.
It is the fast, easy and the safest way to access the documents that include the outlook, PPT and the other documents file. It is designed in such a way that it can recover the password in just less than twenty minutes and you will be amazed to know that is entirely automatic. That you all you need to execute is that just run the program.

Recover password from any product in Office 97-2016 without data damage or lost.
Provide 3 password attack types with powerful advanced algorithm.
Support Access database files(*.mdb, *.accdb)
Fully compatible with all versions of MS Access (97/2000/2003/2007/2010/2013/2016)
You can download the program from here.
1

Download & Launch Access Password Recovery on A PC

Simply download the program and install it on your Windows computer. Next, run the software and click on "Open" and locate the protected file.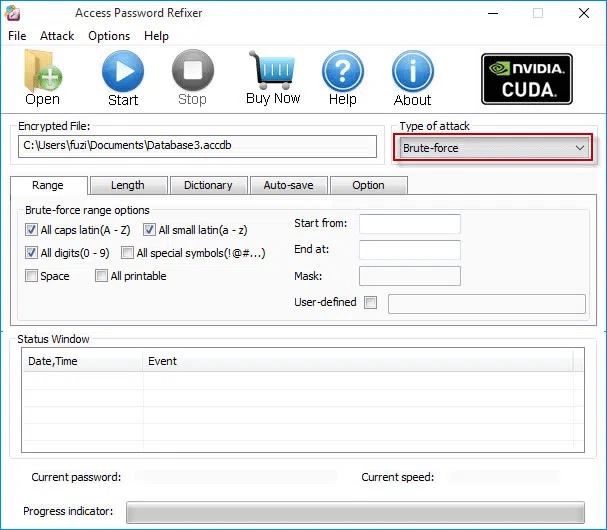 2

Choosing the Right Attack Crack Mode and Settings

Choose the type of attack like Brute force or Dictionary attack and wait for the program to crack the password.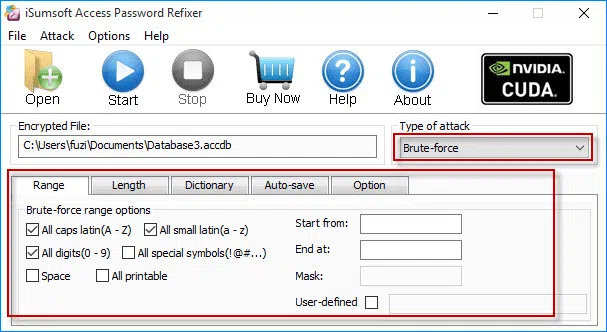 Learn about Type of attack:
Brute-force: You have to select this type if you can't rememebr any part of your information about your password. So, only need to set your password possible length and range. The program wil try all possible  combination of letters in your range. But this will take relatively long time.
Mark: Choose this attack type if you can rememeber a part of Access password information.

Dictionary: Select this type if your Access password is regular password like 666,123987,abc123 and other common or simple password. It can be found in a dictionary file.
Tip: Choosing the attack type and offering any significant information will help the program to perform at a higher speed and it will try to crack the accurate password. The selection of your attack type will directly depend on what portion of your password do you remember.
3

Start Recovering Password from Access File

Once all the settings are finished then click Start button, the Access password recovery program will start to recover the password from that Access file you imported. The required time is mainly depending on how complex the password is. Once the password was found, just copy it and save it on your notebook.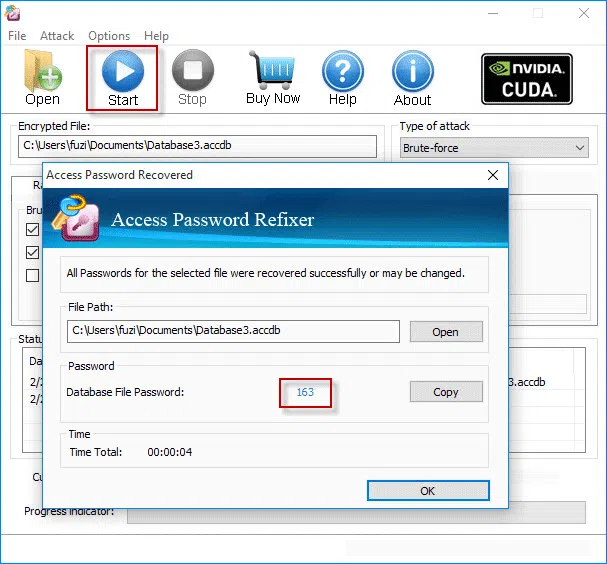 On a research, it was found that it is the quickest way to recover the complex password. The best part of this software is that it distinguishes the attack on this type based on their attack type. It is being ranked one in terms of speed to recover the speed and the simple reason behind it is the presence of the Multi-core CPU and GPU.
Conclusion:
When you plan to find a solution with the help of the web, you will find lots and lots of way by which you can crack your Acsess password. And the only thing that you do is try them out, other than knowing which the best one. But if get to use our program that iseepassword then you can get your password recovered in no time. The reason for its success is the advanced password recovery algorithm.

---
---