Now the Microsoft word document is one of the most used types of document files when it comes to writing textual documents and  commonly contain sensitive information including your business data and personal privacy. It is used widely in several work related issues and is also one of the most preferred forms of uses and thus it is imperative that the document is protected and kept safe from the hands and the interference of others. Now one must make sure that the password that you are providing is complicated and uncommon so that people are not easily able to crack it. Nonetheless in situations when you have forgotten the password, it can be very frustrating and intimidating.
Unlocking and Recovering
Now these are situations where you have forgotten the password but times may also occur where you will be required to access the document of someone else which is password protected and these are times when you need to unlock the document. Nonetheless both the process will be quite the same. The instructions as mentioned by iSeePassword provides clear points that one needs to follow in order to make sure that the document can be accessed.
But first of all, it's necessary to teach you how to create a secure Word password and hope it helps you a lot.
Part 1: Unlock Password Protected Word Document with Password
As we know that the password offers a solid line of defense against others to get your sensitive MS word document, to keep your MS word safely, you should set a strong and complicated password for all your MS word document. But if you no longer need the password protection for your word document, it's very easy to remove the protection if you know the password created previously.
For 2007 version: Open your MS Word 2007 document that you need to protect, > Office button > Save As , then click "Tool button" > General Options > at "Password to open", then you'll be asked to enter the password.
For 2010, 2013 and higher version: Open a MS Word 2013 document that you want to protect, > click "File button" > Select "Protect Document" > You can see "Encrypt with Password" > Enter the password you want and click "OK".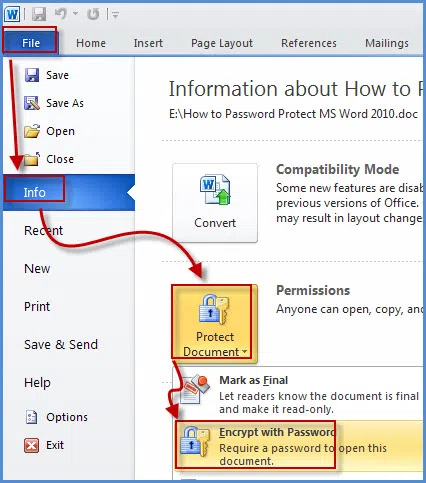 Part 2: How to Unlock Word Document if I Forgot It
Once you make a password-protected your MS word document, whenever you open the MS document, you'll be asked to enter the correct password you set before. In many case, you might not remember what the password you set and can't access to the word document. If so, you'll never access to your MS word unless try iSeePassword Word Password Recovery, it applied advanced cryptographic algorithms and unique scanning mode that can unlock password-protected word document fast and safely no matter how strong or complex the password is. This program is especially designed for those who forgot MS password. It works well with all MS word series version. Like Word 2003, 2007, 2010, 2013 or higher.
1

Download and Install Dr.Word on Your Computer

First of all, you need to download and install Word Password Unlocker on a working computer which stores your locked Word files, then run the program. If you forgot the Word document "Open Password", then select the first option to unlock.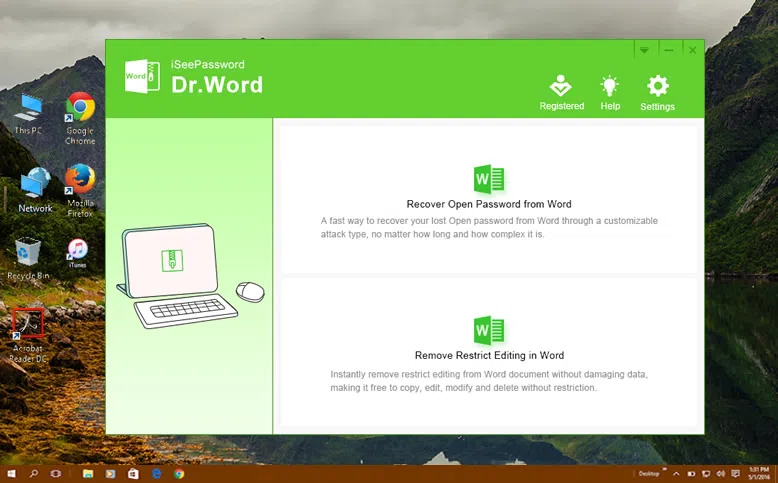 Here, in the next page, click "Add File" button. This will guide you to the list of all the word documents that you want to unlock and you can simply select the one that you like to unlock, select a locked Word file then open it.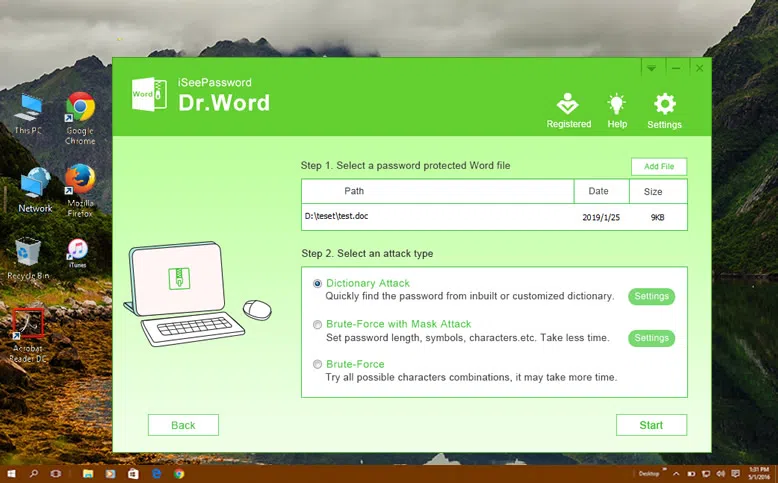 2

Choosing the Right Password Recovery Mode

Now there are three modes with the help of which you can crack or unlock your Word document and they are Brute Force attack, Dictionary attack, and Mask attack. All these modes differently provide options that can help you with the password crack in different ways. Select the option that you want to. The brute force and the Mask attack are the ones that are most frequently used. Once you have selected the option that you want then simply click on the start button and the process will be initiated.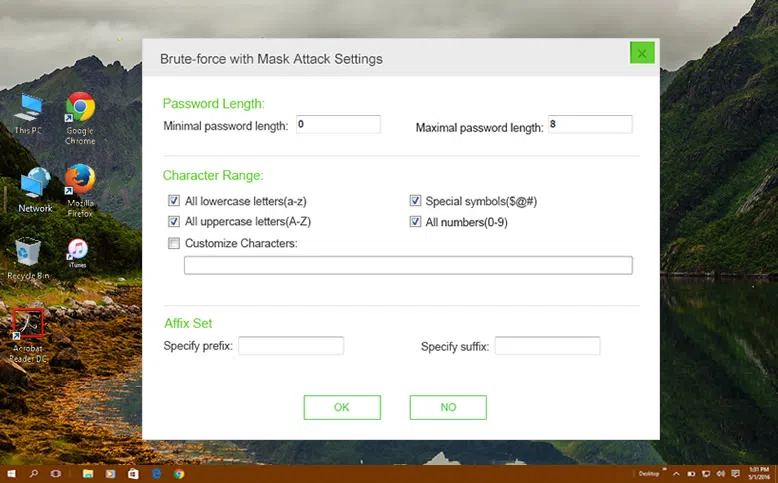 To make the recovery process more eraser and fast, you may need to make some additional settings for each attack types.
For Dictionary Attack: You can add tens of thousands of possible password combination in a notepad document, then import to program, the program will search your password in the list.
For Brute-force: It will try all possible combinations of characters and symbols to recover your MS Word password.
For Mask Attack: If you still remember part information of your password including length,  character settings, first and last character,etc, try this type, it will unlock your Word with less time.
4

Start Unlocking Your Word File

The unlocking process will take some time based on your password length and complexity and please wait patiently. Once the password is found, it will be displayed on a Window like below and also will be saved in the installation. All you need to do is copy the original password and then paste it in the required dialogue box, you can unlock the document successfully without having to break the original password.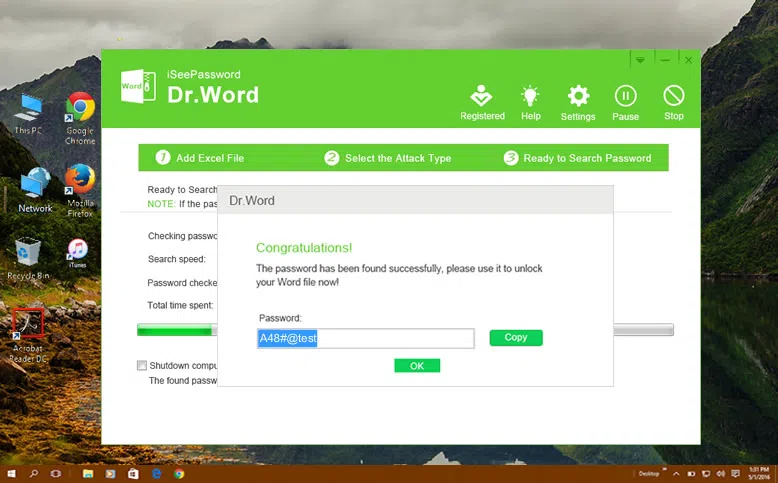 NOTE: In this page, you should see an option "shutdown PC", click this option means that you can leave your PC searching the password alone, once it found the password your computer will be shutdown automatically and password will be saved in your installation.
Feature 2

Dr.word also Allows You to Unlock Editing Restrictions in Word Document

Restrict Editing option is a new security option embed in Microsoft Word document, which allows user to prevent unauthorized editing & formatting. But if you forgot this permission password then you will also bed locked by it. But Dr.Word program can simply remove this restrictions without losing data.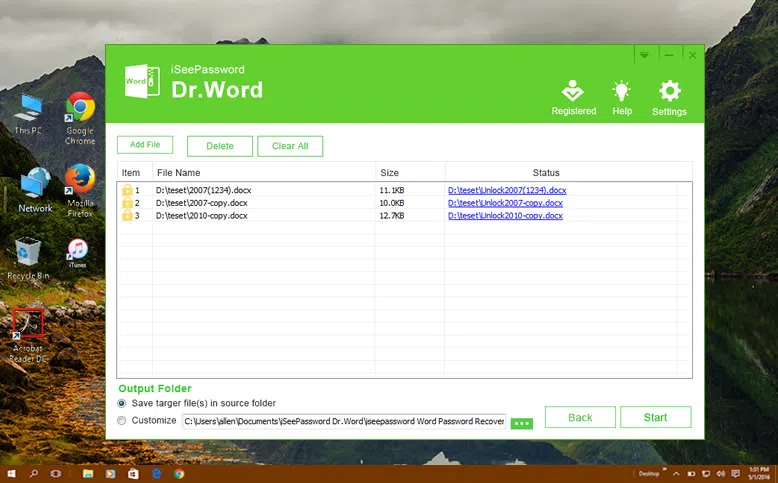 As you can see, You may find this a bit overcomplicated, but it's actually straightforward and works well. This program and the guidelines that have been provided by iSeePassword are simple, effective and will definitely serve you the purpose of being able to access the Microsoft word document that you have been hoping to access. This unlocking method is unique because you will not have to do away with the old password and recreate a new one in the process of accessing the file. Thus the password and the document as well, remain intact.

---
Related Articles & Tips
What to Do If You Forgot or Lost Windows 10 Login Password
---