PDF (Portable Document Format) is a file format which creates documents imprinting information as electronic images which can be viewed, printed, copied, and navigated as per the requirement. It is being widely used for its data security features which ensure that the information that a PDF file contains cannot be misused otherwise. PDF files are usually documents such as product brochure, datasheets, eBooks, and magazine articles. But due to the importance of this format, it is very much required to password protect the PDF files to prevent any modifications to their contents.
It is possible to render a PDF file with restrictions which prevents random users from editing the file contents like copying, printing, adding texts, etc. Such password restricted PDF files are called Owner-Locked PDF files.
Now the question is that how to create an Owner-Locked PDF files. Here in this article we would discuss the method to encrypt a PDF file with restrictions to convert it into a secured file and at the same time the alternate method to remove PDF security password to make it editable again.
Method 1. How to Encrypt Owner-Locked PDF File
The owner-locked PDF files are actually PDF files with restrictions from which no information can be extracted. All the editing options like copy, print, add text are disabled to prevent misuse of the data they contain.
Step 1. Choose the PDF file that you want to restrict from editing with a password.
Step 2. Open the PDF file using Adobe Acrobat.
Step 3. Click on "Tools" and then select "Protect" from the sub-menu.
Step 4. Select "Encrypt" option and then click "Encrypt with password".
Step 5. In case you are prompted with a security pop-up message, click "Yes" to proceed.
Step 6. Now to customize the permissions, select "Restrict editing and printing of the document" check-box.
Step 7. Input the password of appropriate strength.
Step 8. From the "Printing Allowed" drop down menu, select any of the three options as per the restrictions you wish to put on the file:
NONE: Choose this option to prevent printing of the file contents.
Low Resolution: Select this option if you wish to allow the user to print the file with poor resolution quality.
High Resolution: Select this option if you wish to allow the user to print the file content with improved quality.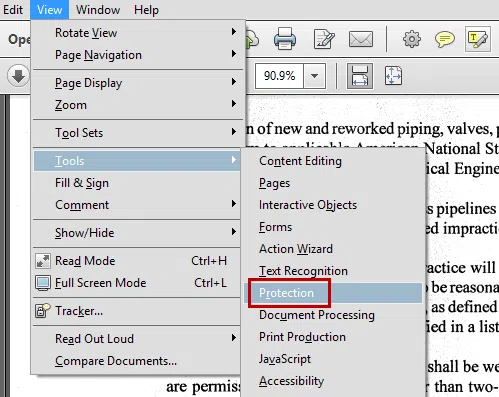 Step 9. From the "Changes Allowed" drop down menu, select "None" to completely protect the file or you can choose other options from the sub-menu to restrict the permissions.
Step 10. Uncheck the boxes "Enable Copying Of Text, images and other contents" and "Enable Text access for screen reader devices for the visually impaired".

Step 11. Select an Adobe Acrobat version in the "Compatibility" section and choose the options as per what you want to encrypt.
Step 12. Finally, click "Ok" and reenter your password if asked for confirmation and click "Ok" again.
Don't miss: How to Edit A Password Protected PDF File?
Method 2: How to Decrypt Owner-Locked PDF File
If you have downloaded a PDF file which is owner-locked which means you are prevented from doing any kind of editable job, like copying, printing, etc. then you would definitely need a reliable tool which can decrypt or remove the restrictions with 100% guarantee. iSeePassword PDF Password Remover is one such tool which can effectively remove the password restriction in 3 to 4 steps in less than a minute. It is usually compatible for mostly all the operating systems, such as Windows Vista/XP/7/8/10 and also for Mac.
Make sure the program file is downloaded and installed properly on your computer. Then follow the given below instructions to decrypt the owner-locked PDF file:
1

Download and Install PDF Password Decrypter on A Computer

Click on the tool icon from the desktop to launch it. From the software interface screen, click "Add files" to import the required PDF file. You can also drag the file to the software screen.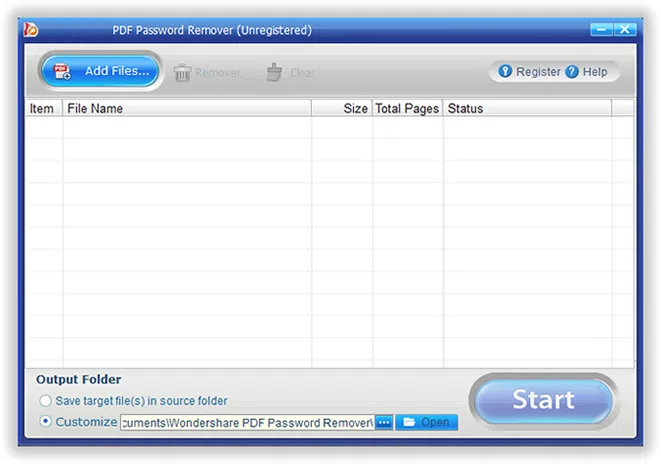 NOTE: You can import up to 200 PDF files at a time and you can click on "Remover" button to delete the imported file.
2

Set An Output Folder to Save Your PDF Files

Choose the location where you would like to save the unsecured file. You can select "Save target file into the source folder" if you want to keep the decrypted file into the source folder again. You can also click on 3-dot icon to customize your own folder.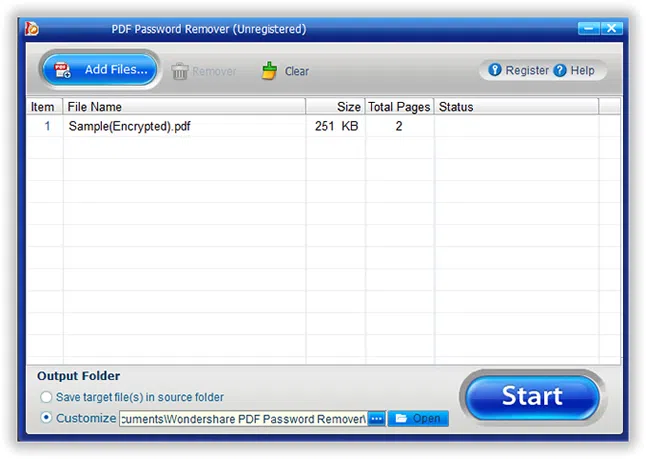 3

Start to Decrypt PDF Password Now

If any lock icon appears next to the PDF files, then it is user-locked. Enter the password first to proceed to the next step if required.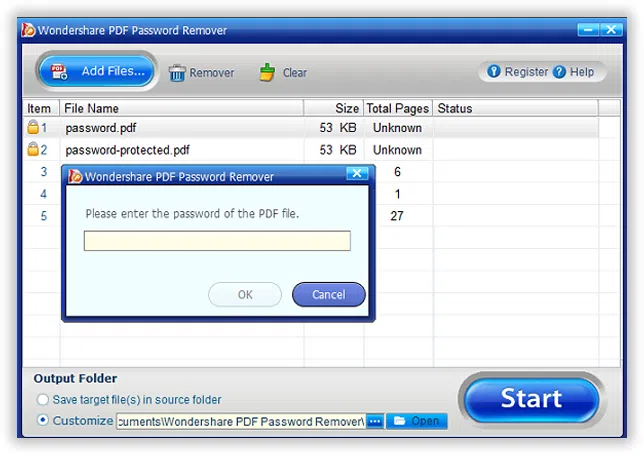 Step 5. Now; click on the "Start" button to begin the decryption procedure.
Step 6. It will only take few seconds before the file is decrypted. You can now download the unsecured file to render any change you want.
Conclusion
Password protection to PDF files is as equally important as it is to share information in PDF formats. With the ever-increasing demand of this format, documents have got more security issues. While you know how to crack PDF file password, you should have the proper means to decrypt the file as well. For such cases, iSeePassword PDF Password Remover is the most reliable tool for the job. Unlike other third party tools it ensures 95% restrictions removal within few seconds with no flaws during the decryption process.

---
---