"I've tried to create a text watermark for my PDF file in Acrobat 9 and in the appearance options I set it as "Only Show when printing", but not to view on the screen. I was able to see a thumbnail view of the PDF document in the print dialog, but when I print the PDF document, the watermark doesn't show in the printed PDF document, the watermark is hidden! I can't find a solution anywhere else!"
There are multiple users with the same problem in Acrobat 8 or Acrobat 9 and they don't know why? In fact, If you understand the structure of PDF documents, then it is not difficult to track the possible causes of the problem. Because the so-called watermark is actually a electronic stamp that created in PDF and paste into PDF content. And you can find the watermark can be moved in the Acrobat, that's because it's only attached on the surface of content in PDF but not as part of the content of the PDF file. So this kind of watermarks can't be printed out directly.
Many times, in order to prevent others from misappropriating the content in your PDF files, we used to protect PDF files by adding watermarks to PDF files, this is great method! However, the most friendly anti-theft measure is to make watermark only appears when printing out , it protects your PDF document  in specific ways without hindering the experience.
This article gives 3 ways to create PDF watermark that ONLY shows when printed
Method 1: Enable Watermark in Printed File with Acrobat
When you want the PDF watermark to be shown up when the PDF is printed and not visible when previewed on a computer, I thought it was impossible at first, but after a deep analysis of Acrobat, it seems possible. Acrobat does provide such feature to help users show watermarks only when printing.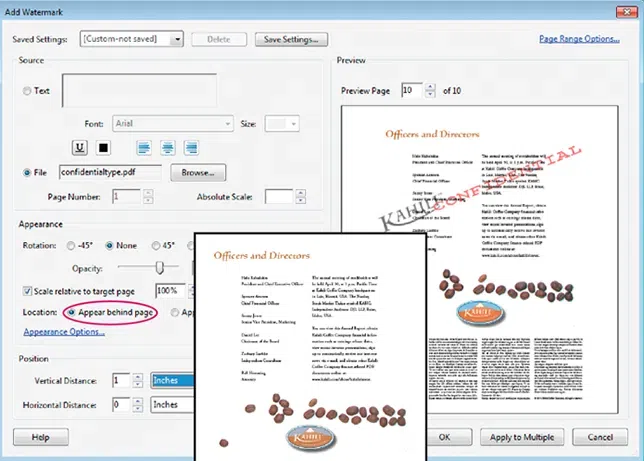 Step 1. First, open your PDF in Acrobat program, then choose Pages > Watermark > Add Watermark.
Step 2. Add your text or image watermark as desired, then adjust scaling options.
Step 3. Now, you should see the Apperanace options beside Location, uncheck the Show When Printing option.
Step 4. If you need to apply the same settings to other PDFs, click Apply to multiple files. Then click Add File and select the file. Then click OK.
Method 2: Create "Print Only" Watermark on PDFs with MarkPDF
Of course, the Acrobat program prvoide ability to help users create hidden watermarks and only shows up when printing out. However, there are many problems in practical use, such as. PDFs cannot be printed or watermarks can't be printed. Here I'd like to recommend to you a powerful PDF watermark software - iSeePassword MarkPDF, which can not only remove images and text watermarks with one click, but also add images and text watermarks in batches. All features in MarkPDF are on par with Acroabt, and the software is easy to use and cheaper than Acrobat. Fully supports Windows and Mac systems, and supports the latest PDF files generated by Acrobat.
1
Start to Download and Install the MarkPDF on Your Computer.
Firstly, you need to download the iSeePassword MarkPDF software on your Windows or Mac computer, then install it. After installation, launch it! The main interface should like below. There are two powerful features in it: Remove watermark and Add Watermark. Here to create a "Print-only" watermark on PDFs, you need to select "Add watermark to PDF" option.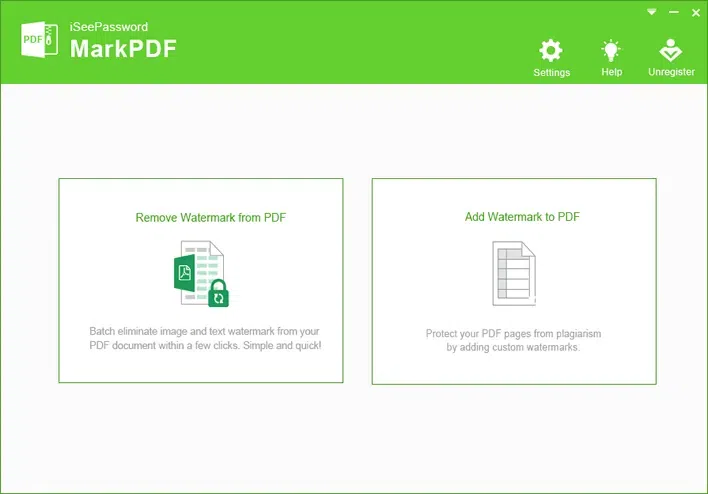 2
Add PDF Files to MarkPDF
Now, click the Add File button to browse the PDF files that you want to add "print-only" watermarks. Then click settings button to create your watermark templates.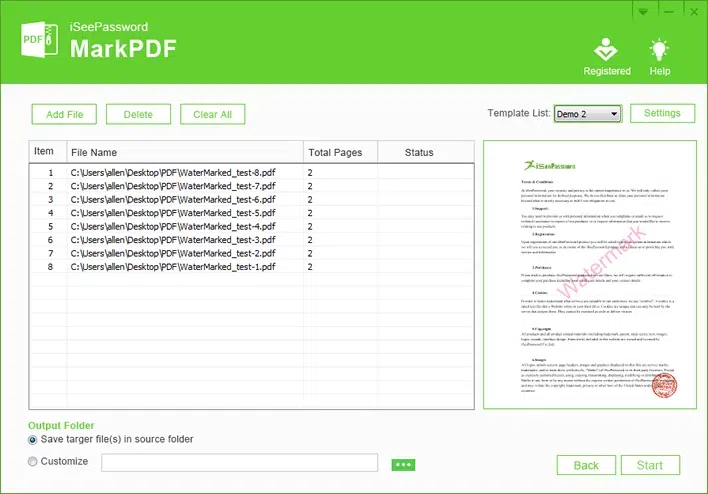 3
Create Your Own Watermark Templates
MarkPDF gives you ability to customize watermark template through template management, allowing you to create different watermark templates and save them in the program. After you import the PDF fiels, then select the saved template and apply it to the PDF file. Easy and convenient!
Add Text Watermark to PDF:
Like Acrobat, you can adjust: Font style, size, color, opacity, rotation, tile style, position, layer and page range.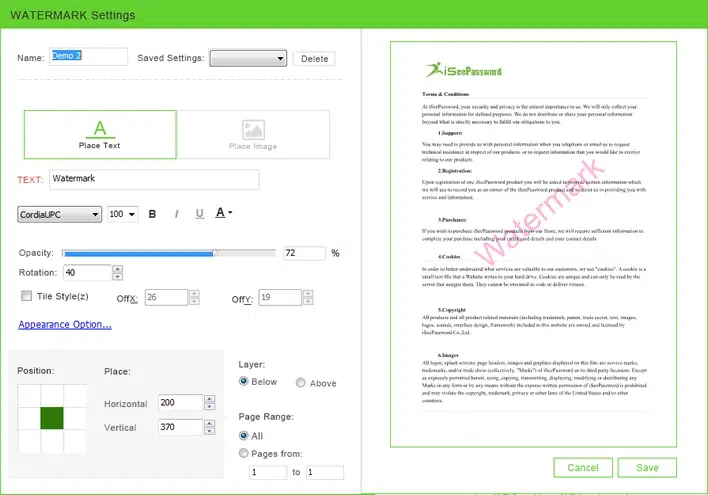 Add Text Watermark to PDF:
You can adjust: image width, height, opacity, rotation, tile style, position, layer and page range.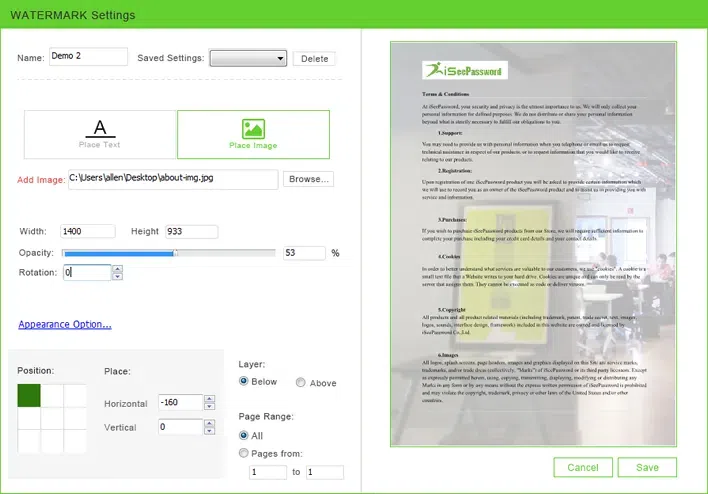 4

Select "Only Show in Printed PDF "

After you have completed all watermark settings, click: Appearance Option in the settings interface then a dialog box opens. There are three options to show your watermark. Just uncheck "Only show in printed PDF file".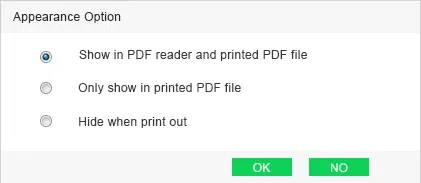 5

Start to Add a "Print Only" Watermark to PDFs

After you compete your watermark template and save it. Back to the "Add-File" interface, you can see your newly created watermark template appears in the Template List including the our preconfigured demo. Just select your own watermark template name and click start button, all of your imported PDF files should be added with your "printed-Only" watermark.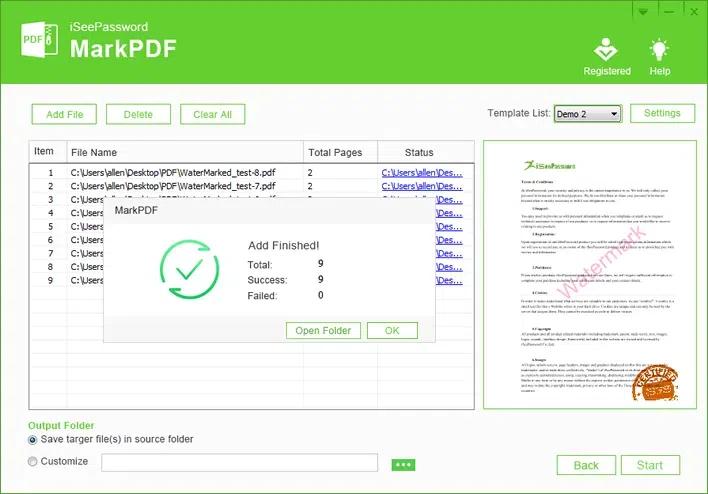 Now, try to print your PDF files and you can see all of your PDF files can be printed with your own watermark. The program is compact, flexible and convenient! What's more, you can also remove image or text watermark from PDF with iSeePassword MarkPDF.
Method 3: Create A Watermark that Only Shows when Printing using InDesign
Adobe InDesign is a totally new software positioned in the field of professional typesetting. The powerful functions make it possible to provides a series of comprehensive typography functions for flexible, complex design such as magazines, books, and advertisements. It's also possible to add a watermark to PDFs in InDesign, InDesign program also give you a chance to create a watermark that would print but not appear on screen in Acrobat or Reader.
Step 1. The first step of course is to create the watermark, open your InDesign program and import PDF files.
Step 2. Try to create a Master Page with "DRAFT" text outlined and you have to make "DRAFT" is topmost.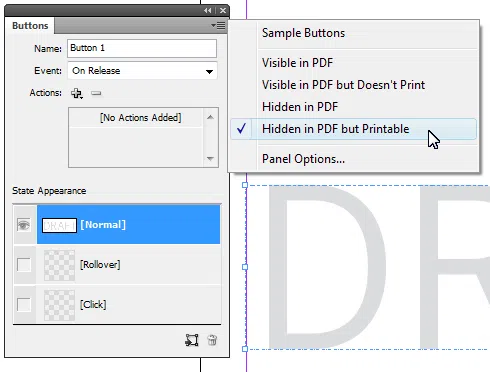 Step 3. Now you need to convert DRAFT page to a button, right-click and select Interaction > Convert to Button from the context menu to convert it to a button. Once done, select the option "Hidden in PDF but Printable".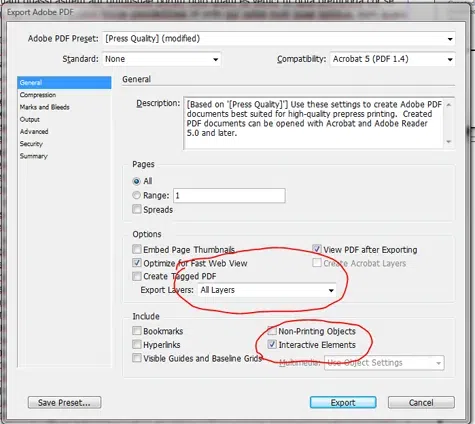 Step 4. In the Export page, you need to uncheck the "interactive elements" in the General settings, then try to print your PDF files in your printer.
Conclusion:
If you want to create a PDF document with the copyright and watermark is pasted in the document, and the watermark will not be visible when viewing on computer but not shows up when printed out, then try these three methods mentioned above. However, MarkPDF software is the easiest and most obvious tip but it could be worth thinking about, All the watermark that created in MarkPDF do not affect the user's reading.

---
---