When it is about some usual belongings you can compromise if it goes missing, but when it comes to iPhone device, you simply cannot sit without being restless. Try as you may to keep calm, but the heavy bucks you have paid for the product would definitely make you cranky unless you get your device back. But sometimes, regardless of many attempts you fail to retrieve your iPhone.
On such occasions, you first need to focus on how to lock your iPhone remotely before it's misused by any stranger. At least the information will be blocked from being displayed to the stranger, even though you don't get to retrieve it. It is better to lose something rather than being exploited altogether. Apple is very much concerned about its users thus has provided a special application called "Find My iPhone" to track the lost device or to lock it from distance apart. Few more applications are also available which can safely lock lost or stolen iPhone before it is retrieved.
Here in this article we would basically focus on locking the iPhone rather than tracking its whereabouts on maps.
Method #1: Use Find My iPhone On the Web
Find my iPhone is one the powerful programs that can help you locate and remotely lock your lost or stolen iPhone from anywhere. "Find my iPhone" includes a mode called "Lost Mode" which at its best helps you to set a Passcode on your lost device thereby locking it right away. So long as the Passcode is not entered the device cannot be unlocked.
The guidelines to lock your iPhone using Lost Mode are given below in steps:
Step 1. Sign-in to iCloud.com with your Apple ID and select "Find my iPhone" option from the list.
Step 2. Tap on "My Devices" from the top menu, and choose your lost device to place it into Lost Mode.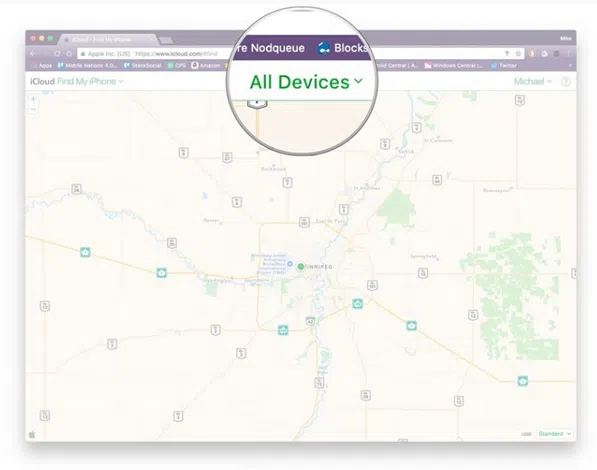 Step 3. You will be displayed with three options and you get to select "Lost Mode" from them.
Step 4. Now; you have to enter a mobile number at which you can be contacted if your lost iPhone is found out. This will be the only option which will be displayed on your lost iPhone other than Passcode lock.
Step 5. Select "Next" and enter a message to be displayed on your Device, for instance, the iPhone has been lost, please call me on the following number xxxxxxxxx.
Step 6. Lastly, when you are done with all the aforementioned set up, tap on "Done" option to activate your lost mode.
Step 7. Whoever lays a hand on the device, he either has to call you on the number displayed on the screen or has to enter the Passcode which had been previously set by you, so that option is invalid unless you unlock it with the Passcode after you get it back.
Tip: Even your device was lost or stolen, you still can be able to extract data from iPhone backup, Just try iPhone backup extractor program to scan and analyze everything stored in your iTunes backup, then export to your computer. See how to extract photos from backup.
Method #2: Use GadgetTrak to Lock Your Lost iPhone
GadgetTrak is another powerful utility to lock your lost iPhone or to locate it remotely. One of the best features of this application is that it would send you location reports and can snap a photo of the thief with the built-in camera. Moreover, it puts a restriction on Deleting apps which prevents the thief from deleting the GadgetTrak off your lost device.
Read below to know the features of GadgetTrak to lock your lost device.
Step 1. Firstly; install the program on the device which you would use to lock your lost iPhone remotely.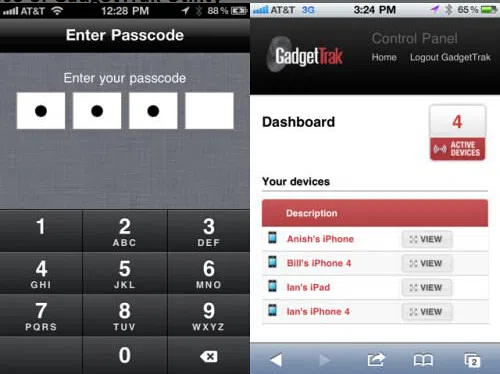 Step 2. Tap on the utility icon to launch the program on your iPhone.
Step 3. Now, you need to create an account and sign-in to it.
Step 4. Next, you have to create a Passcode to prevent any further unfair action with your device settings.
Step 5. Once you have set up the Passcode, choose your device from the dashboard on the right side.
Step 6. When you select your lost device and activate it, it would automatically lock your lost iPhone with the Passcode that you have set in the first place.
Step 7. You can also view the device location status on a map which would help you to track down your device.
Method #3: Use iHound Utility to Lock Your iPhone
iHound is another free utility service which can keep your device safe by remote data erasing, device locking, location tracking, and alert siren playing. All you have to do is to set a Passcode and select your lost device from the dash-board, it will lock your misplaced iPhone remotely right away.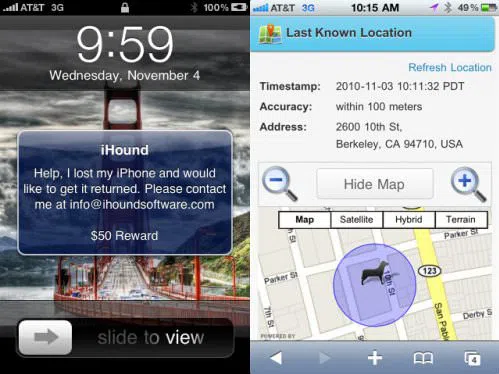 Conclusion:
No wonder iPhone is an asset to those who know the worth of Apple products and have been acquainted with iDevices for a quite a long time. Such users cannot choose any other devices over iDevices. Thus losing an iPhone is really a matter of great concern. Though if you register a complaint to Apple or file a case against your loss or theft, that would help you retrieve your iDevice definitely in no time, but before you do it, it is necessary to lock your lost or stolen iPhone so as to prevent any further unfair action with your iDevice.

---
Related Articles & Tips
What to Do If You Forgot or Lost Windows 10 Login Password
---