"I got some PDF documents from person who leaved the company and I need to save some important data. However, I found it's pretty hard to copy text from a protected PDF files after tried several tools. I would appreciate it if you could tell me how to copy the content from a protected DPF files to word."
May times when you're trying to copy text from a protected PDF file to a word and edit, print, delete or modify, you will be rejected as you do not have enough permissions to perform this operation, and even you cannnot open the PDF file without password. One reason is that PDF is actually an image file rather than the text, the other reason is that your PDF file was encrypted with permission password, which is used to prevent text from being copied by unauthorized users. If it's confirmed that your PDF is protected with permission password, the only choice is get back the password from your original author or request an unprotected version, Otherwise, the file cannot be edited, modified or printed.
The main reason author encrypts the PDF file is to avoid copyright issues, and this article describes four ways to help users copy text from a protected PDF document into Word.
Method 1. Take A Screenshot and Use OCR Program
This method works for the PDFs that are actually images, instead of text, then you can use any of screenshot captor to capture the content from your PDF file and and save the captured image locally, then extract the text from the image by using some free OCR programs, even this is an easy way to copy text from a protected PDF file, but many texts scanned by OCR are unreadable, garbled, and require a lot of time to modify. In my opinion, it is not a wise choice.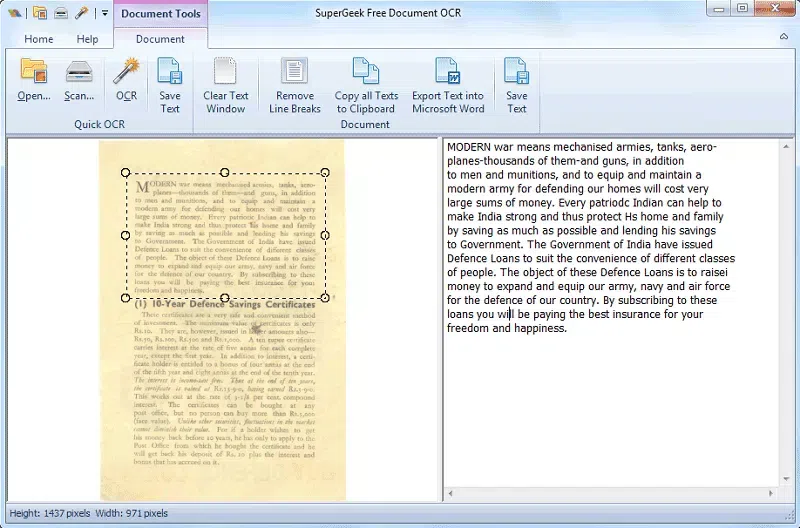 Method 2: Copy Text from Protected PDF File using DR.PDF
In order to copy text from a protected PDF file smoothly, you have to first remove the security from PDF file or PDF open password, which prevent you from accessing to PDF. Here we suggest you an excellent PDF password recovery tool - iSeePassword Dr.PDF, this program not only can crack PDF open password but also allows you to remove permission password without damaging the PDF structure and content. Once the password is successfully removed, you can easily copy text from protected PDF to a word for editing.
Whatever the password encryption type your PDF used, Dr.PDF can quickly remove the protection without damaging the original structure. It supports removing password from the PDF that generated by Adobe acrobat 18 edition with latest the 128-bit RC4 and 256-bit encryption algorithm.
Part 1

Function 1: PDF open password

For PDF open password, Dr.PDF can be able to crack your PDF open password by using three options: mask attack, brute force attack and dictionary attack. Because the password information is different, so it must take different options to different situation. With the GPU acceleration, Dr.PDF increases the password recovery speed up to 30 times, in our test, it only took 20 minutes to crack a 5-digit PDF file encrypted using the RC4 algorithm.

Step 1. First of all, make sure you've downloaded and installed Dr.PDF software on your computer successfully, (support Windows and Mac OS ), then run it and you will there are two options listed in the home window, here we will need to choose first option "Recover PDF open password".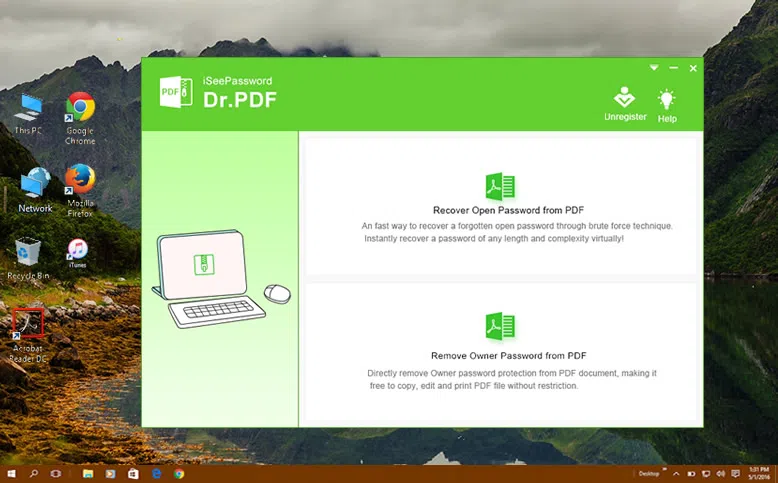 Step 2. Click the Add File button to import your protected PDF file to Dr.PDF program.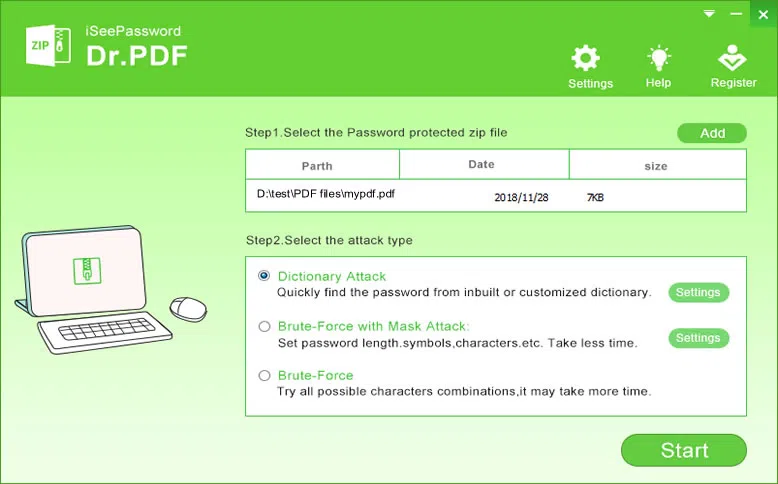 Step 3. For the PDF opening password, Dr.PDF uses three methods: mask cracking, brute force cracking and dictionary cracking to recover your PDF opening password. If you can provide any part of your password information, then we recommend you to choose "Mask Attack" because it takes less time to recover the password.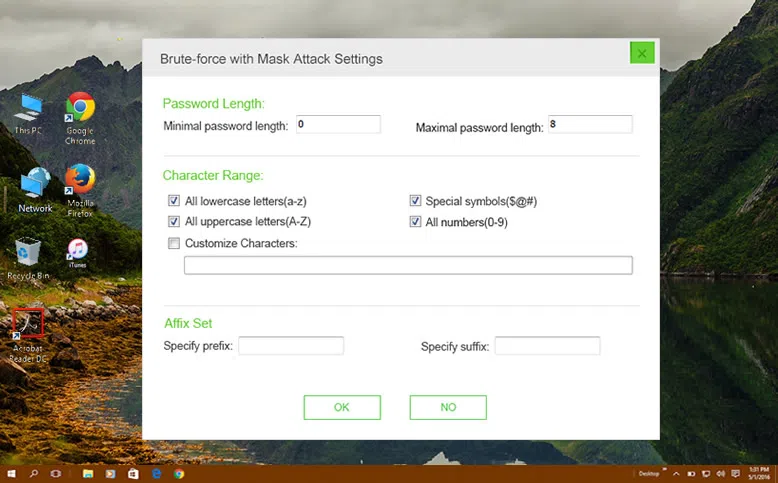 You can also click the Settings button in the top right-hand corner to enable GPU and CPU acceleration, which will increase the speed up to 30 times.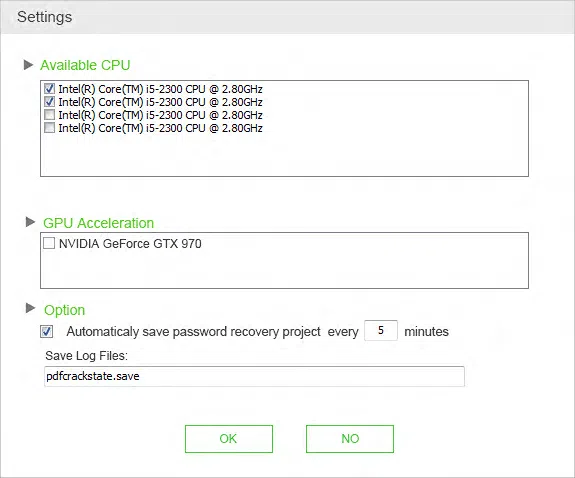 After all settings are compete, click Start button to let program search your PDF password, it will take anywhere from a few minutes to a few hours depending on complexly and length of your password. You can leave the computer searching your password by clicking "shutdown computer automatically once the password is found".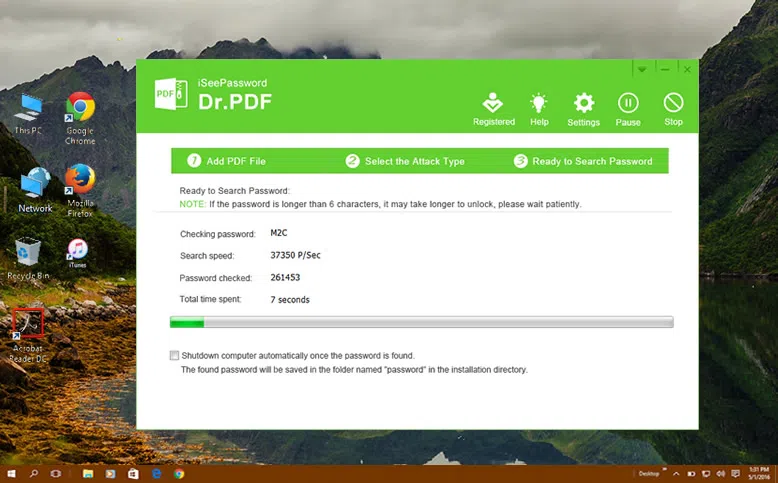 Once the password is found, it will pop up a window showing your password, then use the password to open your password, then copy text from your PDF document.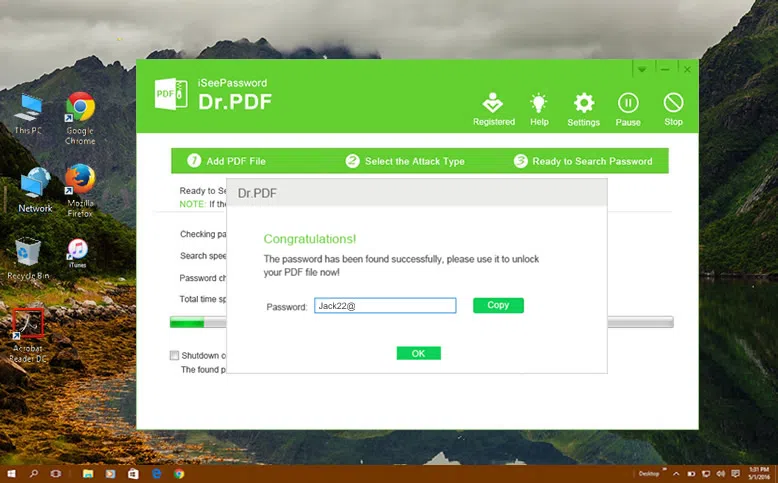 Part 2

Remove Owner Password from PDF File

As mentioned earlier, if your PDF file is encrypted with permission password then you will not be able to copy text from a protected PDF file, you also can't edit, modify, copy even print your PDF file unless you've removed the PDF permission password already. Fortunately, Dr.PDF is capable of removing permission password from 500 PDF files at once.

Step 1. Select the second option from the main interface and add the encrypted PDF files to program, you can add multiple PDF files in batch.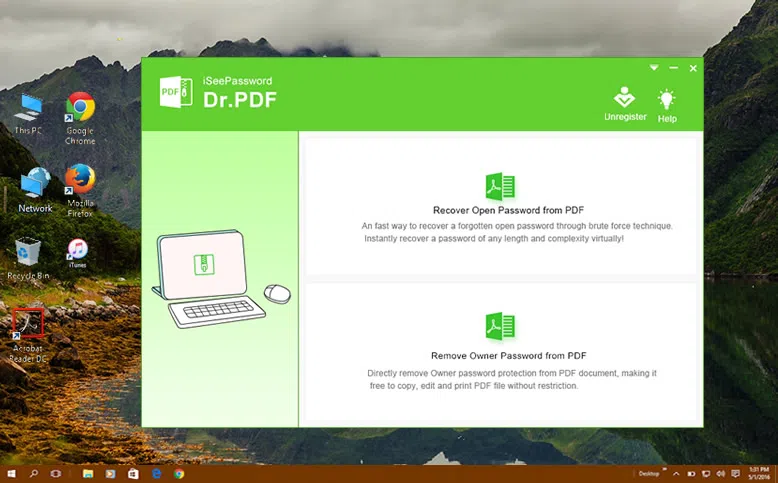 Step 2. After PDF files are imported successfully, click Start button to remove the permission password, then open the folder to check if the PDF can be modified or edited.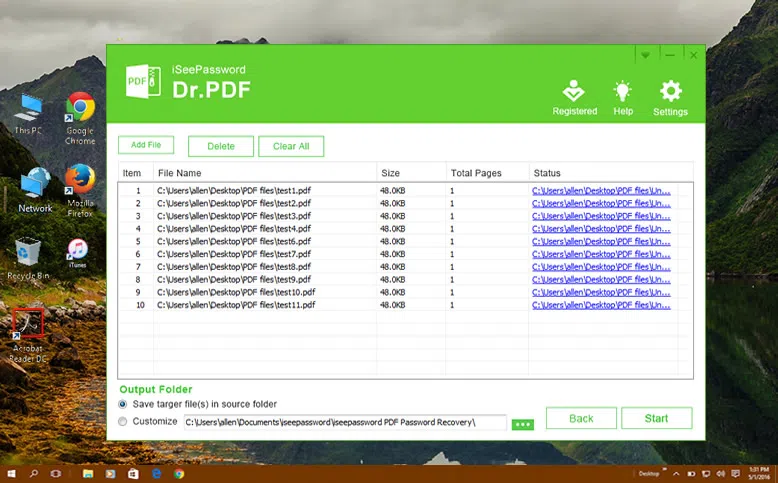 Method 3: Copy Text from Secured PDF Online
As we know there are two types of password in a PDF file, Open password and Owner password. If your PDF is protected by a owner password then there is no direct way to copy text from a protected PDF file unless you remove the Owner password. In fact, in addition to Dr.PDF, Google Drive is alternative way that can be used to remove PDF protection, let's see how it works.
Step 1. Open the Google Chrome browser and type the URL https://drive.google.com/ to login in your Google Drive with your account information, once you log in successfully, the "Google Drive" page will open.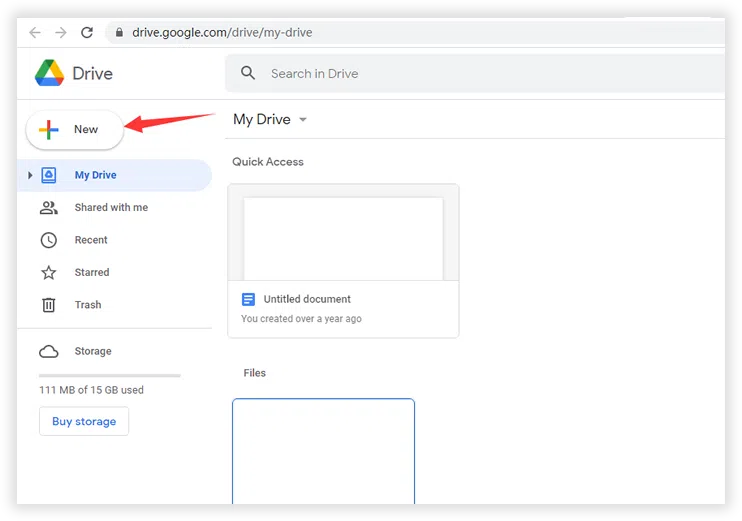 Step 2. Now, we need to add the PDF to Google drive, click the "Add" button in the top right-hand corner, then click "File Upload" option to browse your PDF file then click OK to upload your file. Alternatively, you need to drag your protected PDF file to your Google drive.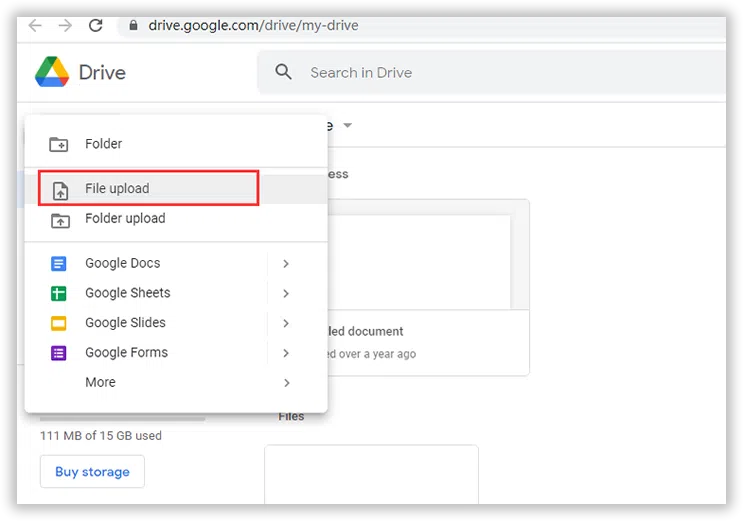 Step 3: In the upper right corner of the screen, you should see a gear icon. Click it, and then click "Settings."
Step 4. Open the settings menu, check the "Convert the uploaded file to Google Docs Editor format", then click "Finish".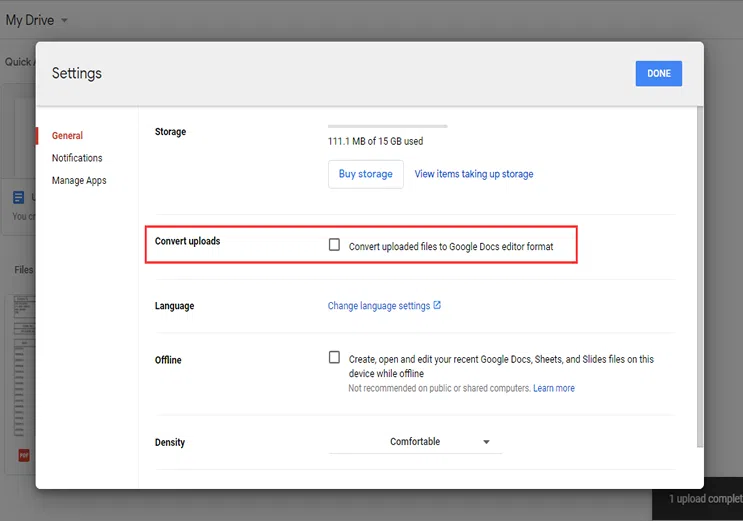 Step 5. Now, right click the uploaded the PDF file and select the "Open with" - "Google Docs".
Step 6. This PDF file will be opened in Google Docs, you can select the option "Download as Microsoft Word" under the File.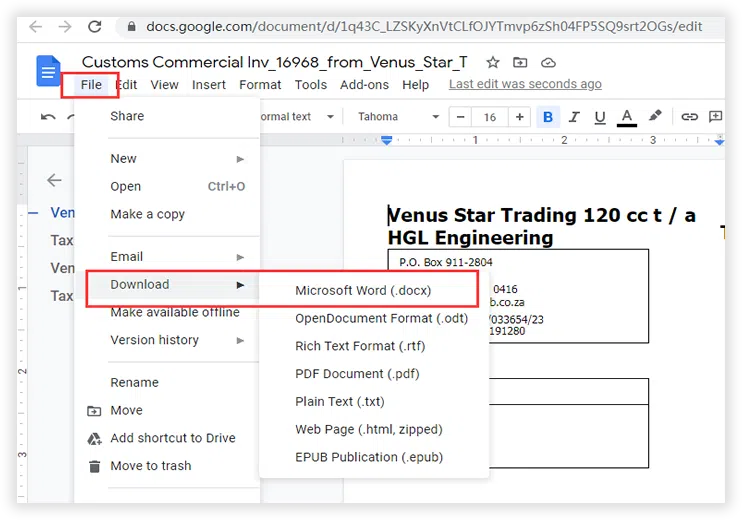 Step 7. Specify a location to save your new PDF file, after downloading, you can access your PDF document and directly edit, modify and copy without permission.
NOTE: We don't suggest you use PDF password remover online service because the their servers will copy your PDF data, this may cause your data unsafe or be stolen. If you insist on doing it, we never take risks!
Conclusion:
Permission password feature is used to protect the PDF content from being copied without owner's approval, it also can protect privacy and copyright, so we suggest you not enable it if you don't need it. If the PDF file you downloaded is protected by a permission password, then you will not be able to copy text from a protected DPF file to word, you need to first remove protection with the help of some softwares. The test results can tell that iSeePassword Dr.DPF is doing pretty well in removing PDF's password protection, it's safe, effective and no data lost.

---
---