PDF files represents to a set of text, image and graphics data that looks like a document, ready to view, modify, print and transmit electronically. It is one of the most used document format type to share important information and data that looks like printed documents. If you have viewed and worked with PDF files before then you may have already observed that these data can only be viewed but they cannot be modified easily since most PDF readers do not have the editing feature.
Although, there are many tools and PDF editors available on Windows computers but you won't be able to find many reliable tools on Mac. Luckily, in this article, we will be listing down the best Mac PDF editor tools that you can use to modify and edit PDF file from your Mac computer.
So without waiting any further, let's look down to the best PDF editor for Mac below.
1. Acrobat for Macintosh
Acrobat DC is certainly one of the most powerful desktop PDF solutions. With the latest version of Acrobat, you will get a brand new user interface that will be beyond everyone's imagination. The latest version of Acrobat will have an amazing new mobile application that will allow you to fill forms, sign them and send them to whoever you like on any device of your choice. In addition, Adobe Acrobat XI will be known as EOL which means it's the perfect time for you to select the best alternative for acrobat for future usage. Now, let's quickly have a glance on the recent features added in the latest Acrobat and see how to edit PDF file on Mac. (it also can edit a password-protected PDF file)
An eye-catching graphical user interface with touch screen feature. Full mobilization and supports touch functionality, excellent new user interface to make the tools at your fingertips. - Acrobat is so amazing: you will be surprised how the work was done without it in the past.


Modify documents anytime, anywhere. No need to find external tools to edit PDF documents on Mac. Now, you can modify documents anytime, anywhere. Just open any PDF document and edit it from wherever you want. Clean and simple.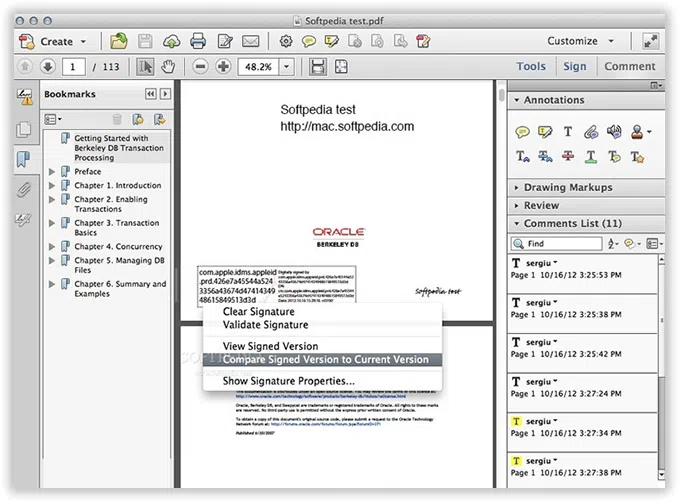 Pros: Full featured, stable functionality, high compatibility, high efficiency and high professionalism.
Cons: High threshold of users, in-depth hidden functions, high software cost and bloated functions.
Supported Systems: Mac, Windows, iOS
Price: $179.88 / Year
Also Read: How to Crack Password on PDF File
2. Best Free Onlie PDF Editor for Mac --- PDFescape
PDFescape  is a free online service that allows you to read and edit any PDF file on Mac you want. It is very straight forward and easy to use website where you need to upload your PDF files and edit them right away.
Step 1. Visit PDFescape.com using your Safari browser.
Step 2. Select "Upload PDF File" and locate your document path.
Step 3. Now, you can easily edit the PDF with the tools provided by this website.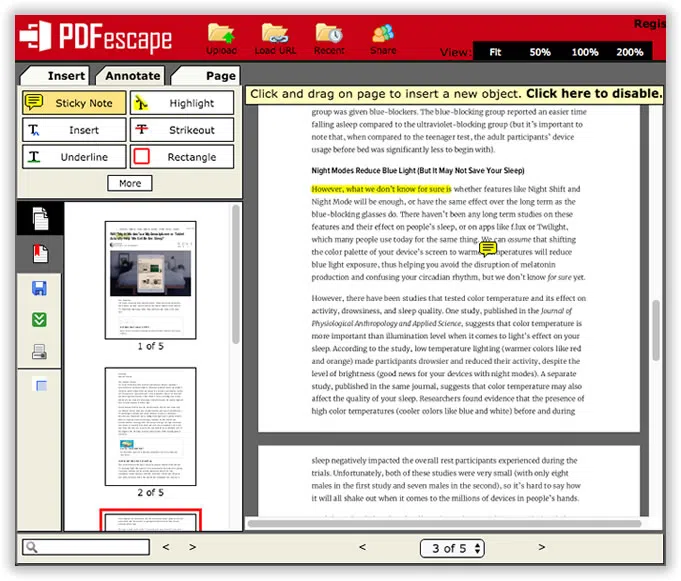 Cons:
Internet connection is needed and won't work offline.
Limited number of files are allowed per day.
Cannot upload files more than 10 MBs. Cannot upload files more than 10 MBs.
Not safe, you must upload your private PDF file onto their server.
 Weak text editing capability, weak page operating experience.
3. The Most Professional PDF Editor for Mac --- PDFelement 6
If you are looking the easiest yet effective program to edit your PDF documents without having any technical skills, the PDFelement should be the #1 choice for everyone. It is a professional and very powerful PDF editor tool that can modify, secure, convert and extract data from PDF documents. The features list is enormous and you will amazed to see how much PDFelment offers.
Here are some important highlights of PDFelement:
Read, modify and print PDF files.
Add, delete or modify any graphical content within your PDF document.
Password-protect your PDFs. Very useful for security purposes.
Convert PDF documents to Text, Excel, EPub, HTML, Word and other suitable formats.
Extract data from PDF files. Insert and add new contents.
Sign your documents digitally without printing them out and remove watermark on PDF.
Extract text from images using OCR feature.
First, downlaod and install the program on your Mac computer, then start the program to see all the options available on this program. Then, drag and drop the PDF file on the software or you can manually open it as well.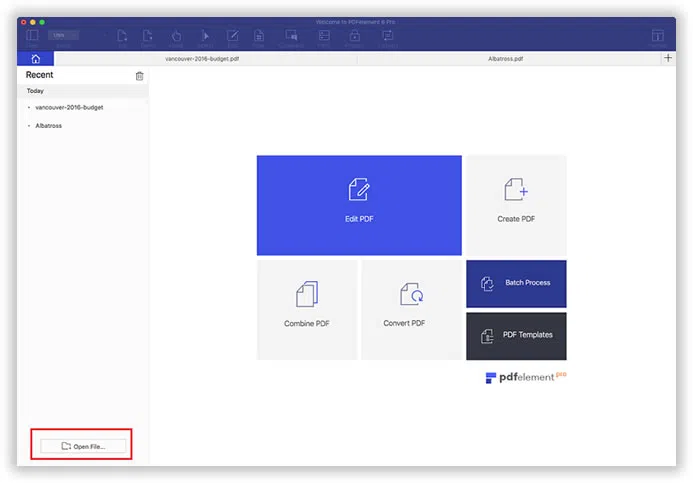 To edit a PDF file on Mac, simply click on "Edit" and all the texts on the PDF file will be ready to modify now. Simply, click on anywhere on the document and feel free to edit, add or modify text within.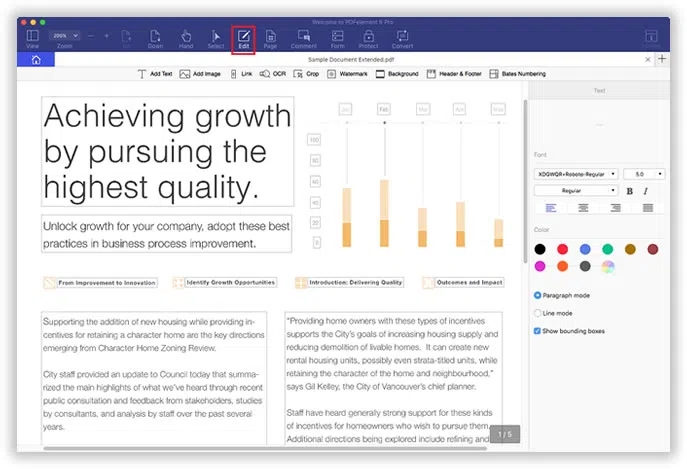 To insert and remove contents or images, you only need to select those graphical part and press the Delete key on your keyboard. You can even print or convert your PDF file directly using this program.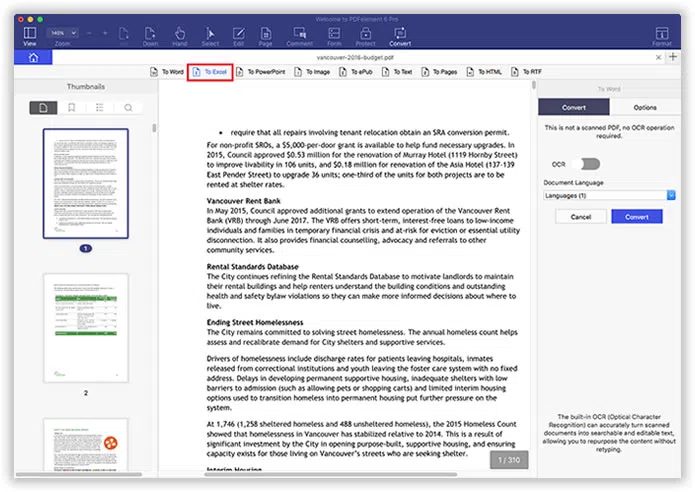 Pro:
-All PDF editing tools available. OCR supported. Edit multiple files at once. High Compatibility. Simple and easy operations. Convert documents from PDF into other document formats like Word, HTML, Powerpoint and nay other desirable formats. Clean and clear operating functions.
Cons:
Large sized documents runs tad slower. Reading experience is not good. User interface is poorly designed. More editing tools are required.
Supported Systems: Mac, Windows, iOS
Price: $59.95 / Lifetime
4. PDFpenPro
PDFpenPro is a professional PDF reader that is actually used for document preview purpose. It is specially designed for better compatibility on Mac computers to read PDF files. However, PDfpenPro is highly recommended for beginner computer users since it is very user-friendly with wide open options. Features provided by this PDF reader are quite impressive which includes adding your own signature at the end of the document, modify the text words, add and remove pictures, auto correct spelling mistakes and automatically execute OCR recognition to scan documents. In addition, you can create fill in forms and gives you the option to export PDF to your desirable word formats such as Excel, Powerpoint and Word format.
Astonishing PDF Editor PDFpenPro allows you to add and remove texts and signatures, align words and execute OCR on scanned files.
Make effective fill in forms documents. You can easily make attractive forms by using text boxes, radio buttons, check boxes and signature fields on the end. Additional, it also offers to add submit buttons at the end of the PDFs.

Export PDFs to different File Formats If you don't like PDF files then you can export the documents to Word, Excel, Powerpoint, HTML or any other file formats of your choice.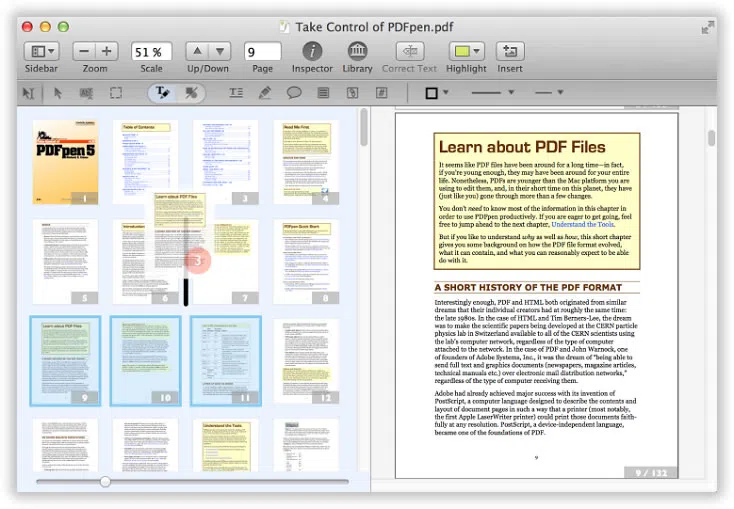 Pros: It meets basic needs of PDF editing and the operating experience is close to Preview.
Cons: Weak editing features. Editing experience won't be good.
Price: $124.95
Compare and Choose Your Best PDF Editor for Mac
| Compare Our Product Features | | | | PDFescape (Unsafe) |
| --- | --- | --- | --- | --- |
| Compatibility | Mac, Windows, iOS, Android | Mac, Windows, iOS, Android | Mac,iOS | Need online access |
| Price | $59.95/Lifetime | $179.88/Year(Pro) | $124.95 | Free |
| Edit PDF Files | | | | |
| Convert PDF Files | | | | |
| Create PDF Files | | | | |
| Annotations | | | | |
| Create and Fill Forms | | | | |
| Secure and Sign PDF Files | | | | |
| Add Watermarks, Backgrounds, Headers and Footers | | | | |
| Access to Hundreds of PDF Templates | | | | |
Final Words:
Free PDF editor for Mac is useful but if you taking security and privacy into consideration then you will be disappointed. In addition, they won't have features nearly as great as a paid PDF Editor for Mac provide. If you need to edit, modify and print a document professionally with smart options and features and want to handle PDF documents in batch then the best option to choose would be the paid PDF Editor for Mac. Do let us know which one you are currently using and how's you experience in the comments below.
This article, we'd like to highly recommend PDFFelement 6, It is a remarkable program that allows to edit, print, annotate and convert any PDF document. In addition, you can even extract data and save them on your preferred document types such as CSV, XML, HTML and other file formats. Honestly telling, you can manage your PDF document in any way you like using PDFelement. Hopefully, you guys found this guide helpful and for more information don't forget to subscribe to our website.

---
---