We spend more time online today than we used to a few years ago. This is why online security is a factor that must be taken seriously. We are using a number of applications and websites on which sign-in is required. While you may think that you have created a difficult password, in reality it may still be guessable. This is why you need a password generator that can create strong and un-guessable passwords. Here you can also find best password managers for Android if you need.
Here is the list of top 3 password generators.
Top 1: Random Password Generator
If you are looking for a basic password generator, which is incredibly easy to use. Random Password Generator could be the perfect choice. It is totally free of cost and can generate random passwords for all kinds of sign-ins and applications. You can use symbols, numbers and letters to create a password, you can also use the lowercase and uppercase characters. You can easily personalize the passwords as well by removing the symbols and numbers or by varying the password length to meet your specific needs.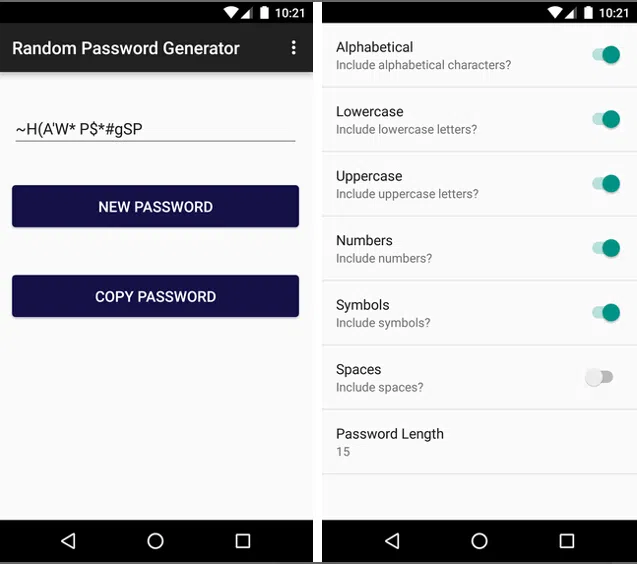 Pros: Right choice as a basic password generator, passwords easy to copy to clipboard, allows to customize the password, can easily create long passwords, ad-free, no in-app purchases, easy to use
Cons: Passwords cannot be recalled once created, doesn't double as password manager.
Verdict: Random Password Generator is a pretty good tool to create long passwords. It is totally free, has no in-app purchases and is also advertisement free.
Don't miss: If you forgot lock screen passcode on your Android phone, don't worry, this tutorial helps you bypass Android's lock screen Pattern, PIN or password without factory reset.
Top 2: Passera
There is almost everything right about Passera except the fact that it is not available on Google Play Store and hence you will need to go for third-party download. It helps you create long and strong passwords that can be as big as 64 characters. The passwords created by Passera are easy to remember but not easy to crack or guess.
You can create different types of passwords for different apps or sign-ins. The passwords are displayed on the app screen and can also be copied to the clipboard to save you the hassle of typing them again.
Pros: Totally free of cost, creates long passwords (as long as 64 characters), easily copies the password to clipboard, makes use of passphrases to create memorable but complex passwords, can recall the password.
Cons: Not available on Play Store so requires third-party download.
Verdict: Passera is also a pretty good password generator. It creates strong and memorable passwords, which are almost impossible to guess.
Top 3: Password Creator
If you are looking for a password generator that can also work as a password manager, Password Creator will be your pick. As a password manager, one of its basic responsibilities is to save your passwords. As a result, you need the master key in order to access the app and the saved passwords. What's frustrating is that even if you don't need to use the password manager part of the app, you will still need to enter the master key on every screen.
Password Creator lets you personalize your password by giving you the control over how you use the symbols, letters, numbers and the letter cases. But, it does not create very long passwords (maximum 25 characters long). But, the password generation is fast and completely free. If you need to store unlimited passwords and unlock the full-features of password manager, there are in-app purchases.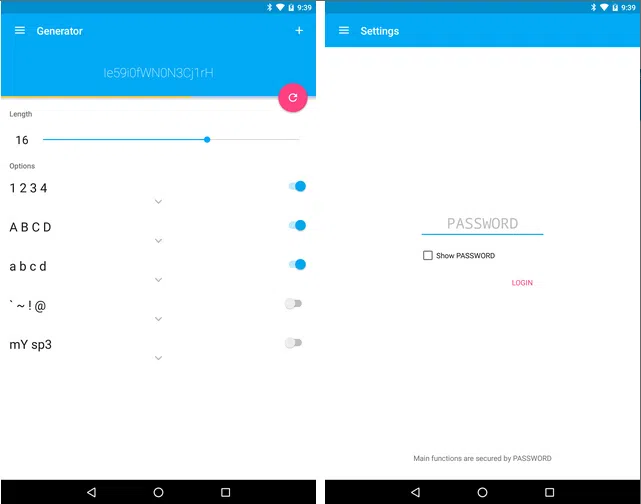 Pros: Nice looking interface, with intuitive design, easy to use,lets you personalize the passwords, doubles as a password manager.
Cons: Requires master key to switch from one app screen to another, which could be pretty annoying,does not create long passwords.
Verdict: It is a good looking and easy to use password generator, which also works as a password manager. But, if you need to create passwords longer than 25 characters, you will want to find another option.
Conclusion
If you are not sure how to create strong passwords that cannot be easily guessed, you can use one of these password generators we have rounded up here. These tools are free to download and easy to use. They can easily create passwords for various applications.

---
---