Forgetting your Samsung lock screen pattern or password is not a big news anymore. Usually we set lock screen pattern or passwords to keep our phone from strangers and friends and from our family members from checking our private stuff in our phone and to secure our device as well. But the trouble begins when we forget our own phone lock screen pattern or password. Luckily, there are several methods which can help you to recover your phone's lock password without losing any data. In Samsung galaxy, the easiest way to recover is to put your backup password and you will be good to go. But the real nightmare starts when you forget the backup password as well.
So the main question is how to unlock your Samsung Galaxy Lock screen. First of all, you need to stop having panic attacks and start focusing. Of course, you will be able to unlock your phone even if you forget the backup password of your Samsung Galaxy phone. Simply use the following methods and at the end of the tutorial you will be able to unlock your phone and use it again.
Part 1: Bypass Samsung's Screen Password by Using Your Google Account
This should be really simple and the easiest way to bypass your galaxy's lock screen. Every Samsung and Android phone prompts you to login using a Google account which is usually the Google Play Store account as well. So, if you remember that Google account and its password then you should be able to unlock lock screen posscode on your Samsung Galaxy S7/S6/S5 without any issue.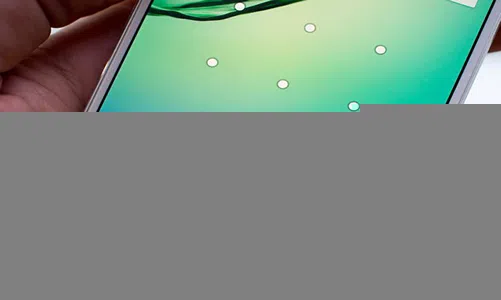 Step 1. Enter wrong password in your phone multiple times. May be over twenty times unless and until you are prompted to use your Google account login details.
Step 2. After you see your phone is asking to enter your Google account credentials, simply login to your Google account and you should be able to unlock your phone.
Step 3. If you are using two-steps verification then you will have to use a computer or laptop to logging in into your Google account and get the one time password and enter that in your phone to complete the process.
Step 4. After you put the one time password, you will be able to unlock your phone and should be able to use it.
Step 5. If you have forgotten your Google account password as well then you are out of luck and won't be able to unlock your phone. In that case, move on to the next method.
Part 1: Unlock Samsung Phone Lock Password wtihout Losing Data
In fact, there is a great and easy way to unlock Samsung screen lock password without erasing any internal data and doesn't require you to download any kind of apps. That's Android Password Removal, it has the ability to unlock FRP and any Android lock screen: PIN, pattern, password, fingerprint or face unlock,then let you take full control of your device without limitations. This is a reliable program that works in the recovery mode of your device without touching your data. It can be considered as the only way to access their phones, which ensures safety. It fully support all Android phone and tablets from Android 4.2 - 9.0.
Step 1. First of all, you need to download this Samsung screen unlocker software on your computer and install it and launch it. The main interface should be like this. You should see there are two options for your choice, just select the right one mode based on your situation.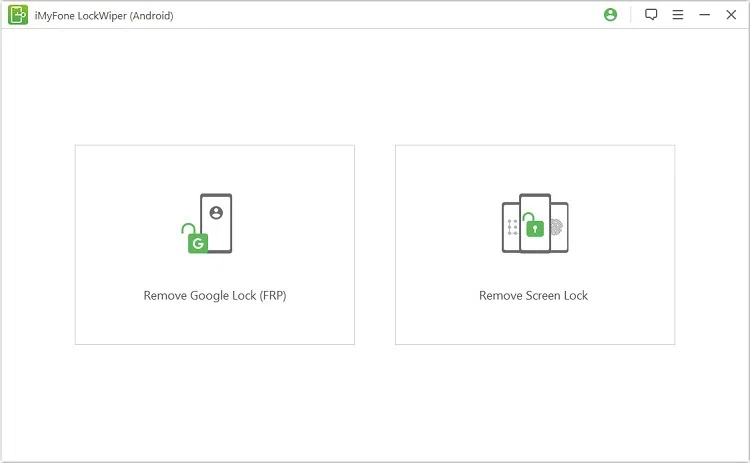 Step 2. if you select the option "Remove Screen Lock", then go to next page. Here there also two options for your unlocking Samsung forgot password. Remove without Data Loss for Samsung Devices only and Remove Screen Lock for All Android Devices. As you're using Samsung device, then you should select the first mode.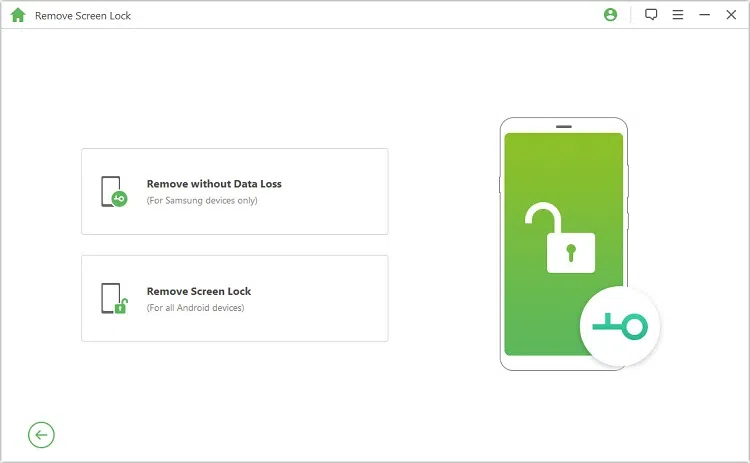 Step 3. This mode requires you to download the data package for unlocking screen password on Samsung device. Just select your device name, model and click Start button. It will download the Data Package and install it automatically.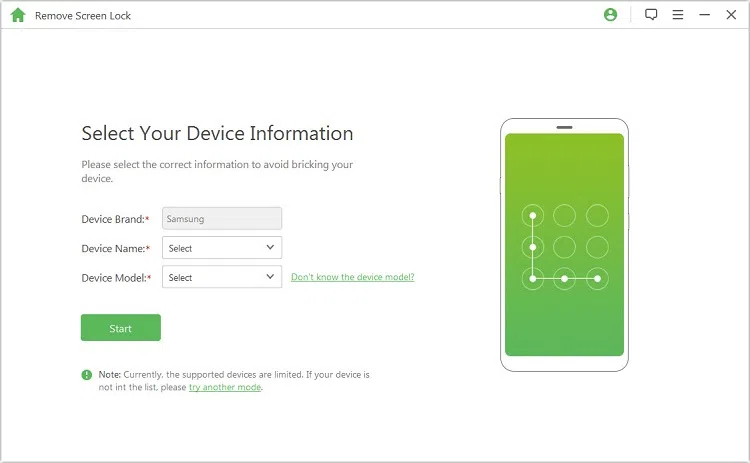 Step 4. Then follow the steps in the page to enter into Downloading Mode. When your device is in Downloading mode, click Start to Unlock.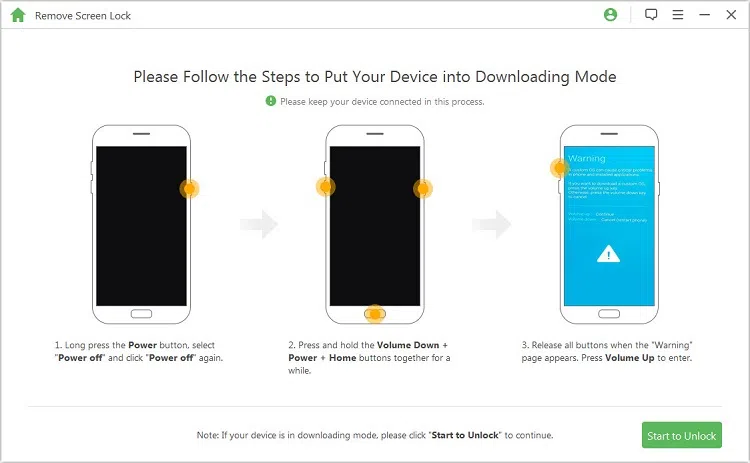 Now, the program will start o unlock the screen lock on your Samsung device. Please keep your phone connected all the time.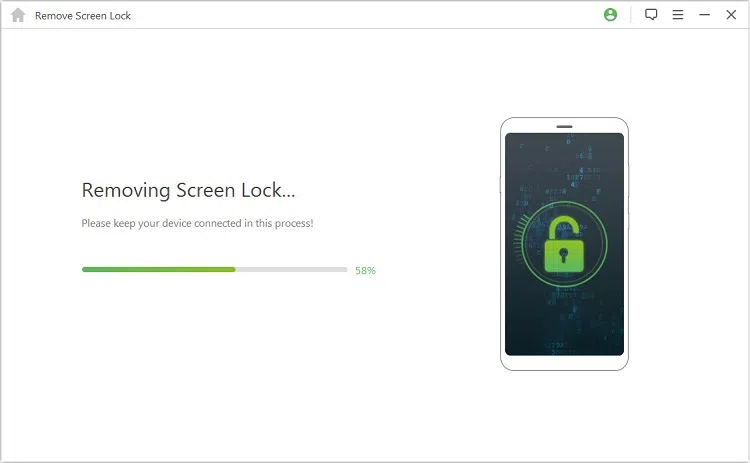 Within minutes,the screen password should be unlocked successfully, and you can now access to your device without typing password and the most important point is that all your data still remain as original.
Part 2: Unlock Samsung Screen Lock Using Samsung Find My Mobile
Every Samsung mobile has this feature where you can access your phone remotely using their own remote device management service. It has endless features and one of the feature is to unlock your phone too. Simply process with the following steps and you should be able to unlock your Samsung Galaxy lock passcode. Please note, you need to have a registered Samsung account to make this method work. Usually, when you buy a new Samsung Galaxy phone, you are prompted to make a Samsung account and we will need that account to make this step work.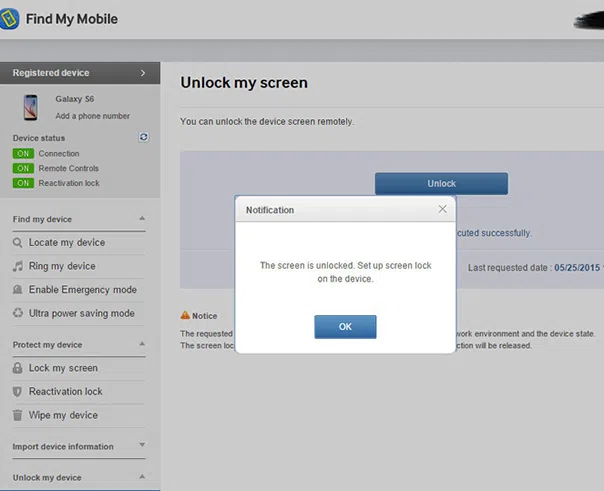 Step 1. Visit https://findmymobile.samsung.com/ which is the official Samsung find my mobile website and login there using your Samsung account credentials.
Step 2. See on the left side bar and click on "Unlock my Device".
Step 3. Your phone should communicate with your with the website at this point and give you the option to unlock your phone.
Step 4. If you have followed the above steps then you should be able to unlock you phone by now.
Conclusion
Once you have successfully unlocked your phone, it is time to set a new phone lock pattern or password and make it easier to remember. To achieve that simply swipe down from the top of your phone screen and click on settings. From there, click on "lock screen and security". Tap on lock screen type and select your new lock pattern or password. For convenient security do consider finger print lock. It will provide more security and will make sure that only you will be able to unlock your phone.

---
---