Since security is the main concern nowadays, we need to use passwords for everything we use such as computers, smartphones, online accounts, etc. Most importantly we keep our computer locked so that no one else can invade into it. In this age computer is everything, and we do keep our personal and private photos, videos, important files, internet banking credentials, and almost everything that we never want to let others know about. That is the reason there is need of keeping our computers locked with a secure password.
But, we as human do forget things and same with the passwords. We forget our own password many times, and we get into a problem as we are blocked using our very own computer. Certain ways and tools can help you well to recover your Windows password and gets you in. (Such as chntpw, LCP password recovery, Ophcrack, PCunlocker, Ubuntu Live CD)
John The Ripper is one such tool that you can have in a bootable CD, and when you forgot the password of your computer, just insert the CD in the drive, and boot your computer with it, and you will be able to reset your computer's password.
John The Ripper is indeed a great tool. It uses a wordlist full of passwords and then guess and try to unlock a given password hash using each of the password from the wordlist. In other words its password guess. It will take much times even take days if the password is too complex. At times this may not work for you for some reasons, then its alternatives can save you. This is the reason; I come up with this article in which I am going to list 4 best alternatives to John The Ripper.
There are top-selected four best Alternatives to John the ripper here for your reference.
Alternative 2: Cain & Abel
Cabin & Able is kind of more advanced tool than the tools listed on this page. Unlike other password recovery tools, it needs access to Windows under an administrator account. Though it is an advanced tool, it is a complicated one too and not user-friendly. But, this works effectively when it comes to password cracking. It employs many types of attacks to crack the password.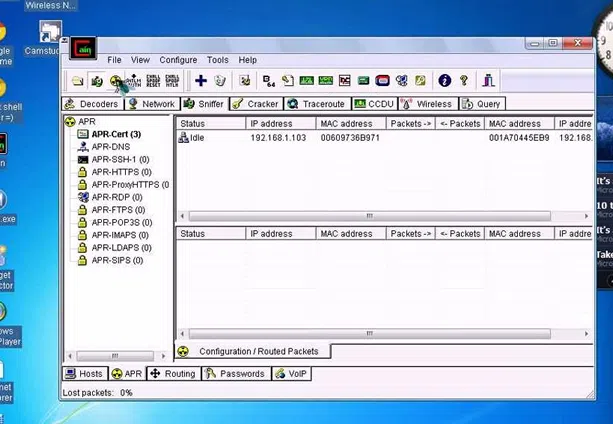 Alternative 3: iSeePassword Windows Password Recovery
Another easy and very fast way to recover all types of windows password is by using the iSeePassword Windows Password Recovery tool. It is an all in one tool for all windows password recovery, it helps you to recover forgotten windows user passwords/admin password for all version of windows operating systems especially available for windows 10 and windows 8.
In the market, most programs recover a forgotten password by trying and guessing it using dictionary words. The more you know about the the password constitution the quicker it will be to recover it. Instead, iSeepassword recovers your forgotten password without guessing it, just reset or remove your old password. You can create a bootable reset disk with DVD or USB drive. This is much time-saving and easy-to-use! It requires a little preparation but is very much worth the effort if you've been locked out of your Windows PC! If you're locked Windows 10, check this article to reset windows 10 admin password.
What You Need to Prepare
1) A USB driver with no less then 1G capacity or blank DVD or CD.
2) Another Windows or Mac computer for installing the program.

1

Install and Launch Windows Password Recovery on Any Accessible Computer

To create a bootable reset disk, you need to download and install the iSeePassword program on another accessible computer. Then insert your USB or DVD to that computer for creating a rest disk. Here we suggest you burn iSO to a USB drive.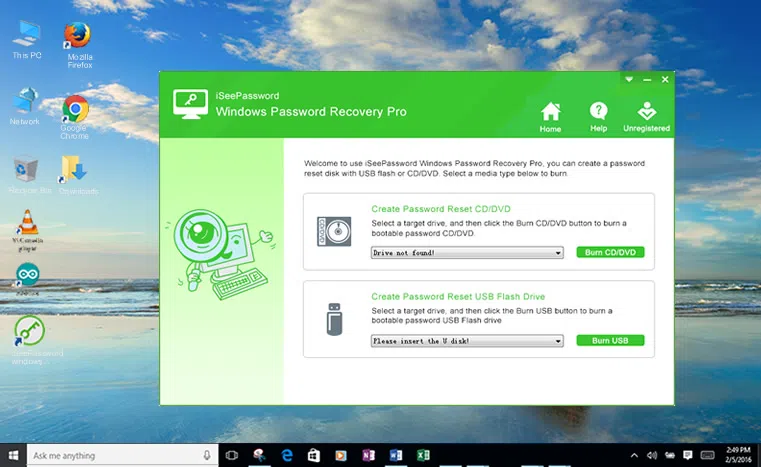 2

Insert Created USB Disk to Your Locked Computer, Boot PC from USB Drive

You need to set your locked computer boot from USB drive. So, first, repeatedly pressing F2, Del, or other keys when your computer boots. You will enter BIOSsetup utilities of your locked PC, the boot order options in most BIOSsetup utilities will look something like the screenshot below.

To change which device to boot from first, follow the directions on the BIOS setup utility screen to change USB as the first boot order by using +, - keys.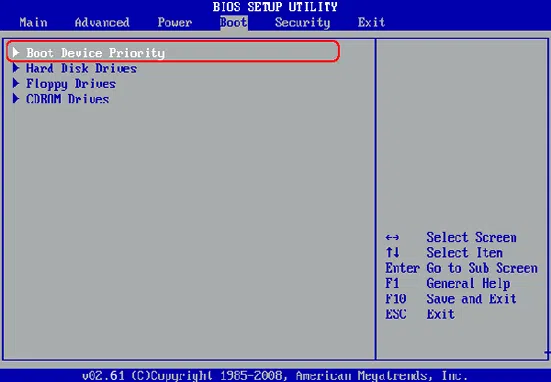 3

Select the Account and Reset Password You Want

Save your changes after settings the boot order, then reboot your computer. Now, the iSeePassword program will be loaded with  interactive graphical interface. It will detect all the accounts and system version installed on your computer, then select the account you want to reset, click "Reset Password" button.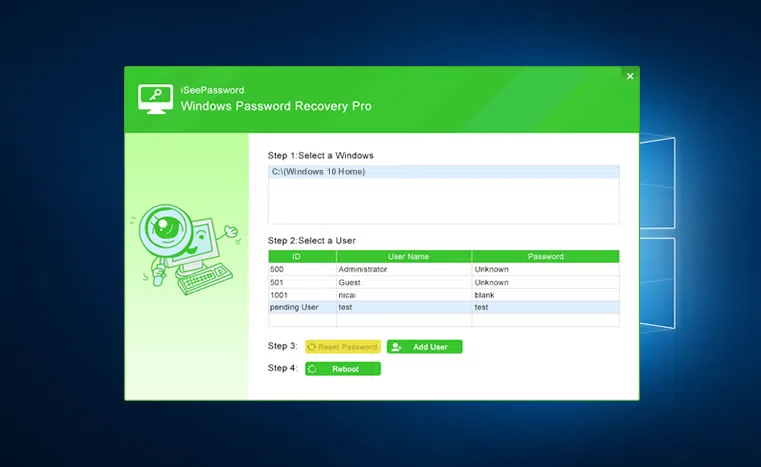 After reset your password, click reboot button to restart your computer, now you will login your system without password prompts. This is the best alternative to John the ripper software which can remove your password protection without  formatting and re-installing the operating system.
Alternative 3: Offline NT Password & Registry Editor
Offline NT Password & Registry Editor is a free software utility that almost works same as Chntpw. Download it from here, and burn it to a CD drive. Insert the CD into the computer which password you have forgotten. Now, boot the computer with this tool. It helps you delete current password of the user and then you can access any protected account on your computer easily without any password. You can later set a password to your account.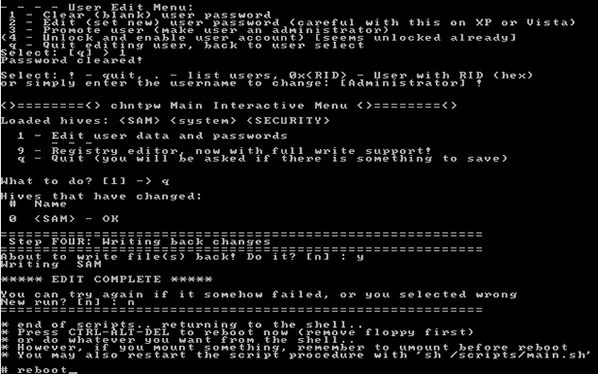 Cons:
1) It has no a graphical interface which might not be good for most of the users.
2) Offline NT Password is completely text based which is very inconvenient.
3) Not supported on newer or 64-bit Windows operating systems.
4) ISO image must be burned to a CD before passwords can be reset.

---
---