Being one of the widely used laptops, Samsung is known for its best support, quality and usage. But you always need to get it covered using encryption. Safety concern for your data is natural and very important to ensure the safety of information. So, setting up a computer password can certainly help you to keep it safe and secure from strangers or intruders who are hacking into your PC without your permission. But one of the most embarrassing scenario comes into our lives when we can't remember the password of our own Windows 10 on Samsung laptop or other computer. That's one of the major limitation if you are choosing secure and complex passwords. Surely, they are hard to guess but at the same time they are very hard to memorize too.
If you are wondering how to reset login or admin password of Samsung laptop, it is a very simple process. There are different ways to get your Windows back.
Part 1: Format and Reinstall Windows
In this process, your Windows will get back to the factory state where everything is working like new. Keep in mind that all the programs and files stored on main drive will be wiped. So, consider it as your last resort.
Step 1. Insert Windows installation disc (Professional or Home edition) in CD-ROM and reboot.
Step2. Press F8 key again and again when it starts booting until it shows up the boot menu (key for boot menu may vary from brand to brand).
Step 3. Scroll with arrow keys and press "Boot from CD" option.
Step 4. It will show up a blue screen with different messages. It collects the files it needs so it takes a while. Once process is finished, it will show up the list of options on screen. Select "Press Enter to set up Windows" by scrolling with arrow keys.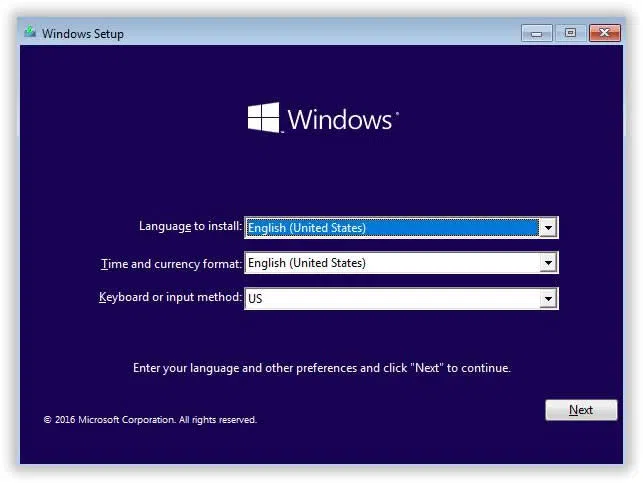 Step 5. It shows up a new page with different options about installing Windows. Remove partitions and format the hard drive. At the bottom, all the partitions will be listed in the system. Scroll and select partitions using arrow keys. Press "D" to delete the partition and press L in new screen.
Step 6. Once finished, the process will take your system back to the initial screen. Since all the partitions are removed, you can create new partition to install Windows. Select "Unpartitioned space…" using arrow keys and press "C" to create new partition. It will show up a new page to choose the size to use on partition. Enter the figure and press enter.
Step 7. Select new partition as primary where Windows is installed. Select NTFS when asked for the file system. NTFS is secure and fast.
Step 8. It will format the hard drive and process will take around an hour or two to finish.
Cons –
1) All files and data will be erased, and reinstalling process is complex and time-cosuming.
2) Not recommended and dangerous method.
Part 2: Reset Samsung Laptop assword with iSeePassword Reset Tool
If you want to reset your Windows Password safely and securely without losing anything, the best way here is to use iSeePassword Password recovery program to reset your password at any time. It is an astonishing and innovative password reset program that helps to reset passwords in all kind of Windows computer and laptops. It works totally independently in the BIOS and you do not require having any knowledge of your past passwords to operate this program. It is guaranteed that it won't erase any data on your computer and neither will it install the operating system all over again.

Just 3 simple steps to remove passwords from local, Microsoft, administrator, server accounts.
Helps to make a password reset disk in 2 ways – USB drive and DVD/CD disc..
Remove or reset Windows administrator and other user password for local account.
Support Windows 10, 8.1, 8, 7, Vista, XP, 2000, etc. and Windows server.
To reset Windows 10 password, you will need:

1) A USB drive or black DVD or CD.
2) A separate Windows computer or laptop. borrow from friend's.
3) iSeePassword Windows Password Recovery program. A little patience. Around 5-10 minutes.
1

Download and Install Windows Password Recovery on a Normal Computer

Download the program (Pro Version or Advanced Version) on the separate Windows system and run the program after finishing with the installation process. Open the software and insert the USB or DVD/CD.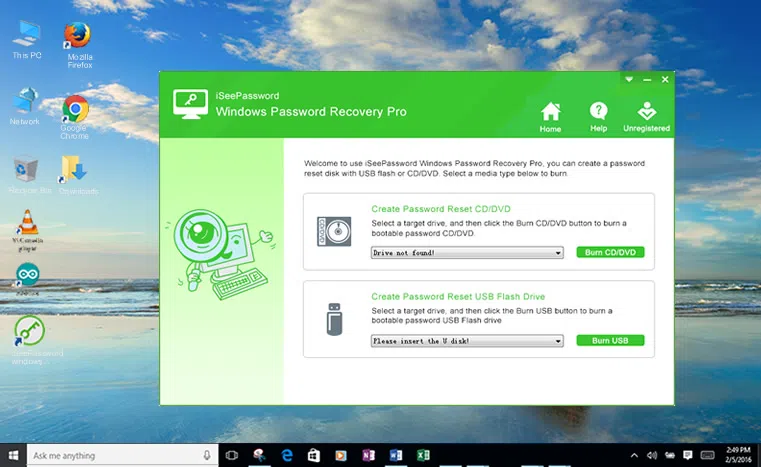 2

Insert the USB to Another Working Computer, and Start to Burn A Reset Disk

Your USB or DVD/CD will be automatically detected by the program and simply choose the name of your device and click on "Burn USB" to burn the ISO image file on your device to make it bootable password reset disk.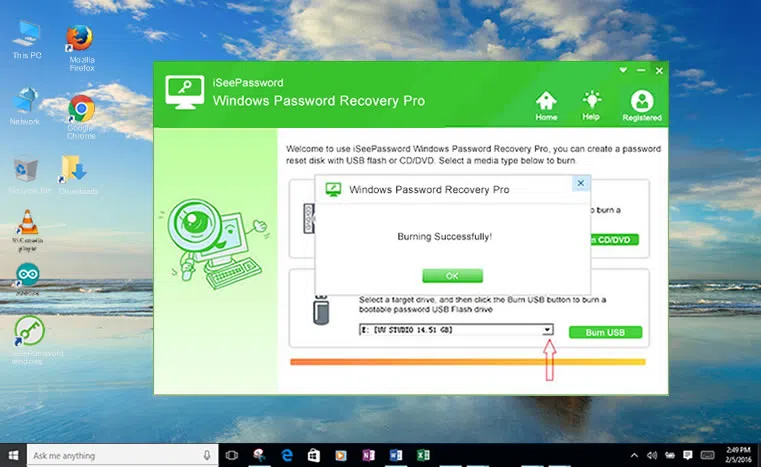 3

Insert the USB to the Password-locked Computer and Boot Computer from USB Drive

Plug the USB reset disk on your locked Samsung laptop and reboot it. You need to make some settings in the BIOS to let Windows boot from USB drive or DVD. When reboot your Samsung laptop and type Dell or F12 or F2 or other certain keyboard to enter into BIOS settings, then set USB as the first boot order. Then reboot your laptop.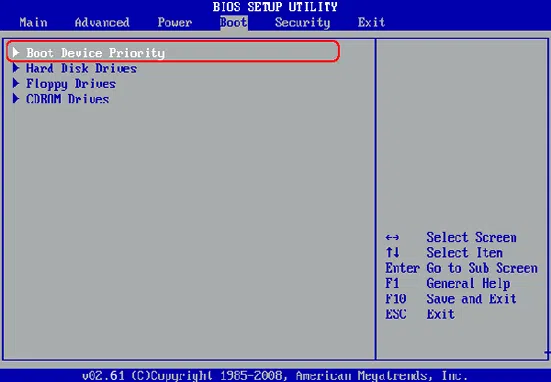 4

Start to Reset Your Windows 10 Password.

iSeePassword program will be loaded automatically on the home screen and shows your Windows OS and users. All you have to do is to select the Windows version and the administrator username that needs to be unlocked.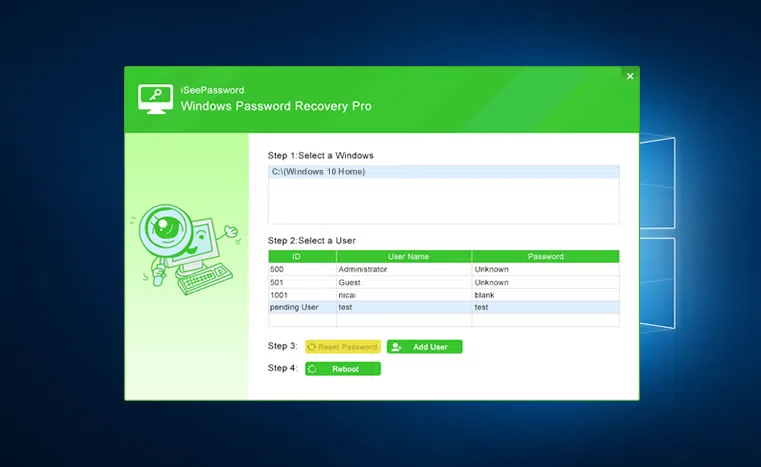 Finally, click on "Reset Password" and restart your computer to access it normally again without password.
Also read: How to reset Pin Password on Windows 10.
Part 3: Reset Samsung Laptop Password with Ultimate Boot CD
It is a Linux-based bootable CD which has a lot of useful tools to repair and fix almost any problem in Windows. You can use the in-built Chntpw tool to remove Windows passwords and edit/view the registry.
Step 1. First of all, download Ultimate Boot CD (file size around 500MB) and burn it to a CD or flash drive.
Step 2. Boot your locked PC with Ultimate Boot CD. Choose Parted Magic on the boot menu and hit Enter.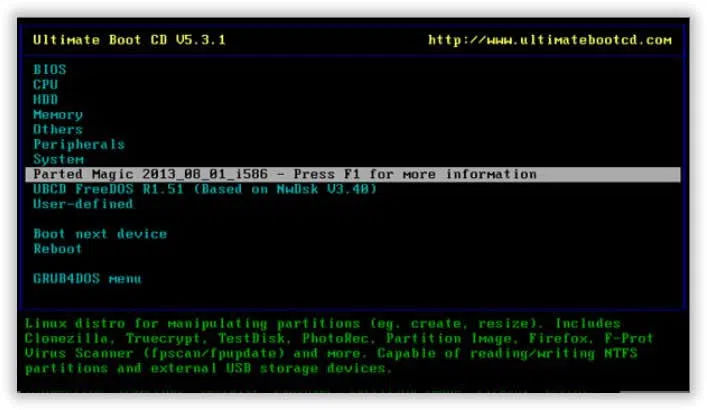 Step 3. Choose your graphic settings. Choose Option 1 and press enter for default settings to apply.
Step 4. Head to the left bottom corner and select System Tools > Change Windows Password.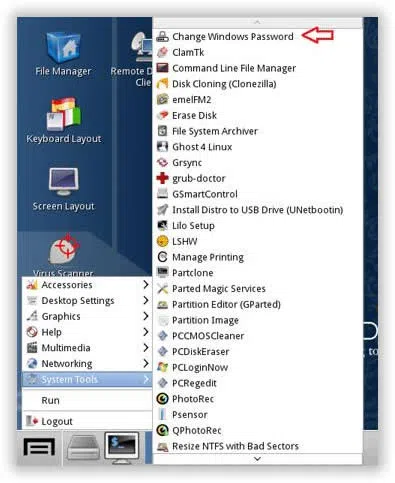 Step 5. In a new small window, click on correct drive to start the process. Type 1 in Chntpw Main Interactive Menu and press Enter. All the Windows users will be listed. Type the target user and press Enter.
Step 6. You may leave the password blank or use other ways to unlock the account. Type 1 and hit enter to delete the last password.
Step 7. It will ask you to write registry hive. Simply type Y to confirm and save changes.
Step 8. Reboot and login to Windows with blank password. You can change your password in Control Panel. 
Step 9. Be sure to reset Samsung laptop password so you are more likely to remember new password instead getting back to the old one.
Cons –
1) Doesn't work with Windows 64 bits' computers.
2) Not recommended and complicated and difficult program to work with.
Conclusion
Forgetting your own computer password can be really frustrating and annoying but fortunately, you can use the tricks shared in this article to reset password on Samsung laptop Windows 10/8/7. Please remember that iSeePassword tool must be used legally on your own PC or any other PC taking proper authorization. Using it for any illegal activities will be considered as federal crime and is punishable by law. Hopefully you guys will follow the rules and don't forget to share this tutorial with your friends in need.

---
---