Locking your system with a password is very important so as to ensure your files' safety and also your safety as well. It helps limit the number of people that have access to your laptop giving you exclusive ownership of your own laptop but locking your laptop can be a bit of problem when you forget your password. Forgetting your password can get your laptop locked or someone trying g a wrong password after a number of times.
There are ways to get access to your system after been locked. There is the option of reinstallation which can be very disastrous because it also comes with the option of losing all of your files both the saved ones and unsaved works. Re-installing your laptop will be like buying a new laptop because everything becomes new. It is not advisable to do a re-installation on your laptop when there are other options of unlocking your machine. You don't have to worry about being locked out anymore, There are many free or paid software offer an all-in-one opportunity of having to log in to your laptop and also offers other ways you can go about even without resetting your password.
iSunshare Windows Password Genius is good, but not the best.
iSunshare Windows Password Genius is one of the best password resetting programs that can get back your login or user password without much effort. Like other windows password reset tool, the basic application flow is the same, burn a USB or DVD on another computer and insert it to locked computer and reset. You can download iSunshare Windows Password Genius on its official site.
Cons: However, there are many users frequently encountered some unknown errors when using iSunshare Windows Password Genius to burn a USB or DVD. For example: "Failed to detect USB drive, or DVD disc", "Failed to burn". or "can't  be compatible with Windows 10 system". In our test, we find the PE it used is very old, this will cause the blue screen when loading PE. Hence, you need to opt for an easy and effective alternative way to attain a 100% guarantee for the password reset or recovery.
Here, there are two alternatives to iSunshare Windows Password Genius I'd like to recommend to you.
Alternative 1: Chntpw
The program that I describe in this part is Ultimate Boot CD, which is a Linux-based bootable disc with lots of useful tools for repairing or fixing Windows problem. Chntpw disk is one of utilities built in Ultimate Boot CD and maintained by Ubuntu developers. It works a Windows machine without damaging to your system and data. Chntpw disk can fast and easily reset Windows password by finding Windows automatically, and modifying SAM file.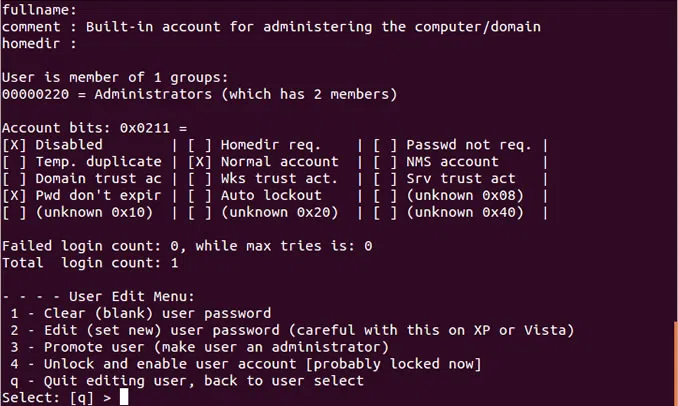 Now, you have to do these steps:
1. First, you need to boot your locked laptop from Ultimate Boot CD, choose Parted Magic and press Enter.
2. Go to the left bottom corner of the screen and choose System Tools -> Change Windows Password.
3. This step will show all of the Windows users. Type the name of your desired user and press Enter.
4. Type 1 and press Enter, the program will remove the existing password, then enter 'q' to quit the Edit Menu, and reboot your computer.
5. If it did not work, go through the steps once again or try Alternative 2.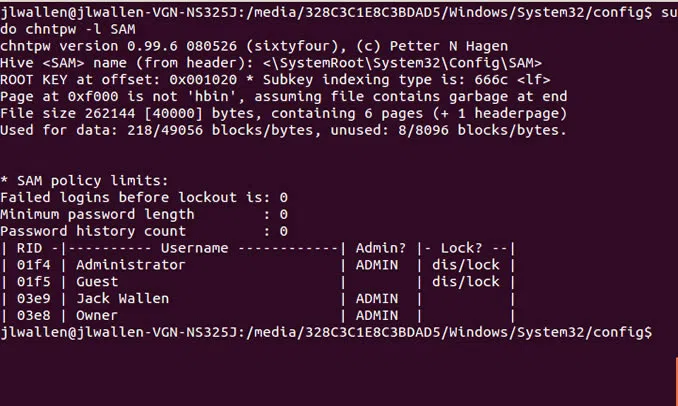 Warning: Using Chntpw to reset your password is a very complex process and you will be taking a great risk of system damaged. If you are not familiar with computer Command Prompt, I think it's unwise to use Chntpw utility.
Alternative 2: iSeePassword Windows Password Recovery
iSeePassword Windows Password Recovery Pro is one of the best options available, a free trial of the software is also provided for anyone who may want to confirm the credibility of the software. What you need to prepare is a USB or DVD and an accessible computer, only three steps required to make a bootable USB disk. This creates the issue ease and convenience for anyone without the need of having computer technical knowledge.
The application saves a lot of time that would otherwise be used in trying to input the technical commands and it is the most suitable for clients who have windows 7 installed into their laptops. For all versions of windows 7 which are both 32 built and 64 bit, it can conveniently unlock a laptop and allow resetting of the password. Apart from being used with resetting windows 7 password, it is readily compatible with other versions of windows operating systems such as windows 8, 10, and Vista only to mention a few.
What You Need to Prepare
1) A USB driver with no less then 1G capacity or blank DVD or CD.
2) Another Windows or Mac computer for downloading iSeePassword

1

Download and Install Program on Any Accessible Computer and Burn A USB or DVD Disk

Because you can't login to your computer, so you need to download and install iSeePassword Windows Password Recovery Pro on any PC you have access to. This program provides two options to create boot rest disk: one is USB drive and another is DVD/CD.

This article will take USB as an example:
Insert a USB drive into the computer and specify burning drive from the pull-down list. Then click "Burn USB".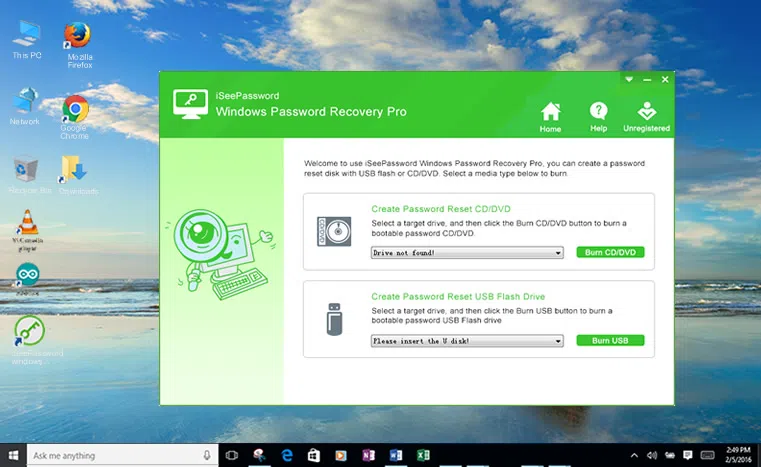 2

Insert Created USB Disk to Your Locked Computer, Boot PC from USB Drive

After the password reset disk is created successfully, click OK. Take out the disk and then put it into the locked computer. At this step, you need to set your target computer to boot from CD ROM or USB flash drive. Pressing F2, Del, or other keys repeatedly when your computer boots and enter the BIOS settings.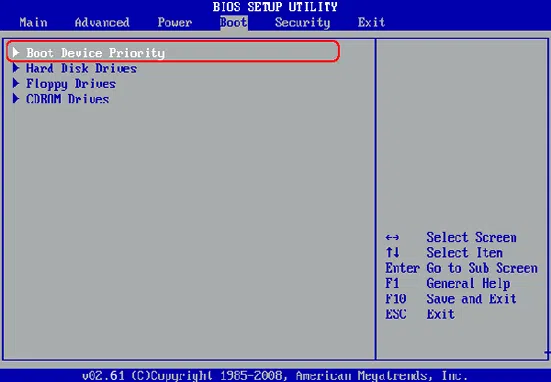 3

Select the Account and Reset Password You Want

Then restart your compute and the program will be loaded when computer boots. You will see the program appears on the Windows PE and show all accounts saved in your computer. Select the account you want to reset, then click "reset password" button to remove your password.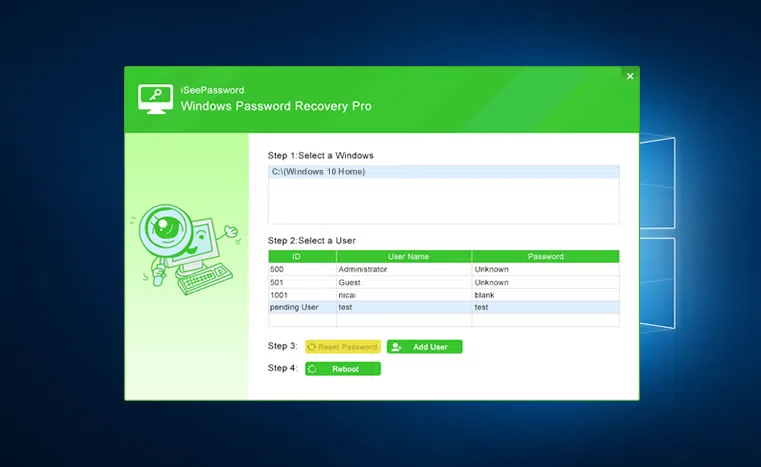 However, there are other methods that involve unlocking a laptop without the use of any third party software's. Following such procedures might prove to be a little bit tricky especially for individuals who might not be having in-depth knowledge about computers. One such technical method involves resetting the laptop to its factory mode. This procedure is a little bit hard and it normally leads to the loss of crucial data since it basically entails clearing the computer memory so as to make it password free. This is normally considered to be an option of last resort.
Another method that can be applied would be the use of the windows installation disk. Starting the laptop with the original windows installation disk would start the windows operating system installation wizard but in this it should not be used. One would have to know the technical commands since a user will have to open the command prompt then change the cmd.exe with utilman.exe.
If you're locked out of Windows and iSunshare Windows Password Genius won't work for you. Then I highly recommend you try iSeePassword program to unlock your windows password. Easy and safe!

---
---