Text messages are one of the best ways to communicate with friends, colleagues and families. Android smartphones has limited inbox limit and can only receive certain amount of messages and after that you will be required to clear few messages before you can receive new texts. In reality, text messages are stored in internal memory which has certain limitations. On the other hand, if you are selling your Android phone to any stranger then it is required to clear the text messages before handing it to anyone.
The reason why you should clear text messages before giving it to anyone is because our inbox contains very personal information such as medical records, bank statements and other private messages from dear ones. Moreover, you might think to simply erase all data by using the basic deletion feature or factory reset your iPhone. But the truth is, a simple deletion doesn't really erase anything from your phone, it simply makes it disappear from the device so that you can't see it anymore. The links are still attached to every file and any data recovery software can recover these deleted files in no time. Also if you have some sensitive text messages that need to be wiped or destroyed permanently, deletion and factory reset is not far enough or not the best solution.
Thankfully, there are 3 tremendous ways to erase text messages from Android phones that we are about to expose in this guide.
Method 1: Delete Text Messages Directly from Your Android
Every Android phone has an in-built deletion feature that helps to erase junk files from our phone. If you wish to erase selective text messages from your inbox then follow the below steps.
Step 1. Unlock your Android and open the Messages app.
Step 2. Long tap on the thread that you wish to remove, check all the messages that want to erase and tap on the trash icon to delete it.
Step 3. Alternatively, you can tap on "Delete" followed by "Yes" to delete the messages from your phone.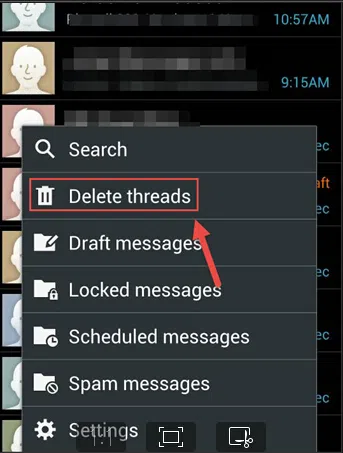 Cons:
All erased messages can be restored easily with any data recovery tool.
Also read: How to Bypass Android's Lock Screen Pattern, PIN or Password If Forgot
Method 2. Factory Reset Your Device
Factory resetting your Android will simply bring back your device to the factory state when you first bought. Please note that it will erase all the data from your phone including the messages. Here's how to factory reset your device.
Step 1. Restart your Android by pressing Power + Home + Volume Down buttons together.
Step 2. Release the Home and Volume Down when the light appears on your phone while keep pressing the Home button.
Step 3. You will successfully enter into Recovery Mode and from the given options, choose "wipe data/factory reset" and press Home to select the option.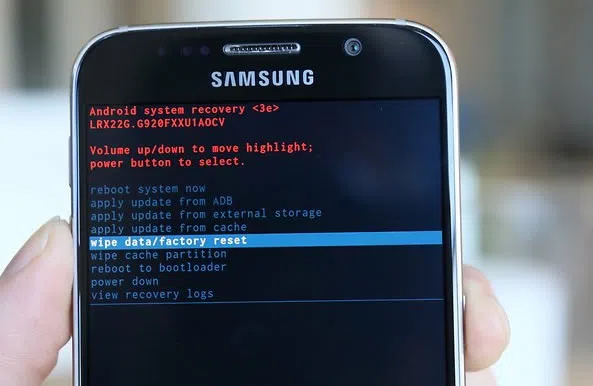 Step 4. On the following screen, choose "Yes" and factory reset your phone. Your phone will be restarted automatically and you can open your messaging app to see the inbox is empty.
Cons:
It is not a safe method because all the messages can be effortless restored with any free data recovery tool.
Factory resetting will not only erase the messages but it will completely wipe out your entire device.
Part 3: Permanently Erase Text Messages from Android Phone
Obviously, the above methods are not suitable if you are selling or giving away your phone to a total unknown person. Millions of identities and personal information are stolen from used phones every month by hackers simply by recovering them. Unless you wish to participate in that statistics, so, it is recommended that you erase your messages from phone permanently beyond recovery.
Here we highly recommend using Android Data Wiper, which is a marvelous and effective data eraser that helps to completely destroy data from your Android phone so that no data recovery tool can ever restore them. It will automatically detect and erase all detected files using DoD 5220.22 M data destruction method (3 passes). It can totally wipe everything on Android like a paper is shredded with a paper shredder. No traces of your data can be ever found if you choose to erase them with this tool. So, a fair warning to all of you, if you are operating Android Data Eraser then kindly backup all of your data before proceeding.
1

Download, Install Program on A Computer and Connect Phone to PC

Download proram on your computer and install it by finishing the installation setup wizard. Next, launch the app and get your Android connected with PC via USB data cable.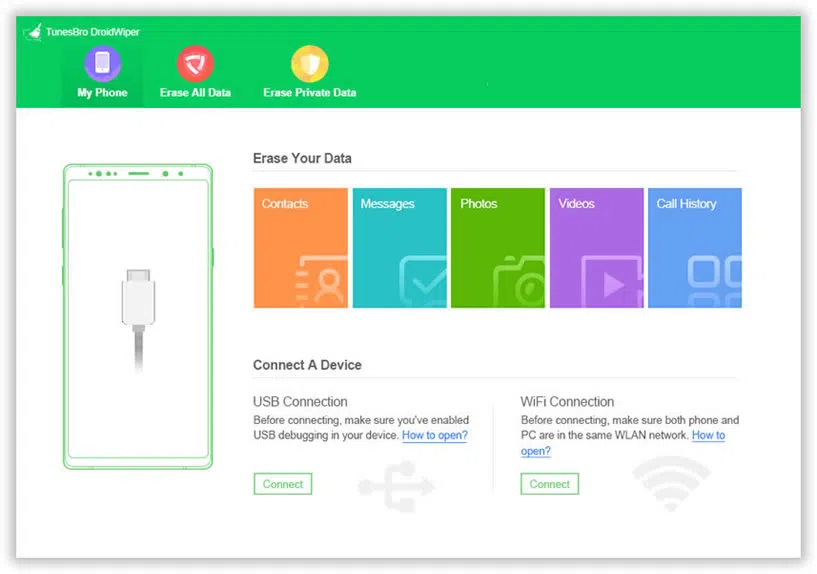 NOTE: Get your phone connected to PC and enable USB Debugging mode on your Android by going to Settings > Developer Options > USB Debugging mode.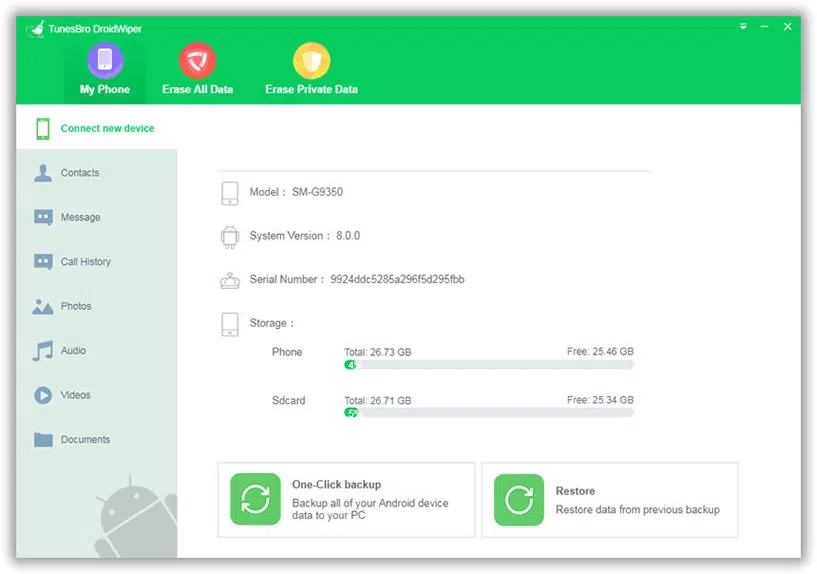 2

Choose the Right Wiping Option

The program offers 3 ways to erase data from your Android device. Click on "Erase Private Data" and let the software scan your entire phone deeply and erase existing messages on your device.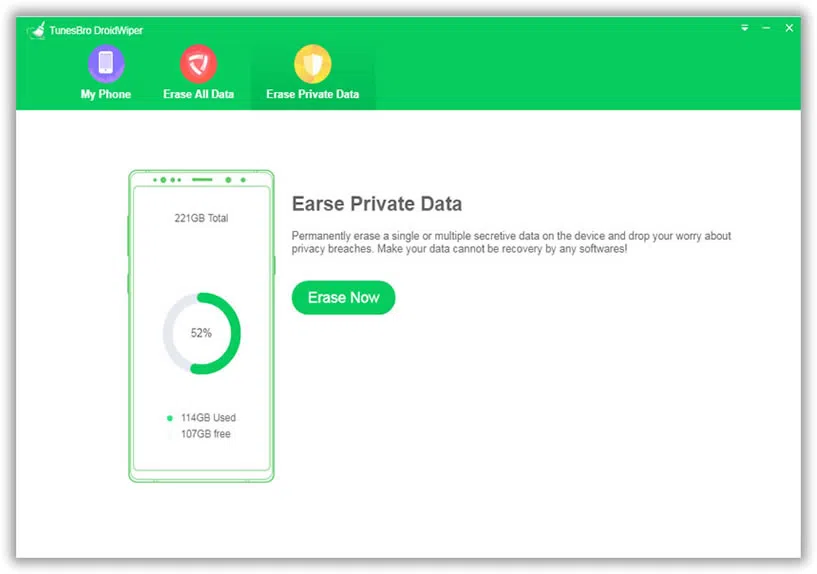 3

Choose the Text You Want to Erase

Let the program scan your device within few minutes and once it is finished, you will be able to preview every single information from your Android. Finally, choose the messages that you wish to get rid of and click on "Erase" to permanently delete them.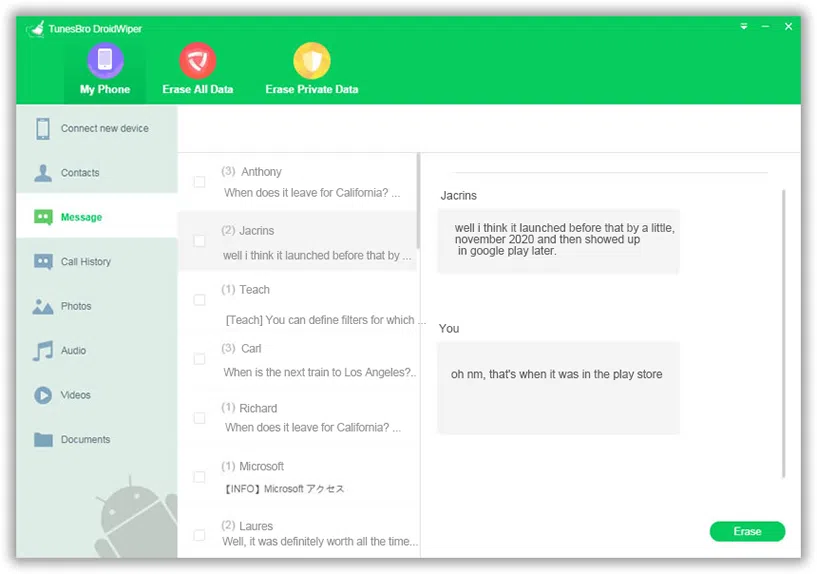 Before deleting your messages, you can choose the security level by clicking "Settings" button, there are three security levels for your choice, the high level you use, the more time it will take.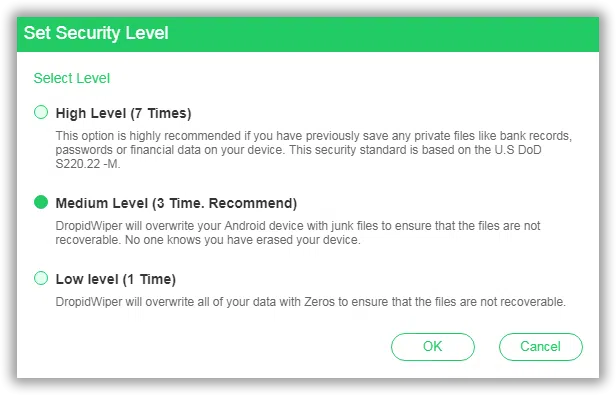 4

Start to Delete Text on Your Android Phone

Before starting, you'd better back up your important messages because once the messages was wiped, it will be gone permanently. Now, click "Erase" button to let the program starts wiping your messages. Don't disconnect your phone to PC when erasing.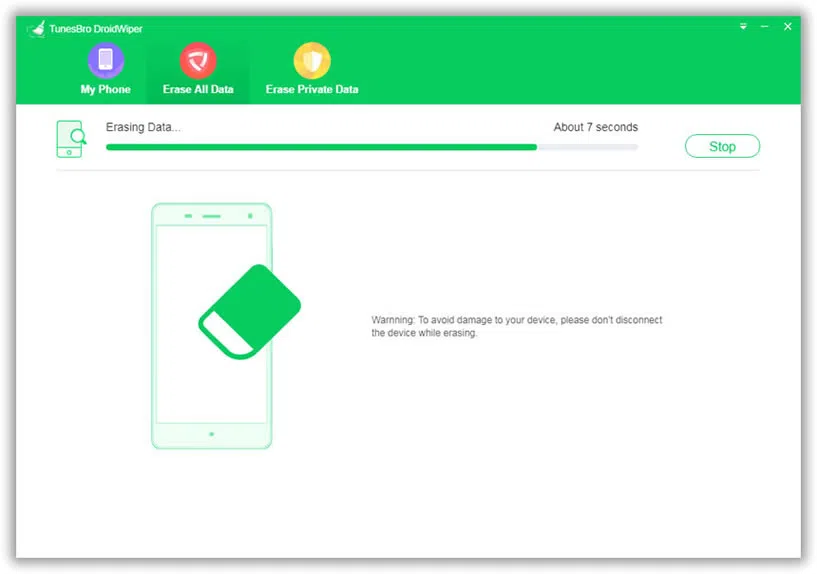 Done! You may now check your Android to discover all the messages are successfully erased.
Final Words:
Everyone knows that a basic deletion or factory reset is not enough to delete all the files from your Android phone permanently. A simple deletion only removes the links from the data that makes the files disappear from your Android but it reality, they are still stored in the cache memory of your device.
In this tutorial, we have shared the most recommended ways to erase text messages from Android phones. Remember to backup messages before you use any method shared in this guide to avoid any data loss. Android Wiper has been selected as the most secure and safe program for wiping data from any device. It is the most rated program on the internet and you can make sure that no data can be recovered ever after they are deleted with it.

---
---