The corruption issue with User Profile service is very common with Windows users and there are various solutions according to the actual error message you come across. In this guide, we will show you how to get rid of corrupt user profile by either fixing it or creating new account and taking backup of your user data to new profile. It happens just after typing password. You may normally see the error like "The user profile cannot be loaded" or "The User Profile failed the logon" and it will get back to logon screen.
Here we lists three ways to fix when you encounter issue that user profile service failed to login windows.
Part 1: Fix a Corrupt Profile
If you log on when Antivirus is scanning your PC, a user profile may get corrupt, according to Microsoft. But there must be other reasons. You may try rebooting the PC to fix it quickly. In case it doesn't work, you have to restart the system again and boot in Safe mode if it doesn't work. Press F8 before you get to the loading screen and choose Safe Mode from menu. By choosing Safe Menu, you will get into the default Windows Administrator account but some features will not work.
1) Click Start and type "regedit" on the search box and hit "Enter".
2) It will open the Registry Editor and you have to go to these keys – HKEY_LOCAL_MACHINE\SOFTWARE\Microsoft\Windows NT\CurrentVersion\ProfileList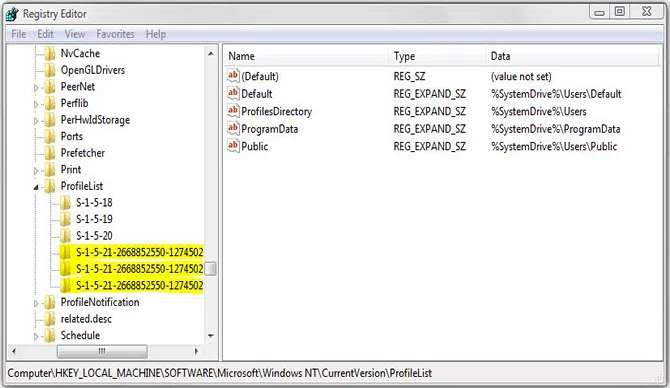 3) Double click "ProfileImagePath" entry after clicking each S-1-5 folder to look for the related account. Rename the folder if it has extensions like .ba or .bak by following Microsoft's detailed instructions. If not, follow the remaining steps.
4) Once corrupt profile folder is found without .bak extension, double click on "RefCount" and change the Value to 0 and click on OK.
5) Double-click "State" and get Value to 0 again and click OK.
6) Close the Registry Editor and reboot the PC. See if you could log on to your account again.
Part 2: Create a New Profile
When user profile service failed the logon windows, don't worry, there is still a second way to fix it. If you have another account on your system to access, you may use the same account to go through these steps and create another user account. If you don't have any other account, you may boot to "Safe Mode" and follow these steps. If it still is not working anymore, activate hidden admin account. Just type cmd in start search box and right click and click "Run as Administer" on Command Prompt.
Now type this command – net user administrator/active:yes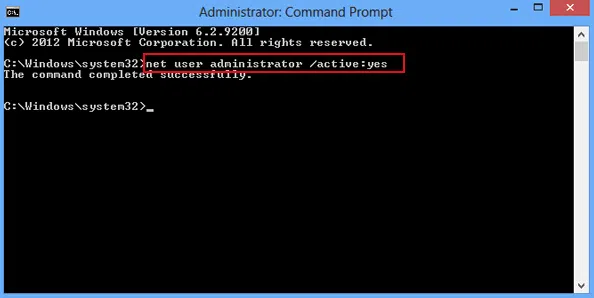 Look for the response "The command completed successfully". Restart your PC and you will get an "Administrator" account along with your corrupt account. Choose the Admin account with no password and follow these steps –
1) Launch Control Panel and go to User Accounts & Family Safety. Now choose User Accounts.
2) Click "Manage another account" and type the password. (If you forgot Windows password, try to reset your password here.)
3) Click on "Create New Account" and type name. It should be different from corrupt account and you can rename account later on to get the same name just like before.
4) Reboot your PC.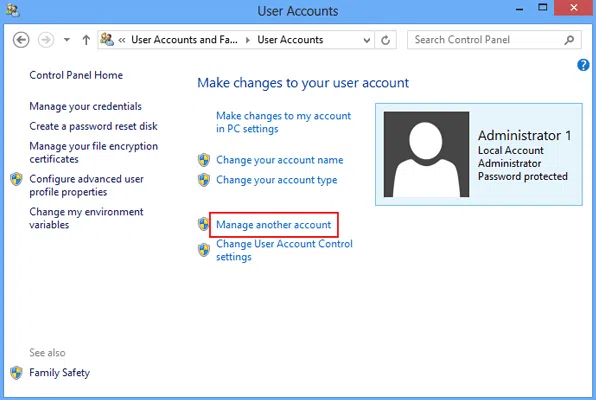 Method 3: Transfer Files to Another Profile
If you encounter an issue that user profile service failed the logon windows 10/8/7, you can try to transfer files to another profile. Do as the following steps.
1) Log in as Guest or Administrator instead of using a new profile you have made. Enable one of the above accounts.
2) Go to the corrupt account from Start > Computer and double click on hard drive where Windows is installed and open Users folder. Find the folder which has old user account and open My Documents.
3) Avoid copying these files – Ntuser.dat, Ntuser.dat.log, Ntuser.ini
4) Click on "Show Hidden Files, drives and folders" from View tab or in Tools menu. Keep in mind that you may need to copy any email stored locally individually with instructions that are specific to your program. Make sure not to delete your corrupt user profile until you get all the files you need.
5) After copying all the files to new user profile, restart your PC and open new profile.
NOTE:
Keep in mind that some people have already lost important files by trying to edit Registry. So, you should have backup of your hard drive beforehand because you don't want to lose your files before trying Windows Registry. You may use different programs to copy your hard drive but you need another disk with proper capacity and may also need another laptop or desktop to copy the disk.

---
---