In our daily work, we always need to use Excel document to record and share some operational data. To ensure data security, we have been accustomed to using a password to protect our important Excel files from  unauthorized reading, modifying or destroying by others. With the password protection, you can't open, edit or copy any content of a protected Excel document unless you need to first unlock Excel password. But if you forgot the Excel open password, what should you do?
Part #1. What Type of Encryption in Excel 2016?
There are many types of excryption plans introduced in Excel 2016, so before unlocking Excel file password, it's necessary to know about the Excel Encryption type:
Open Password: It typically means that the protection of the Excel file will be visible upon opening the file.
Modify Password: Modify Password is usually required when you are making some changes in the document and then try to save it. Basically, you can read the file and indeed you can modify it as well but you will be required to enter the correct password of the document.
Read-Only Password: This means a user can read the content only. Generally used in offices so that no one can copy or modify any content inside it.
Workbook Structure Password: This will typically prevent any user from adding, moving, deleting, hiding or even renaming the worksheet file. This phenomenon is called the structure workbook password. Means it will only protect the structure of the document but certainly won't have any effects when modifying the contents.
Sheet Password: This will prevent any other user from changing, moving or erasing any data inside a worksheet. With this protection, you can make any part of the sheet editable but most of the content will be protected.
Part #2. Unlock Excel Password 2016 using Online Service
If you don't know the password, and you also have no permission to unlock the Excel 2016 document, you can try some online Excel password unlocker tools which requires you to first upload your file to their servers. There are various websites which offer free online password unlocker services to unlock word, excel, ppt, and outlook file passwords. Here we would only keep the boundaries of discussion to unlocking the excel file password and we would mention two such online password unlocking services. Let's take up the first tool example.
Step 1: We recommend the lostmypass.com to help recover Excel password, which brute-forcing a password with a dictionary and mask.
Step 2. Choose "Click here" button and you will be able to upload the locked excel file from your computer and as soon as the file uploaded onto the webpage, its password recovery process will begin.
Step 3. You can see the recovery progress on screen, and wait until it is fully recovered and shown to you. If everything has been done accurately, you will not find any hindrance anymore.
Warning:
To make method to work out efficiently, you need a stable and constant internet connection, which might not be the case all the time.
You need to upload your personal Excel file to their server, they will copy, analyze and collect your data. This will pose a threat to your data security. We will not take any responsibility for any data breach, data theft!
The server will be crashed or overloaded if deal with dozens of Excel files at the same time. This could be a fairly time-consuming task however.
Part #3: Unlock Excel 2016 Password with Excel Password Unlocker Tool
There are certain drawbacks in the previous method like it can't ensure your data security and instability. But that is not the case with iSeePassword Excel Password Unlocker tool, it's one of the most effective and innovative application for unlocking all types password of protected document in Excel 2020 - 2007 without damaging original data. It will offers 4 intelligent attack types including Brute Force; Mask; Dictionary; Smart attack to remove the protection from the file so that you can edit, modify and save changes. This software can easily crack any strength password whether it's weak or strong. There are two recovery mode it provides: unlock open password in Excel and remove password from workbook, worksheet. You're allowed to import your customized  directory to program and it will unlock Excel file with the password in directory. Like other program, Multi core GPU and CPU acceleration facilities are also available to speed up the password recovery speed.

Provides 4 types of attacks- Brute-Force Attack; Mass Attack; Dictionary Attack; Smart Attack.
Remove worksheet and workbook protection with one click.
Multi-core CPU and GPU are available to increase the recovery speed.
Compatible with the latest version of MS Excel including 2020/2019/2017/2013/2010/2007/2003.
No file content is lost. It runs with all the Windows OS, such as XP/ Vista/ 7/ 8/ 10.
You can directly download it here, only Windows version available!
Feature 1

Unlock Open Password on Excel

Step 1. Install and Run Excel Password Unlocker Tool. But first you have to download the tool to that specific computer which contains the locked excel spreadsheet. Install it normally and launch it afterwards with admin rights.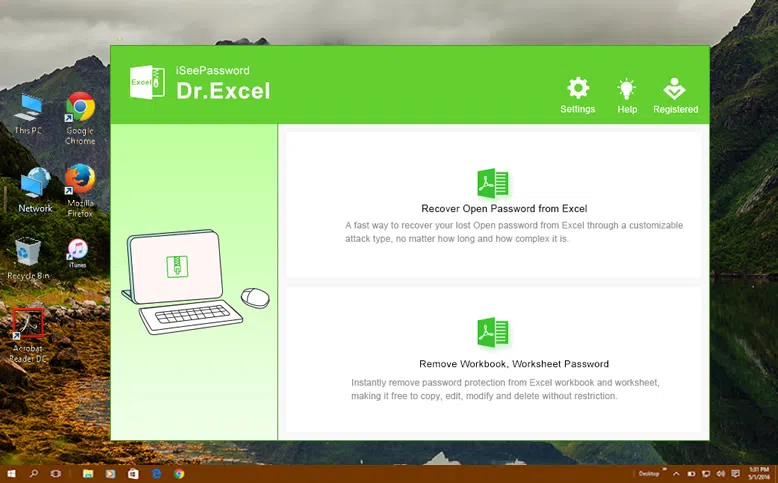 Step 2. Add Locked Excel File to Program and Select the Right Attack Types. You will see "Add File " button on the toolbar. Click on it to load your target locked Excel file to program. Then select an attack type and provide the additional details under the chosen attack recovery mode by clicking "Settings" button.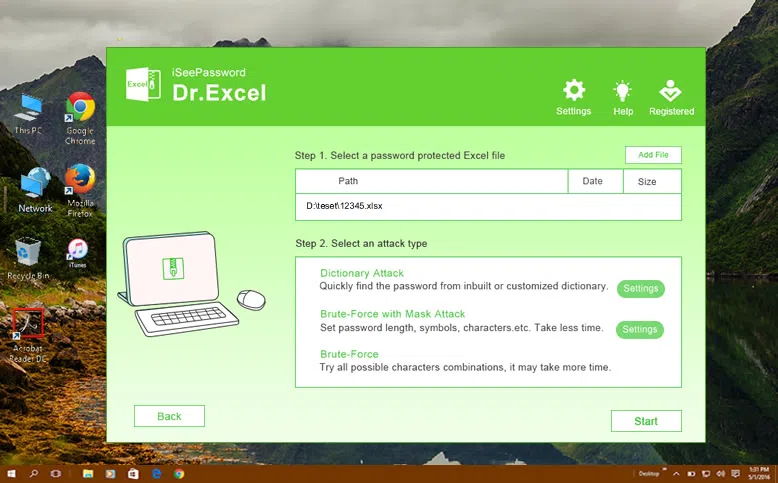 As you can see there are 3 attack modes:
Dictionary Attack: Quickly find the password from inbuilt or customized dictionary.
Brute-Force with Mask Attack: If you remember any part of password clues, like password length, password range, lowercase and uppercase letters, numerals, and special characters. Then more information you provide, the faster you will get your password.
Brute-Force: If you cannot provide any information about your password, then it will try all every possible combination of characters, this will take long time based on your password length and complexity.
Step 3. You can provide any part of your password information like password length, range,  case-sensitive  or prefix and suffix. The more you provide, the faster it will be.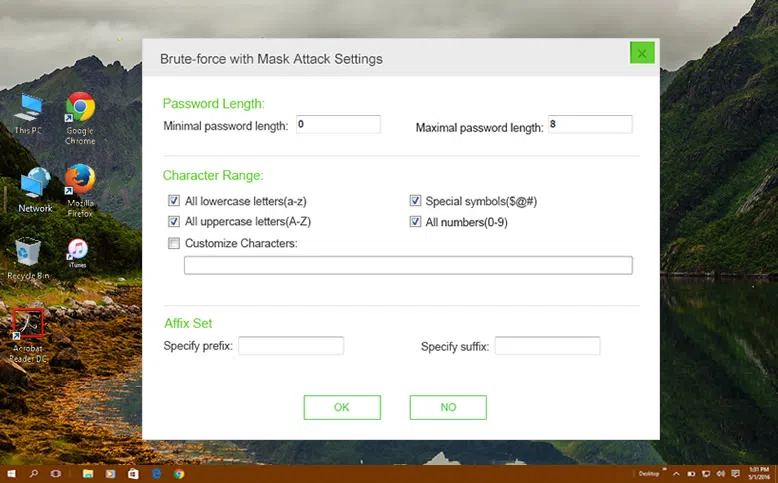 Step 4. Start Unlocking Excel File Password! Wait for 5 to 10 minutes, or some more depending upon the password complication, but once you find your password recovered, use it immediately to unlock your protected excel file. And from the next time, don't forget to note the password down somewhere.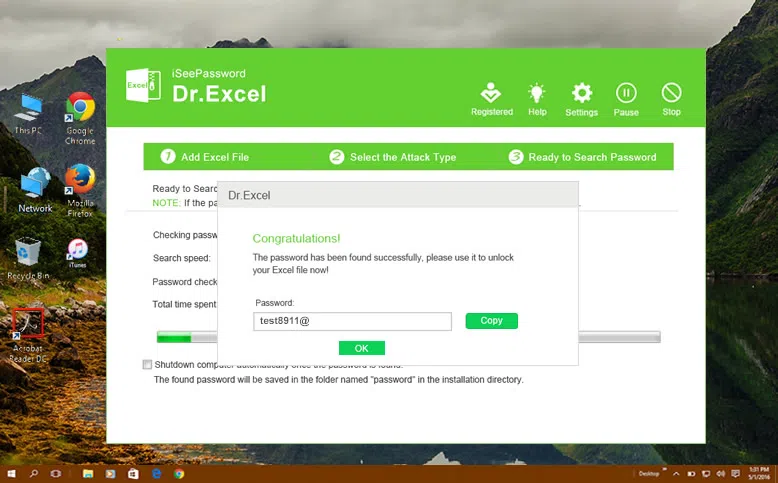 Feature 2

Unlock Own Password on Excel Worksheet/Workbook

If your Worksheet or Workbook is protected by a password then you're not allowed to copy, edit or modify the anything in cells. But don't worry! Dr.Excel could easily remove these protection without touching the internal cell data. Just one click, it can remove all protection instantly!

Step 1. Suppose  you've already installed the program, then launch it. In the main feature, choose the second option and next.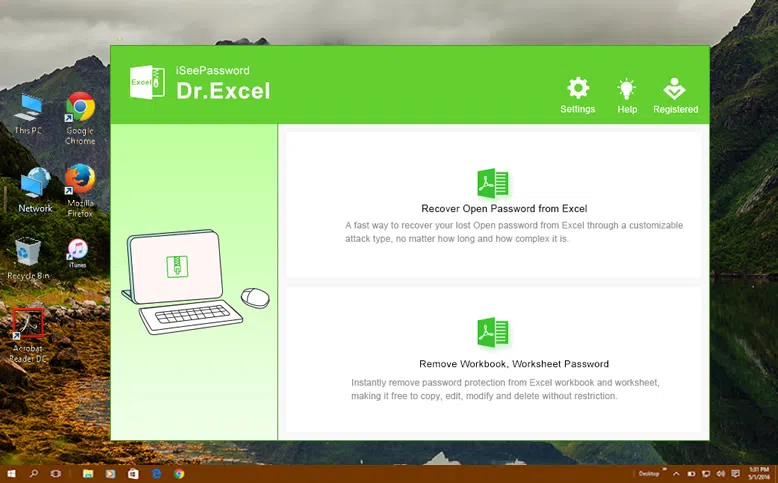 Step 2. Here you need to import the all of your Excel files which are protected by worksheet and workbook password. Dr.PDF fully supports to batch import files and batch remove protection. You can also specify a location to save the exported Excel files, then click "Start" button to let program begin.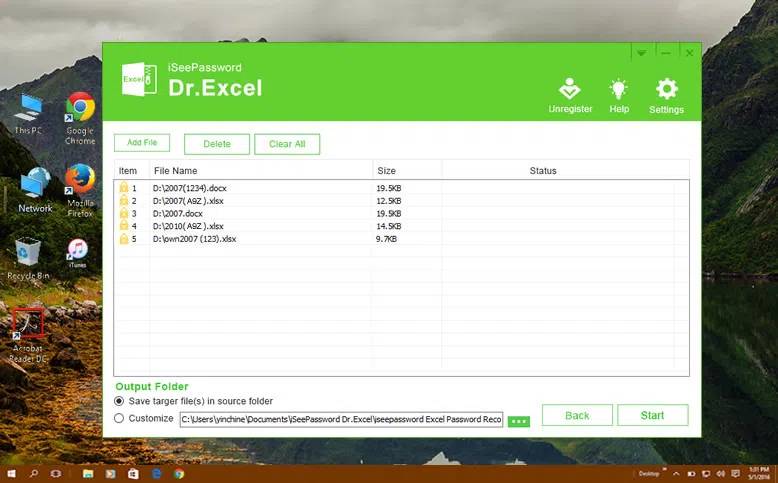 You will see it's very fast to process up to 300 Excel files at one time. After task, you can open the Excel files and check your content without password protection. Just download and give it a try!
Part #4: Unlock Excel 2016 File without Password Using ZIP
We know Excel use the VBA project to avoid mishandling of the file and you can unlock Excel file with your VBA code. But for may unknown reasons, you will find that VBA code won't always works smoothly! Then there's another way to remove the password from the document without having acknowledgement of the password. In order to use this method, you must download WinRAR or 7 Zip software then follow the below instructions unlock Excel file.
Step 1: Make a right click on the Excel file that you want to unlock and save it as "Anything.zip. Click on "Yes" to confirm the changes.
Step 2. Now, open the newly saved zipped file with WinRAR or 7 Zip then navigate to XL > Worksheets where you should see all the 2016 Excel sheets like 1.xml, 2.xml etc. Now, if you are using WiRAR then double click on the file and open it with Notepad application.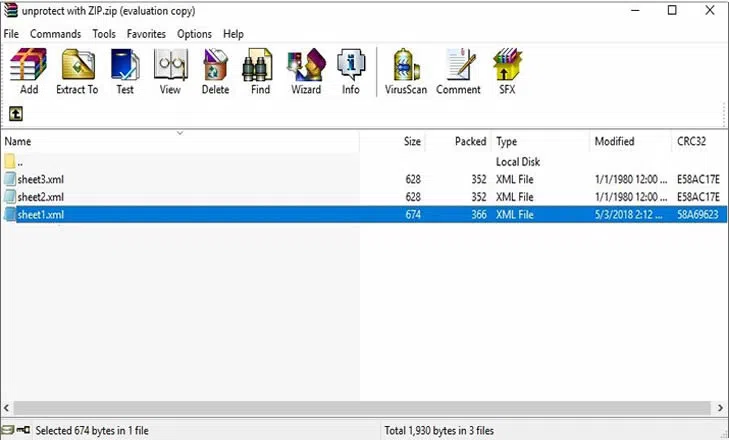 Step 3. Now, simple erase the whole sheetprotection tag like the below screenshot and save the file.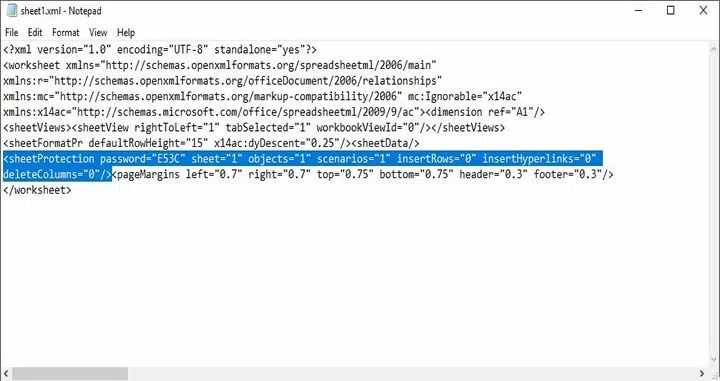 Step 4: Finally click on "Yes" to save the changes.
Step 5. Now, again change the zipped file into "Anything. Xlsx" and save the file. It should be now password free. It should be noted that this method only works for the password-protected workbooks, if the Excel file was protected by "Encrypt with Password" feature, it will not work.
Protecting your excel file is undoubtedly an obvious step to take when it contains rarely confidential list of details, but at the same time you need to know the way to unlock it with or without password. Unlocking the file with password is not a big deal, but the real problem arises when you lose it. The article is fully sufficient enough to help you out with this issue, and if still any confusions linger take experts advices before you use any one of the methods.

---