Chances are, you have tons of online accounts which requires a password. If you are a cautious person then you will use complex, tough and antique passwords which are not easy to hack. It is really important to use complicated passwords these days because a survey says that, in 2016, over 5 million account passwords were hacked every month. So, if you don't want to be one of those then it is important to create strong passwords for your accounts.
When you are creating a tough and complex password, you must consider the following four basic criteria:
1) Must have upper case and lower case mixing alphabets.
2) Must have alphanumeric mixing.
3) Must have special characters mixing.
4) Must have more than 8 characters.
While, this is really very easy to say but if you are going to generate a password using those criteria then chances are, it is very difficult to randomly generate those passwords and even if you generate one then it will be very hard to remember when you have more than dozens of accounts. But, you don't have to worry about that as we will discussing some easiest way to create strong passwords and manage those passwords without remembering them. While Android offers many apps in their app store, the task is a bit different in iPhones.
Luckily, there are some password managers in the apple app store which can generate and store passwords in their cloud servers which can be retrieved whenever you like. But first we will discuss how you can generate strong passwords using "Siri".
Part 1. Create Strong Passwords in iPhone Using Siri
That's correct, Siri has endless intelligent features and one of them is creating strong passwords for your accounts as well. Many of you may not know this but Siri do have knowledge of Wolfram Alpha, which creates dynamic computations on your search terms using its own collection built-in information, unique algorithms and other secrets. Usually, this feature is used to calculate mathematics for you but it can also be used to generate strong passwords. Use the following method to create strong passwords in your iPhone.
1) Tap and hold the home button to activate Siri and say "Wolfram Password".
2) You will see a screen which will show "Generate a random password".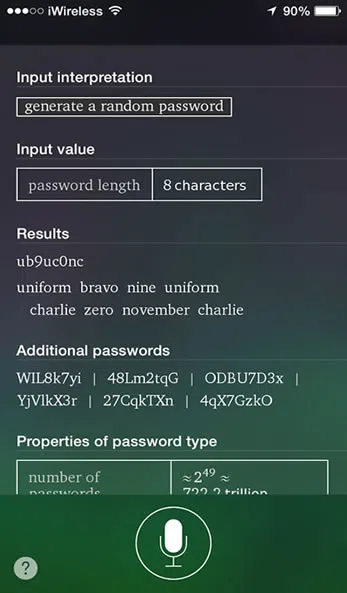 3) Underneath that, you will be able to see a default password of eight character length followed by your random password along with special characters.
4) Except that password, it will also show you six other passwords which you can use alternatively as well. Not only that, it will also show you some cool information about your password property as well.
5). Use that password for your online account and write that password in a piece of paper or a text notepad.
Next, if you wish to use some sort of application then you can install the following apps to generate and manage passwords.
If you have troubles remembering your password then one of the best way to lock your screen is to use fingerprint lock screen apps to unlock your iPhone screen lock . For this, we will have to download external apps but it is absolutely worthy to secure your iPhone. If you forgot iTunes backup password, follow this article to learn how to unlock iPhone backup password.
Part 2. Generate and Manage Passwords Using Dashlane
Dashlane is an online password manager which helps you to create and manage passwords online. You just need to download the app and create an account in which you will store all your login information. Not only that, you will be able to store credit card information and other personal details too. You simply need to open your Apple App Store and search Dashlane and install it in your iPhone.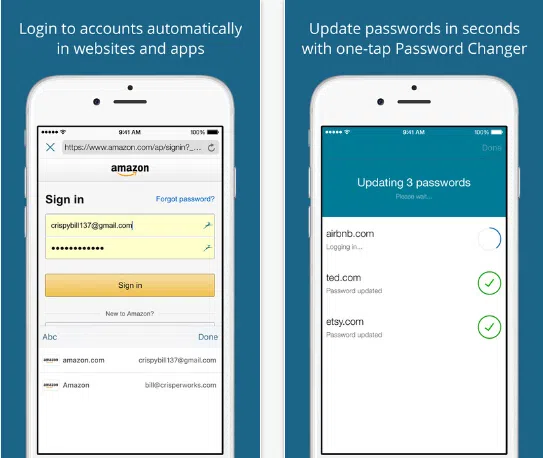 Dashlane offers an in-built password generator which can be used as many times as you want using the instant password generator option. You don't even have to remember your password as it will also store the password in their cloud server which you can access anytime and anywhere you want using your Dashlane account.
Part 3. Generate Passwords Using Free Password Generator
It is yet another free app for your iPhone to generate strong passwords. You simply need to go to your Apple App Store and download this app and install it in your iPhone. This application is absolutely free to use and will work exactly as you want.
Password generated by this app will have lowercase and uppercase alphabets, numeric numbers and special characters. It can create password up to 128 characters length and gives you the option to email you the password so that you don't have to memorize it. This application is ads free and absolutely free to use. Here we recommending using free online password generator.
Conclusion:
It is always safe to use strong passwords for your online accounts to keep it secure. Your privacy should never be compromised just because of using some lame passwords. Using the above methods, you will be able to create stronger passwords which will take forever to hack. Also, you should change your password every month to increase your security.

---
Related Articles & Tips
What to Do If You Forgot or Lost Windows 10 Login Password
---