PDF, commonly abbreviated for Portable Document Format, is a very common terminology when you come across documents on computers. For securing data, this is the most compatible and secured format widely used on the internet. These files, not all, are mostly found to be restricted with passwords, when downloaded from online websites. Such securities are needed, in fact, that's what the PDF format is all about. Adobe allows users to put password restrictions.
To be precise, it's indispensible to make protection a part of your daily routine when you deal with electronic documents. Unfortunately, you don't possess the password so often when PDF files are downloaded. The article below will brief you about 10 best PDF unlocker tools in the wake of not finding accurate passwords for PDF files you have.
But before you begin exploring the article you should know that PDF passwords are of two types - Open Password and Owner Password.What is the Difference between Owner Password and Open Password?
Owner Password: It is also known as Permission/ Change Permission/ PDF Master password. With this password restriction, you can read the PDF contents, but are not allowed to edit, print or modify any of it.
Open Password: Also known as User password, does not even allow reading the PDF file.
PDFCrack
PDFCrack is practically a command line driven utility meant to open a password restricted PDF file. It is a very reliable and easy to use PDF unlocker tool. This PDF unlocker is actually an open source (GPL) utility which can be run on Windows, Linux and Mac platform, and comes free of cost. Like most PDF tools, it also provides some attacks including brute force, and dictionary modes of attack. But in our task, we failed to recover 5-length password on my PDF that encrypted with 256 C4 algorithm. So, We don't judge well, this means that "brute force tools" are not 'good' or 'bad' but are powerful password recovery tools and have many effects we might not have expected they could. It only works for Open password but not owner password.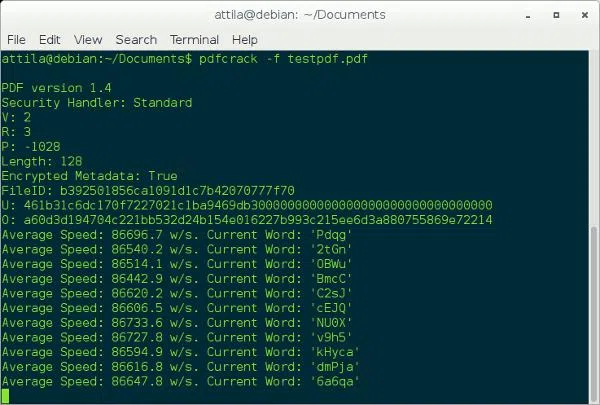 How to Use PDFCrack?
Step 1. Download and install the software on the computer which comprises the required PDF file if possible.
Step 2. Launch this PDF unlocker tool, and open "cmd".
Step 3. On the black command line screen, type Pdfcrack –f locked.pdf. Replace the locked.pdf command portion with the real PDF file name.
Step 4. The password recovery process will begin immediately. Depending upon the complexity of the password structure, it may take some time. The recovered password will be displayed on the cmd screen.
Dr.PDF
Dr.PDF is a remarkable offline PDF unlocker tool. The best part of it is that it can be used on both Windows and Mac OS. It has been recommended by many experts, and has got huge positive feedback from user ends. Dr.PDF can be able to decrypt PDF quickly and conveniently, simple and efficient! It can help you solve many PDF issue, such as PDF can not be printed, copied or modified, etc. It also supports Acrobat 9 and 128-bit and 256-bit decryption. If the document has an open password, you can also remove the PDF open password if you know the password. It also provides 3 recovery modes and it supports large and small letters, 0-9, spaces, special characters, you can define the number of passwords and password range, then you can crack the pdf file through brute force or Mask. The more complicated password is , the more time it will takes.

It can decrypt both Owner and User Passwords.
It implements brute force attack, mask attack, dictionary attack.
It supports both 128-bit and 256-bit encryption keys.
Fully support multi-core CPU processing and GPU acceleration. 30X faster
Part 1

Crack Open Password from PDF File

Download this PDF unlocker software from iSeePassword official website and install it. Then launch the tool with admin privileges. Now if you have an Open Password restriction, click on the "Recover Open Password from PDF" option.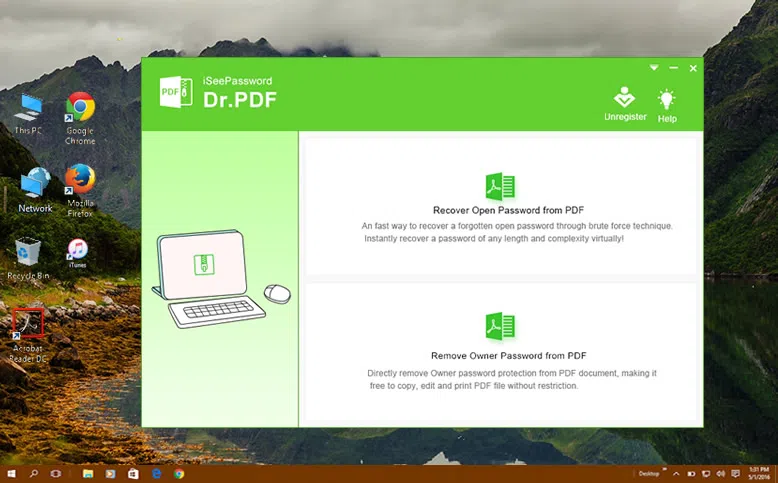 Choose any one of the attack types on the next screen. Provide an approximate description of the password in terms of Password length, and Character range.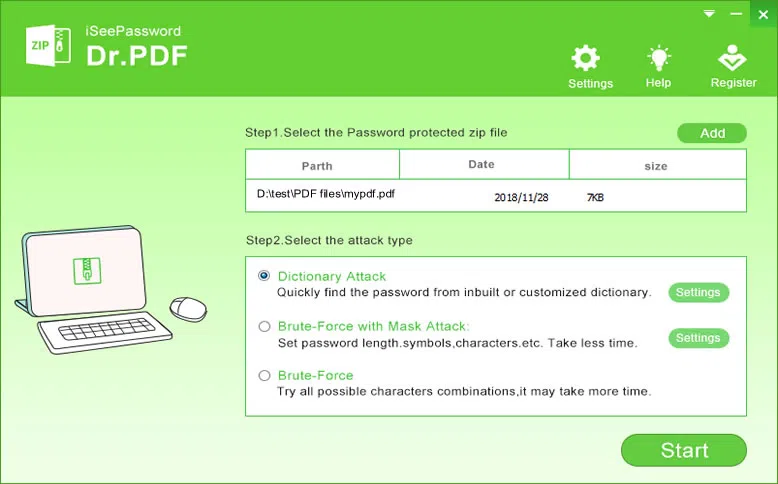 After you are done setting the options, click on "Start" button to begin the process. The program will take time according to the password length and complexity. When it is done, the recovered password will be shown on a popup screen.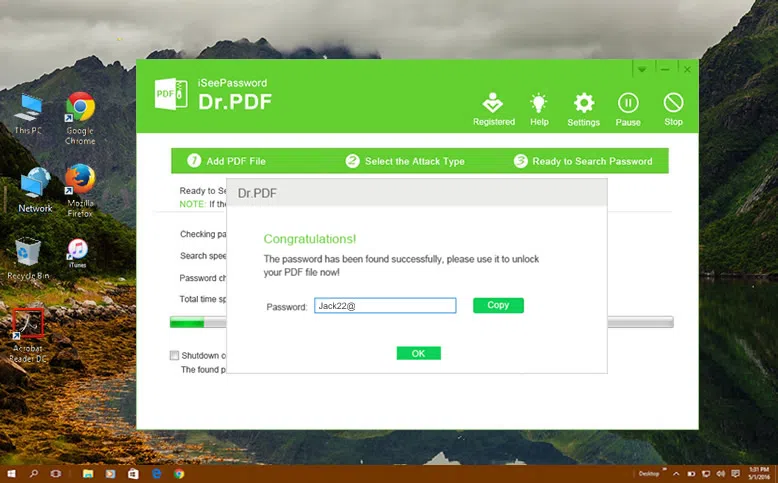 Part 1

Crack Owner Password from PDF File to Edit, Modify or Print

Now if you wish to remove Owner password for your PDF, on the first tool screen, you need to choose "Remove Owner Password from PDF" option. Step 8. Click on "Add File" to upload your file. Then Provide the pathway for the output file to save from "Output Folder" option at the bottom. Just click Start button to remove all protection from PDF files. The decrypted output file will automatically be saved to the prescribed location. You can go there to check if the password restriction is removed or not.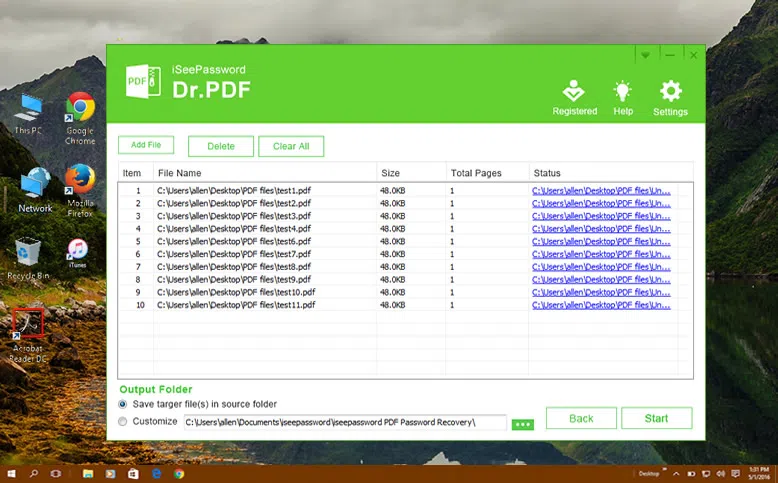 If you find there is a lock icon appearing on the PDF item, it means that this PDF file is encrypted with open password, ,then you will be asked to type the Open password in the pop up window. Just download this best PDF unlocker software and give it a try!
VeryPDF Password Remover
This PDF unlocker tool  has a single function, which can only remove PDF owner password instead of PDF open password. I'm not entirely sure how often a person would use it in its current implementation, but I suppose it could come in handy when you're in badly need of editing or printing a password protected PDF file. Like other tools, it also supports both 128-bit and 256-bit AES protected files, it only runs on Windows platform. In the latest update, it is said that the publisher has optimized decryption speed for heavier PDF files, and add a new feature that make it possible to repair corrupted PDF files also.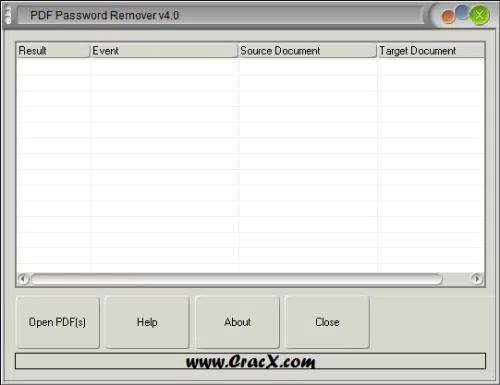 Step 1. Download VeryPDF PDF unlocker tool, either version or paid version from the link given below:
Step 2. Install the tool and then launch it.
Step 3. On the tool screen interface, click on the "Open" button, locate the PDF file to load it on tool interface.
Step 4. The password removing process will start automatically. When it is done, you will be prompted to select a folder to save the decrypted PDF file on your computer.
GuaPDF PDF Unlocker
GuaPDF is a PDF unlocker easily available on internet. It is a very light weight option. Though it has got its own limitation like it can only recover small PDF passwords, still it is perfectly does its job, so recommendable by experts. This tool does not need installation. It works for both 128-bit and 256-bit AES encryption and allows high speed password recovery for AMD, Intel core architecture. In terms of performance, this PDF unlocker tool has been optimized for a 64-bit environment so that it utilizes a very low amount of CPU and system storage. It comes both in trial/ demo version and paid version.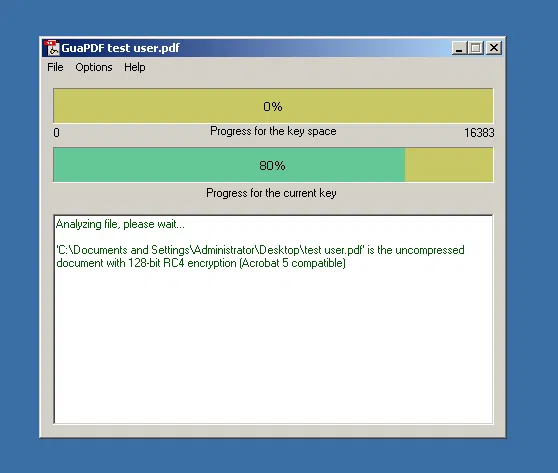 Step 1. Download free PDF unlocker software from any software distributing websites, trial version if possible in the beginning to get an idea of its working.
Step 2. Click on the downloaded file and it will be launched. It does not need separate installation.
Step 3. On the tool interface, click on the "File" option on the menu bar, go to "Open" option from the drop down menu. Choose your locked file to load on the tool interface.
Step 4. The decryption process will begin automatically without any external effort.
The recovery process will not take longer. Once it is finished, the cracked password will be displayed on tool screen.
APDFPR
APDFPR is a paid PDF PDF unlocker tool. The tool is well suited for files with complicated and lengthy passwords. It is recommended by many computer experts. It is a large sized utility, and requires high speed processor architecture. It can decrypt both Owner and Open Passwords for PDF that equip with both 128 and 256-bit AES algorithm. This PDF unlock tool also offers 3 attack modes including brute force , mask attack and dictionary attack. It also provides many other detailed settings for your password recovery, but in my opinion, it's very messy and not easy to use!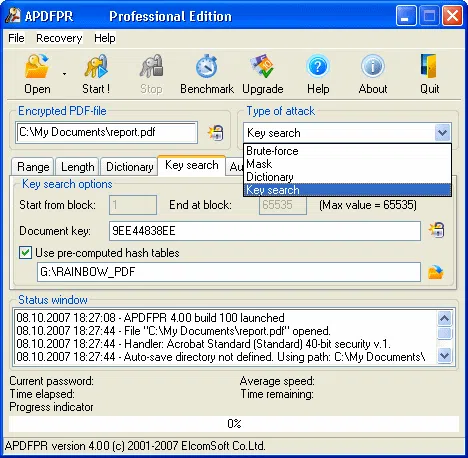 Step 1. Download and install PDF unlock software on your computer.
Step 2. Run it with admin rights.
Step 3. From the main tool interface click on "Open" button to select and load your locked PDF file.
Step 4. Choose your attack type.
Step 5. Select the type of password restriction, either owner or open.
Step 6. After you are done, click on the "Start" button and the process will begin at once. The recovered password will be shown, in few minutes or an hour, depending on the password length, on the tool screen.
PdfCrypt
The good news is that this PDF unlocker tool is FREE, but it works based a command line interface, so people who are not used to using commands, may find it a little uncomfortable. It is compatible with all Windows OS versions and it's small in size, and portable.Like iSeePassword Dr.PDF software, it also supports standard 128-bit and 256-bit both AES encryption. First, you need to dDownload and install the software on your computer. As soon as you run it, the black dialogue box of cmd pops up, then enter the commands shown below and hit "Enter" key. The procedure will take some time. When the password is decrypted, it will be displayed on screen.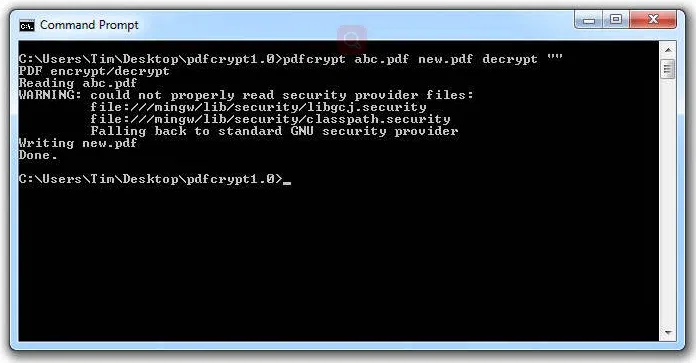 Sejda
Unlike the offline PDF unlocker tools we discussed previously, Sejda is an online PDF unlock software designed to encrypt, decrypt passwords, edit PDF files, etc. High speed internet connectivity is required. It allows you to upload files from Dropbox and Google Drive. Both owner password and open password can be decrypted.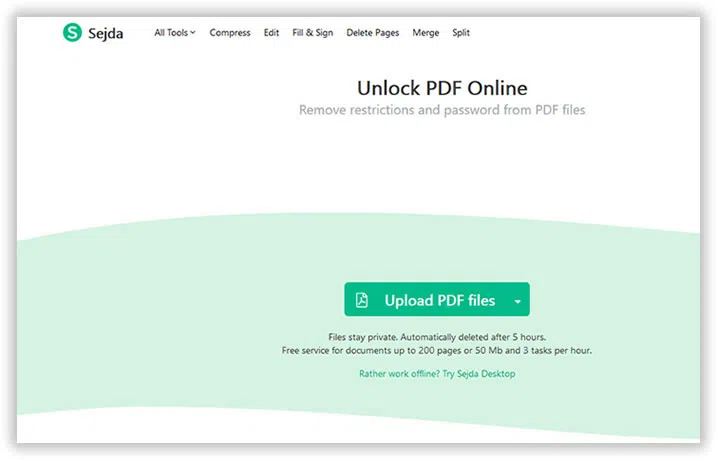 Step 1. Go to the given link below: https://www.sejda.com/unlock-pdf
Step 2. Click on the "Upload PDF files" button to load the encrypted PDF file on the online interface.
Step 3. As soon as the file is uploaded, the decryption process will begin. When the procedure is done, you can download the decrypted output file to your computer, and use it. It will not ask for password anymore.
PDF Unlocker
PDF Unlocker is the one of the many smartest solutions to remove PDF restrictions. It can remove both owner and open passwords. It comes both in trial and paid version that can be able to remove password without using Adobe Acrobat DC. It supports different encryption levels, such as 40-bit, 128-bit RC4, 128-bit AES, 256-bit RC4, and 256-bit AES.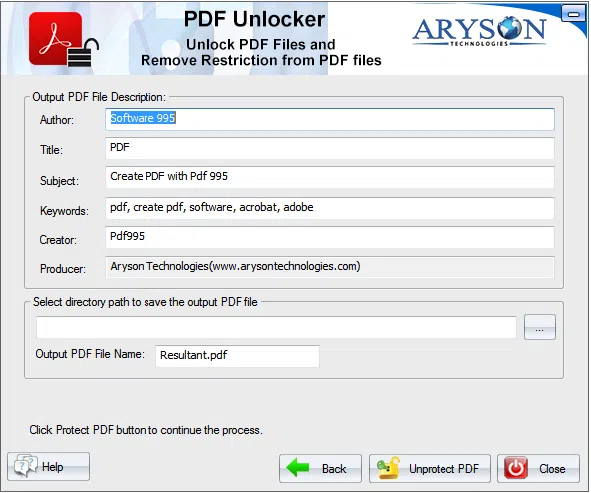 How to Use PDF Unlocker software?
Step 2. Install the tool using on screen instructions.
Step 3. Run the tool and on the tool interface, choose the restricted PDF file to load.
Step 4. Click on "Next" button to start the process.
Step 5. Provide the pathway for the output decrypted file to save.
Step 6. When it's all done, click on the "Unprotect PDF" option at the bottom right corner of the tool screen. Wait until the process gets over.
Recover PDF Password
Like other PDF Unlocker tools, Recover PDF Password tool also crack PDF file password by performing Brute-Force Search, Dictionary Search, or Network Search. Brute-Force option is a simple attack way to gain unauthorized access to a PDF file, it tries out numerous password combinations to 'guess' the correct username and password, so, of course it has a low success rate.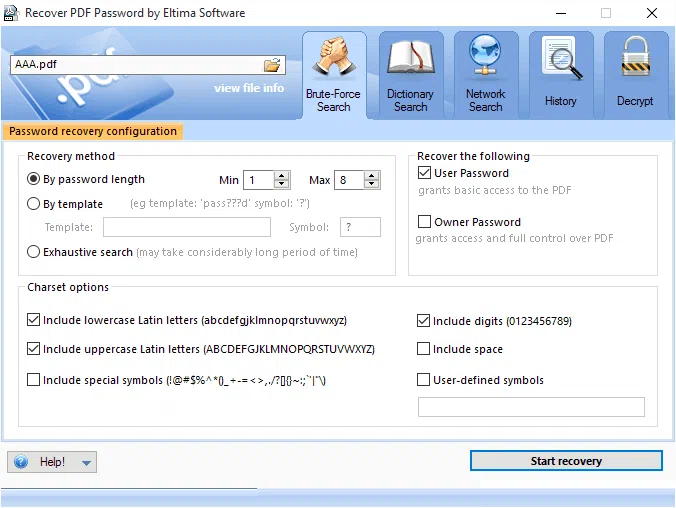 The only difference is this tool comes with Network Search function, which can make full use of the network computer resources to guess the passwords in multiple threads. You can add more remote computers to perform recovery mutually.
However, this tool is not totally free, when you use the brute-force search and network search to crack the PDF password, you will be asked to purchase the full version if the password length exceeds four symbols.
Ignissta PDF Lock Unlock
According to the name, you should know what it does. IGnissta PDF Lock Unlock Tool provides two functions for a Adobe PDF file. Allow you to lock a personal PDF with passwords and unlock PDF password so that it can be free copied, printed and edited. What's more, this tool allows you to erase page extraction security (Copy, Print, Edit) and easily extract PDF information. The Unlock function is offered in the demo version that can be used for free. But this tool doesn't crack PDF open password in our test.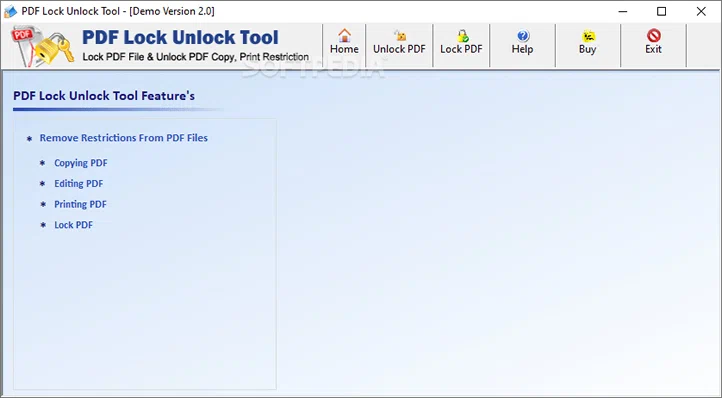 You can consider this tool as an decent tool to unlock a PDF file, Nevertheless. It also has some disadvantages, in our test, we found it lacks of more advanced features, such as selective restriction removal, batch processing and not support PDF OPEN password removal.
Hopefully, you can decide by now out of the 10 top PDF unlocker softwares, which will be most suitable for you. On a personal note, iSeePassword PDF password recovery will be the best for it provides the options for password removal and recovery both depending upon the type of password. Keep the program installed on your computer, which you will use to pull off your task. Visit our site regularly to get daily updates on technical solutions.

/ Posted by
---
---