Windows 8 has been introduced by Microsoft with various changes in the platform of their operating system to provide better user experience on different devices including tablets. There are many reasons as to why Windows 8 tablets need to be reset. When you're been using your Windows 8 tablet for years, you may feel that the performance started going down, and many things begin breaking down. The Windows 8 system ceaselessly generated a lot of junk files like cached items, offline files, temporary data, which can impact your PC's performance,
A factory reset will erase all of the data stored in the device including its changed settings and existing applications that have been added to it. This reset is done to resolve any software issue that is causing the device to malfunction such as freezing and performance problems, or just to revert to the tablet's original settings in case the user prefers it over the changes he has done to the device. With the effect of a factory reset, which is the erasure of all the data in the device such as a tablet, it is likened to reformatting a hard drive.
Before performing the factory reset, don't forget to back up your Win 8 Tablet data. If you forgot your Windows 8 admin password, this tutorial would be helpful to you. Don't Miss it: What to do if I forogt Windows 8 password.
Part 1: Factory Reset Your Windows 8 Tablet when Access
Step 1: Assume that you've logged in your Win 8 tablet, move to the right side context menu and select "Settings".
Step 2: In the 'Settings' menu select "Change PC settings", then select 'General'.
Step 3: In right panel scroll down to the options, then select "Remove everything and reinstall Windows"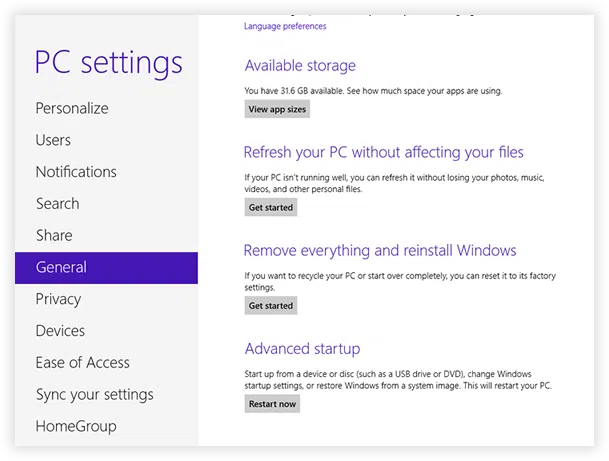 WARNING: All your documents, pictures, settings, accounts and any other data on your Tablet disk will be erased completely while performing reset Win 8.
Part 2: How to Reset Win8 Tablet without Logon Windows
When you forogt your Win 8 password and couldn't login into Windows 8 tablet, you need to choose the second option to reset from your Windows 8 tablet's logon screen. See how to reset Windows 8 password before performing following steps:
Step 1: Start and go to the login screen, look for the power icon on the lower right hand corner of your tablet's screen. Tap on it.
Step 2: Press and hold the Shift key.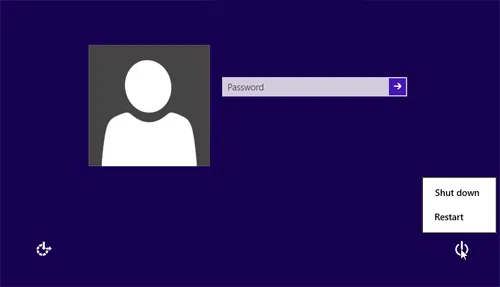 Step 3: As the Shift key is clicked or pressed, simultaneously tap on Restart, the tablet will then restart. Now, you will see a screen where you will be asked to choose an option. Tap on Troubleshoot.
Step 4: Finally, choose Reset option, this will begin the factory reset. When using this method, it is best to have a keyboard connected with your Windows 8 tablet for the easy following of the steps. In case you do not have a keyboard you can connect to, start the On-Screen keyboard, which can be found on the options at the lower left hand corner of your tablet. You can find an icon there that represents the Ease of Access. Tap on it then choose the on-screen keyboard.
The Bottom Line:
Whether your Windows 8 tablet is always freezing or has been infected by a virus, or if you simply want to restore the original settings of your device, a factory reset is the quickest solution. If you have any queries or concerns about this guide, please feel free to communicate with us through the support section or via email.

---
---