Microsoft Excel is a spreadsheet making software provided by Microsoft for Windows, UNIX, Linus and iOS based operating systems. Recently, it has been introduced in Android platform as well. MS Excel is widely used for official purposes that makes your daily work easy by computing tables and rows, making graphical reports, storing data, creating presentations and so on. So, it will be really helpful if you could use some keyboard shortcuts that could save tons of time for you without using the long process regularities.
Learning the keyboard shortcuts from this guide will be very efficient and you will get to gain more knowledge and understand MS excel better. There are loads of keyboard shortcuts you can learn for MS Excel but learning all of them at once will be confusing and overwhelming. So in this short tutorial, we will sum up top twenty keyboard shortcuts that you can use daily when you work in MS Excel.
Following Excel Shortcuts You Really Should Know
Number #1. ALT+= - This will insert the sum formula for computation.
Number #2. CTRL + TAB - Use this shortcut to switch or navigate through different excel worksheets without using the mouse to open each and every sheet one by one.
Number #3. CTRL + 1 - To display the format cells pop up box.
Number #4. CTRL+ SHIFT - To copy the exact value from the above active cell into the cell or row you are currently working on.
Number #5. CTRL + Z - Also known as undo. It will delete the last entry or take you back one step backwards or reverse the command that you recently applied.

Number #6. CTRL + K - Easiest way to open the hyperlinks dialog box and you can insert a link directly to the select text or entry.
Number #7. CTRL + F - To open the search dialogue box. This is handy if you have a large spreadsheet and you need to pin point at a value. Simply enter the text or value in the search box and press enter to get into that exact position.

Number #8. CTRL + H - To find and replace any value. It is useful if you have to rectify a large number of error at once. Simply enter the value and replace it with the correct entry all at once.
Number #9. CTRL + A - This will have a lot of different scenarios. If you are working in a single worksheet then it will select the entire data. If you are in a table then it will only select the particular data from that table excluding the entire worksheet. And if you have more than one objects then it will select all entries in that worksheet.
Number #10. CTRL + N - To open a fresh new worksheet. No need to click on file then open. Just a simple shortcut to open a new worksheet.
Number #11. CTRL + SHIFT + F3 - To insert name for the entire worksheet based on row or column of your choice.
Number #12. CTRL + P - To print out the current working worksheet. Make sure the printer is connected because the command will take action immediately.
Number #13. CTRL + S - To save the worksheet on your desired location in the system.
Number #14. CTRL + Home - Will immediately freeze the entire work and get your back into the home section at the starting of the document. The cursor will be placed on the first cell of the worksheet.
Number #15. CTRL + PAGE UP or PAGE DOWN - To scroll between the worksheets and navigate through all the rows and columns.
Shortcuts to Help Set Up Your Spreadsheet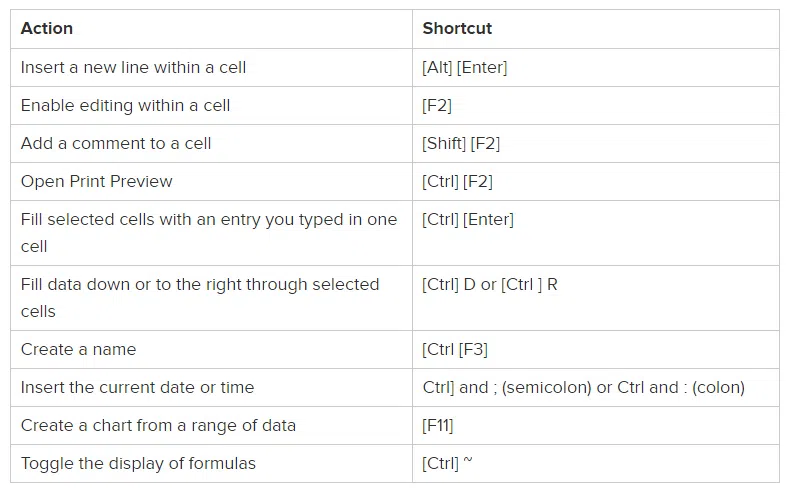 No matter what you're making, a few of these should help speed up your work.
---
Related Articles & Tips
How to unlock your Windows 7 Password without reinstallation

What should I do if I forget my password for iTunes backup,

How to recover lost or forgtten password for Windows 8

What to Do If You Forgot or Lost Windows 10 Login Password
---