When you install Windows operating system on your PC, you need product key in order to install it completely, and you get this key when you buy your Windows copy.The PCs such as laptops that come with already Windows installed, have the product key printed on it so that even when you want to reinstall it you can get it from there.
But, when it comes to Windows 8/8.1 PCs they don't have Certificate of Authenticity (CoA) sticker with the product key printed on it. It is done to help you prevent the product key theft as anyone can read your key just by peeking at the sticker.So, in Windows 8 PCs, you cannot find the product key since the CoA is not there. Though it helps you keep your key safe, you can get into problem when you want to reinstall the Windows 8/8.1 copy again as you don't find the product key there.
So, what you can do in such case?
Don't worry, there are few ways you can get the Windows 8 product key and use it.
Part 1: Find Win8 Product Key in the Confirmation Email
On the retail Box of Windows
When you purchase Windows 8 copy, you get the Windows retail box. In that box you can find the Product key printed on a card. So, if you still have that box with you then check for that card in the box when you are thinking to reinstall the Windows.
Note: If you just got the Windows 8 copy, keep the retail box safe with you or get the card from it and keep that safe so that you won't find tough to find the key later on.
In the confirmation email while purchasing
Another place to find your Windows 8 product key is the confirmation email that Microsoft sent you at the time of purchase. If you still using the same email address, you can easily get it from that confirmation email.
Note: If you are buying Windows 8 and you get a confirmation email. Do save it using some label so finding it later won't be a tough task for you.
Part 2: Get The Windows 8 Product Key Using Command Prompt
If nothing helps you, you have to ask the new replacement key from Microsoft. First find out the exact version of your Windows, and write to Microsoft. Once they send you the new key, you have to activate the key on your current Windows installation, and to do it you have to do as follows:
Step 1. Open Command Prompt as Administrator, you will see the below screen that opened .
Step 2. Now, type slmgr /upk, and hit enter. You will see a popup that says its done.
Step 3. Install the new product key by typing in slmgr /ipk XXXXX-XXXXX-XXXXX-XXXXX." Replace xxxx with your product key that you get from Microsoft. Once done, it will show that the new product key has been installed.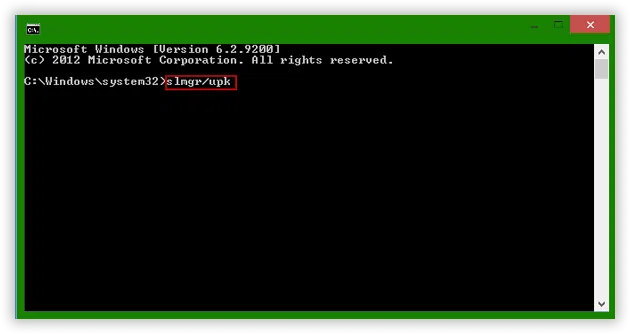 Now to confirm, you can check in My Computer => Properties, and check if you can see the new product key now. Keep this key saved for future purposes. All done!
Part 3: Find Windows 8/8.1 Product Key Using Product Key Finder
Below is an easy solution for your reference. In fact, the product key was not saved in the software where it can be wiped in the Windows 8. Instead, the key is stored in the computer's BIOS by the manufacturer, sometimes, you can try to search the key by professional Windows 8 Product Key Finder software. It has all the information related to your Windows, and you can get the product key of running Windows on your computer. This progarm can instantly recover product keys(CD Keys) or serial number for currently installed software and windows within seconds.
You can download it below to deeply search the Windows 8/8.1 product key.
Step 1. First of all, download and install this windows 8 product key program on your windows 8 computer, then run it. Click "Start Recovery" button, the program will automatically finds all product keys from currently installed Windows, Office, SQL Server, Exchange Server, Visual Studio, VMWare, Adobe and many other products. This can be done within seconds.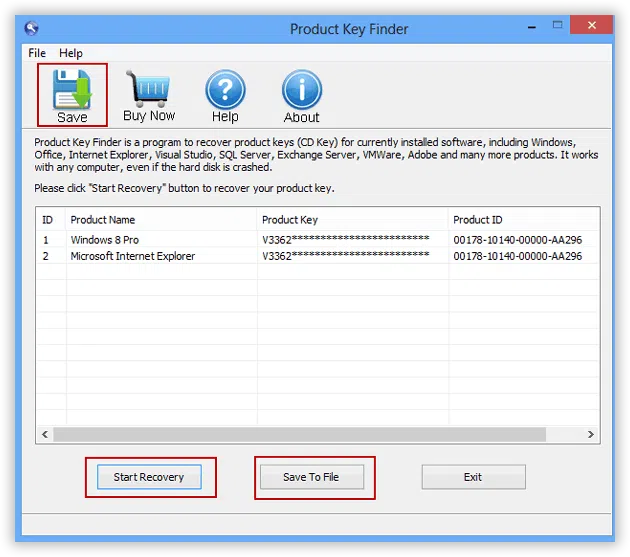 Step 2. Click the Save to File buttion to save the found product keys into your computer and save as Notepad.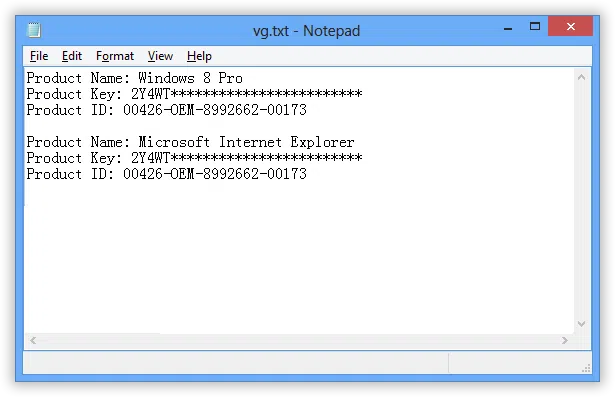 Aren't this way is very simple to find out your Windows 8 or 8.1 product key?
Conclusion
Product key is imperative when you have to install or reinstall the Windows copy. You must keep it safe for future use, and by chance if you lost it, you can use multiple ways to get it as you read in this guide. If you are still getting any problem finding your Windows 8 key, ask in comments, and I will try helping you out.

---
---