Facebook. Undoubtedly, it has served as a platform to connect so many people across the world elevating business growth, and exchange of ideas in a centralized way. We all use it on a daily basis for chatting and posting our responses and moods, but besides these common gestures, there is something which makes it more popular and that is the video posting. Although there is nothing lacking in prospect when it comes to elegance, but there is one feature that Facebook lacks and that is video downloading feature.
Quite often people have reported finding it difficult or rather unable to download any videos posted on Facebook. Facebook might have its own terms and conditions to restrict the facility but its not completely restricted if you know how to crack the secret of downloading. For the video on Twitter, see this artile to download video on Twitter.
Here in this article, we would represent few of those methods to help you download videos from Facebook. Keep reading to know the methods in detail.
Method #1: Download Facebook Video to PC using savefrom.net Web Service
Savefrom.net is a free web service which allows you to download videos directly from any website without the need of installing downloading tools on your computer. It is very easy to put to use. Simply go through the steps explained below to carry on the procedure:
Step 1. Go to facebook website and select any particular video.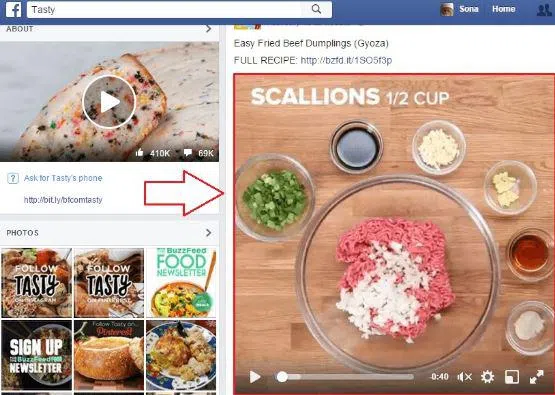 Step 2. Click on any part of the video while it is being played. A context menu will appear.
Step 3. Select the option "Show Video URL".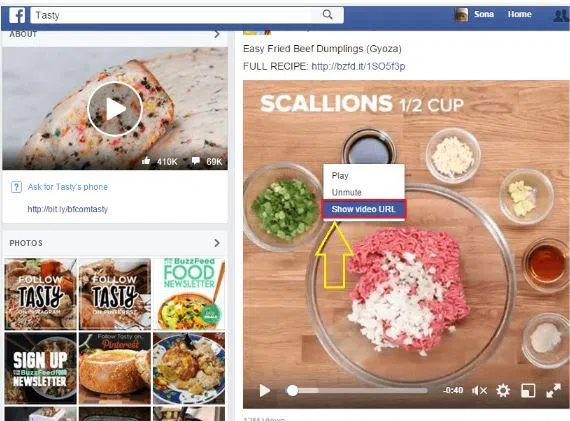 Step 4. Simply copy the URL for further use.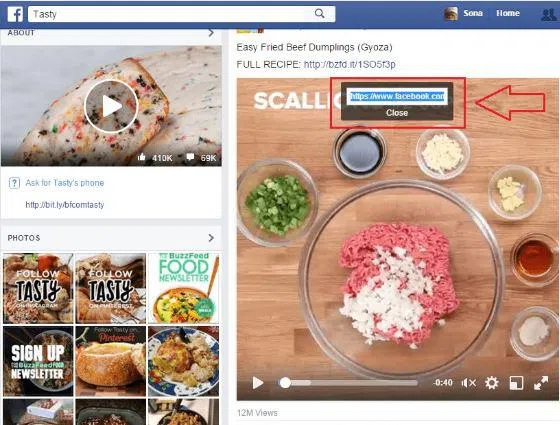 Step 5. Now navigate to the website savefrom.net. Paste the copied link in the empty search box and click on the "Download" button adjacent to the search box. You can select the video quality prior to the downloading process.
After a few mintues, you should get your favourite videos from Facebook. The article mentioned above doesn't t involve the utilization of any third-party downloading tools to accomplish the task as they often fail to work as promised and bring along a lot of bugs while downloading.
Also read: How to download videos from YouTube to Windows 10
Method #2: Download Facebok Videos using Mobile Version of the Page
This is one of the methods also like the previous one which would not involve any downloading tool to accomplish the video downloading from facebook. All that you have to do is to simply convert the facebook page from computer version to the mobile version web page which would allow you to directly save the video from the page. Go through the steps explained below to carry out the process:
Step 1. Go to Facebook and play any video that you wish to download to your computer (Windows or Mac).
Step 2. Go to the address bar of the video and carry out slight modification in the URL. Replace the "www" portion with "m" and hit "enter". This will open up the mobile version of the facebook video page.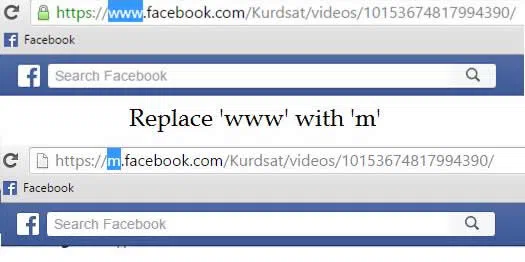 Step 3. Click the Play icon on the video to start playing it.
Step 4. Right-click on the video and from the drop down menu select the "Save Video as…" option.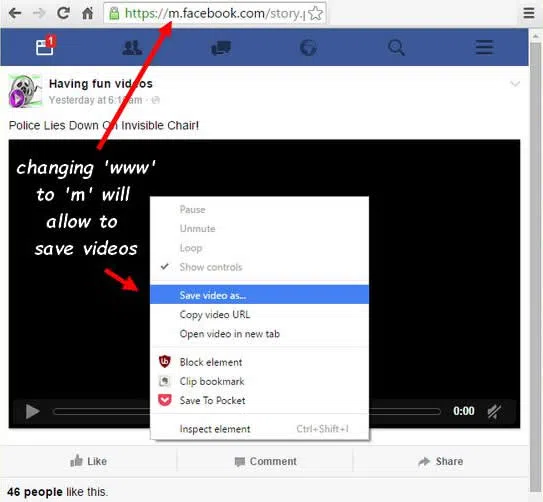 Step 5. Choose a location where you would like to save the video and there you go the downloading will be started in few seconds.
To watch videos on facebook is a really entertainment to pass your time. But you cannot always remain online so as to say you would definitely like to watch the videos afterwards. Essentially there could be situations when your internet data package is finished or your Wi-fi is not working properly. On such occasions you would not be able to watch the videos any longer. Thus it is better to have the facebook video file downloaded to your computer so that you can watch it anytime irrespective of your network issues.

---
---